For a Minute, Tony Romo Was a World-Class Golfer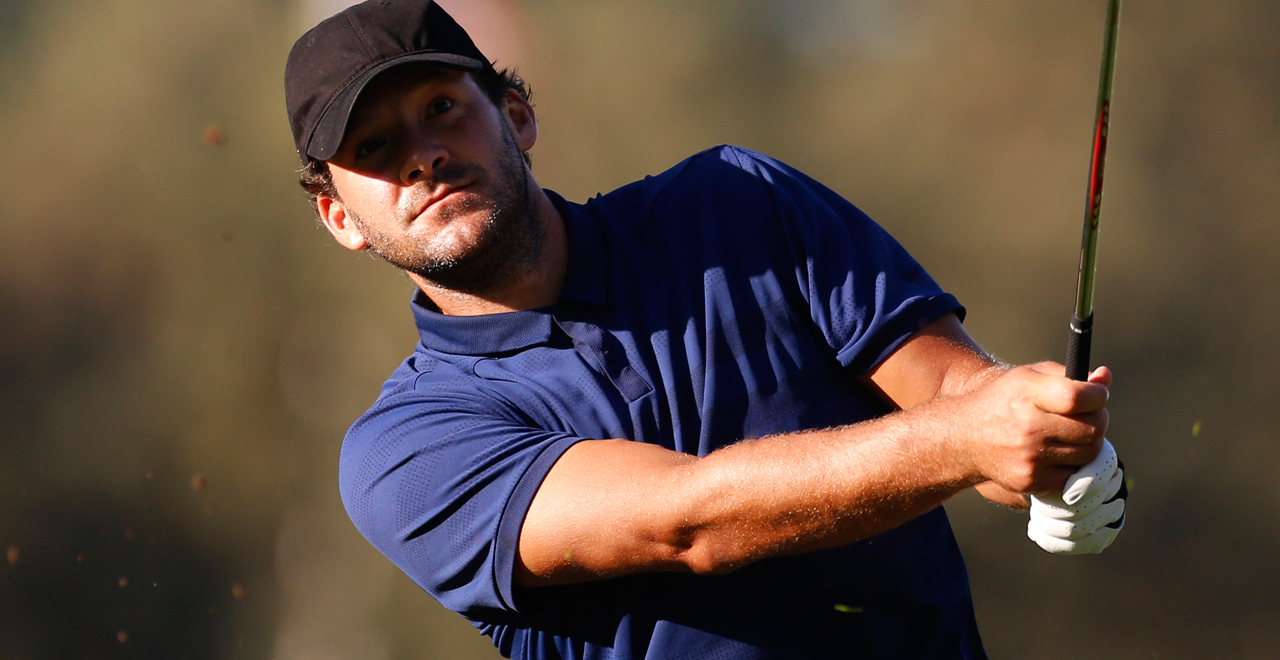 Tony Romo was a great NFL quarterback. Tony Romo currently is a good NFL TV analyst. And, for the briefest of moments this week, Tony Romo was one of the best golfers in the world.
Romo, an amateur golfer, played in his fourth PGA event this week, competing in the Safeway Open. While golf is a passion of Romo's and nothing more than a hobby in the eyes of his bosses at CBS, Romo had everyone rethinking that after a stellar opening round. Romo shot 2-below par, putting himself in range to make the cut for the first time in a PGA event.
Roll one in. 👏

Birdie for @TonyRomo!

Watch the end of his round on @PGATOURLIVE: https://t.co/aWLH5GBjOV pic.twitter.com/vj3tZWFMv7

— PGA TOUR (@PGATOUR) September 26, 2019
Romo had a better round than scores of pros, including golf legend Phil Mickelson. He did tell one interviewer how he got good at golf.
"It's embarrassing to stink" Romo told PGATour.com."I stunk a lot, so just trying to continue to improve and get better."
And yeah, it is embarrassing to stink, but stink is the ceiling for almost every amateur golfer. And Romo was more than just a novelty story, as his underdog success came with a grateful nation hoping for him to pull off the impossible. Why? Because he had a chance to shut up one of Twitter's biggest blowhards.
If Tony Romo wins the Safeway Open, I will delete my Twitter account.

— Darren Rovell (@darrenrovell) September 25, 2019
Things got real enough that CBS had to draft a backup plan in case Romo was playing in the final round, instead of being available to broadcast his normal Sunday afternoon NFL game.
Ultimately, he fell short, shooting six-over par on Friday evening. But his great round definitely opened some eyes, and will hopefully be a harbinger of things to come. And maybe someday, if we all root hard enough, he will silence Darren Rovell forever.
Elsewhere in golf, Rory McIlroy got roasted by his dad. Playing together in a pro-am in Scotland, the younger McIlroy, the one who has won multiple majors, found himself bargaining over how much cushion to give his dad. Apparently, it was too much the first day, as the elder walked away with a win. And Dad McIlroy made sure to zing him for it.
Father Son

How many shots would you need against Rory McIlroy? #DunhillLinks pic.twitter.com/cyVclR4tBw

— The European Tour (@EuropeanTour) September 25, 2019
In the most 2019 story ever, a sign asking for free beer turned into $2 million of donations to a children's hospital. And, because nothing can ever be simple and pure, a reporter for the Des Moines Register went through his entire online history and found some offensive tweets the beer sign guy made WHEN HE WAS A MINOR. Total weak move.
And because brands panic at the first sign of discord, Anheuser-Busch cut ties with the beer sign guy and took away their offer of free beer for a year.
So then people looked up the online history of the snitch reporter and found he had made some bad tweets long ago, and he got fired. There's a lesson in all of this, but I don't think it's the one we need. You aren't your entire online history, people can change, and maybe we can all agree to stop trying hard to ruin everything that's nice?
Here's one thing that's pure, MLB broadcasting legend Marty Brennaman, officially ended his Hall of Fame career after 46 years in the booth. He started by calling Hank Aaron's record-breaking home run and ends his run as one of the game's greatest radiomen. And this tribute to Marty is incredible and well worth your time.
Dear Marty…

Matty V pens a farewell letter to @Reds broadcaster Marty Brennaman ahead of his final home broadcast, Thursday on MLB Network.#ThanksMarty pic.twitter.com/Qm5uSC1RB8

— MLB Network (@MLBNetwork) September 24, 2019
Back to roasting. The Tampa Bay Buccaneers have had some trouble with placekicking, as they lost a game due to a missed 34-yard field goal. If that wasn't bad enough, they had USWNT star Carli Llyod roasting them in a newspaper ad (with the help of…a deodorant?).
Lloyd, who continues to toy with the idea of trying to kick professionally in the NFL and has kicked some long field goals in practice, is shown mid-kick in the ad, along with the copy "Hey Bucs fans, do you sweat 34-yarders? Carli Lloyd doesn't." Which is pretty savage.
Four days after Bucs kicker Matt Gay missed what would have been a 34-yard game-winning field goal, @SecretDeodorant has placed this ad in the Tampa Bay Times featuring @CarliLloyd. pic.twitter.com/8oi8ATpmxN

— JennaLaineESPN (@JennaLaineESPN) September 26, 2019
She may or may not be able to kick 34-yard field goals in a game, but we definitely know she can kick a guy when he's down.