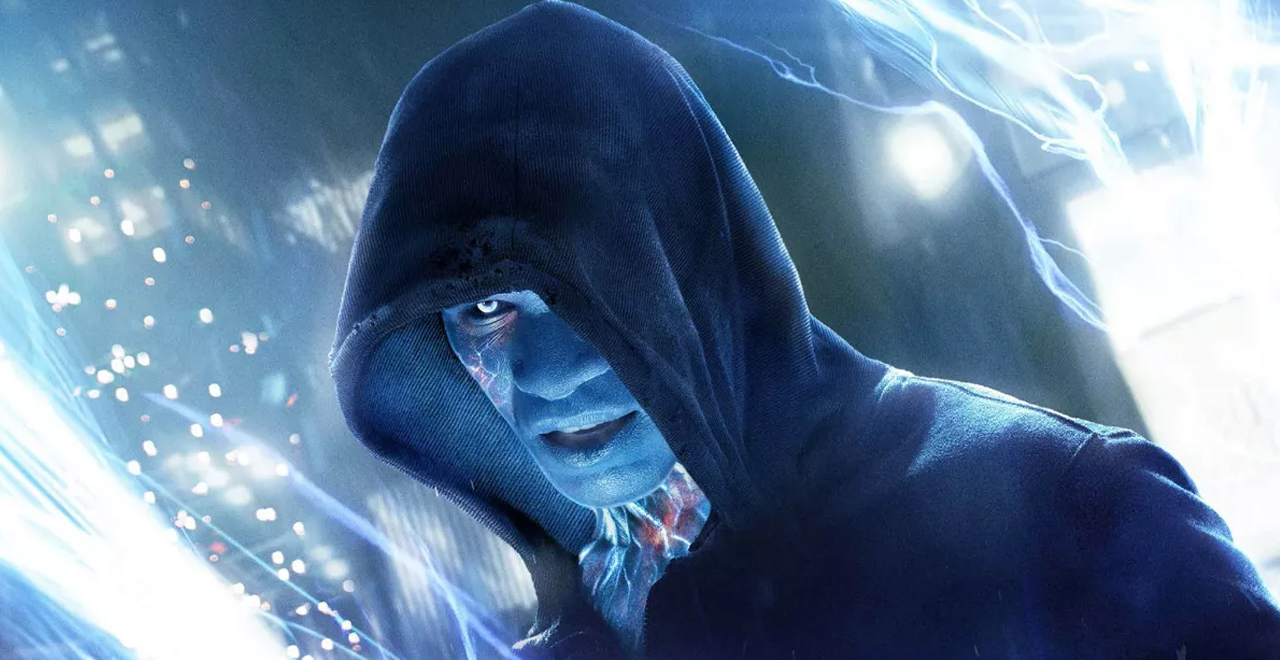 Credit: Sony
There have been a lot of Spider-Man movies over the past two decades, with three separate actors portraying three separate Spideys and facing a variety of unique villains.
Most agree that the Tobey Maguire movies, which helped usher in this age of superhero movies, and Tom Holland's MCU movies, are the best. But there are fans of the Andrew Garfield movies. And, apparently, Kevin Feige and Marvel are among them.
According to The Hollywood Reporter – when the third MCU Spider-man movie starts filming (production was delayed by COVID), they're bringing Jamie Foxx's Electro with it.
Foxx played Electro in The Amazing Spider-man 2, the second Andrew Garfield movie. Ya know, the one that teased Paul Giamatti's Rhino and introduced a shitty version of Harry Osborne? Nobody much liked that outing, and the planned trilogy fizzled out before a third movie could be made, clearing the way for Marvel's deal with Sony to steal the webslinger for its universe.
It seemed like those Amazing Spider-man movies were going to be a mere blip (get it?), but with Foxx reprising his villainous role, we may have to revisit their importance. One has to assume that Foxx will be the only holdover and that the origin story put forth in those movies, complete with Spider-man's parents being involved in an Oscorp conspiracy, will be ignored, but who knows?
Maybe Marvel sees what DC is doing with their Batman multiverse and this will be the start of multiple Spider-Mans making their way into the MCU. Maybe Tobey Maguire will show up. Maybe Miles Morales will show up. Maybe Spider-Ham will show up!
There are no plot details, and not even a title (speculation is that it will be called Homesick), so we'll have to wait and see. One thing is for sure: the return of Jaime Foxx as Electro is quite unexpected.
It's certainly not unheard of for a new series to revisit an old villain – both DC's Batman and Superman movies have revisited Zod, Joker, Lex Luthor, Catwoman; even Bane was seen in Batman and Robin (by anyone unfortunate to have seen Batman and Robin) before Christian Bale faced off with him. But the same actor coming back to reprise a role he played in an entirely different series of movies? That's shocking (get it?!).
I just hope Electro gets a better shake this time around. And I bet Jamie Foxx does too. Blue was not a good look.