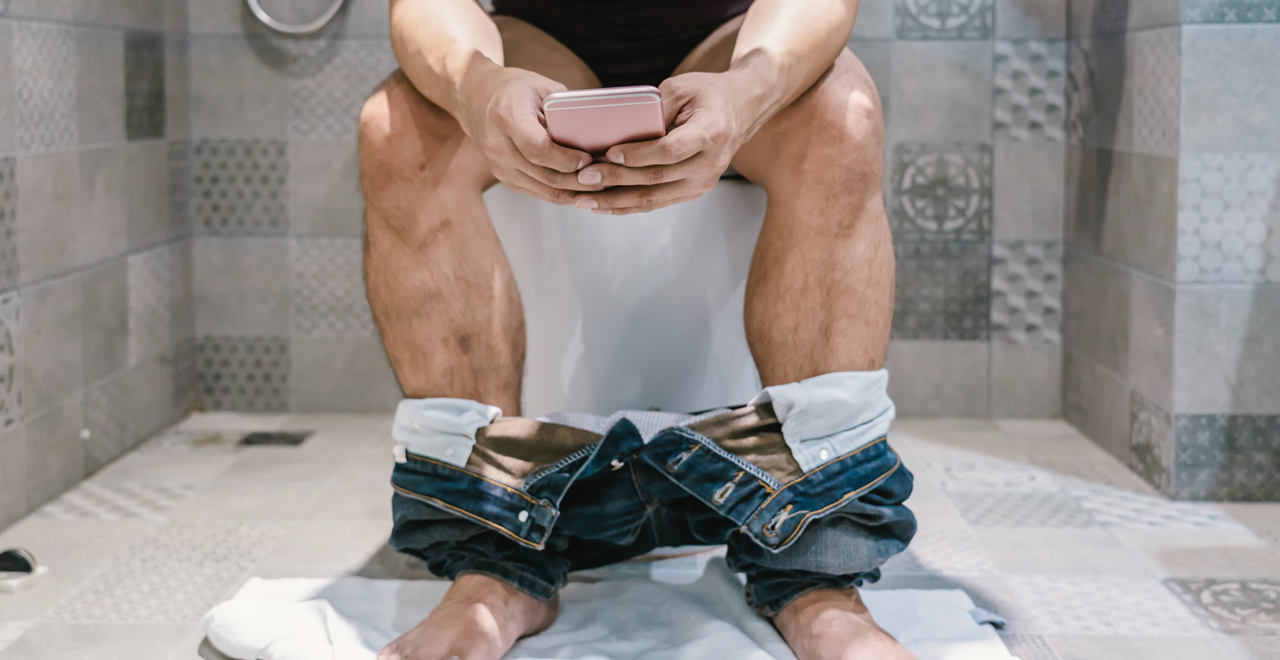 Credit: Getty/Thananit Suntiviriyanon/EyeEm
Every parent needs some alone time. The problem is, it's not easy to come by. So you can't really blame a guy for trying to carve out a little peace and quiet for himself, even if that does mean sitting on the toilet scrolling social media for 45 minutes. Unless you're taking it at the expense of your spouse. Then you probably can be blamed.
That's the question wife and mother posed to the Reddit community in the notorious "AITA" board. It stands for "Am I the Asshole" and it's the place where Redditors go to pose a question about an incident and ask fellow users for their opinion on who is to blame.
A Redditor named "FinalWintersEve1" visited AITA to pose a long question about her husband's lengthy trips to the bathroom – "He always takes his phone. He is always watching youtube. His average session is 25 minutes in there, often longer, rarely shorter." – and how she decided to fight back.
The crux of the issue isn't so much that her husband spends too much time in the bathroom – he is actually on medication that makes longer visits necessary – but more that he tends to sequester himself in there at the most inconvenient times. The couple has twins under a year old, which means there is really a convenient time and won't be for about 18 years, but still, she seems to have a decent argument.
It's the most frustrating when it comes time to feed them ( one of the twins needs to be held specifically for health reasons, so I can not double feed ) because we will get up, I will warm up bottles, change one baby bum, get the first one fed, burped, and laid down in their crib, get the other baby changed and be setteling down to feed baby number two before he can be bothered to emerge and figure out why one child has been screaming because they had to watch their sibling eat l, and then the other when cry when they dont get to cuddle at all because I have to immediately set them down to feed the hysterically sobbing child.
This issue is clearly not just about the timing, it's about the intent. It seems Dad is purposefully ducking out to avoid some of the most frustrating parts of baby care, and Mom was fed up. So she started turning off the wiFi.
Today I started a new rule. If he is in the bathroom for more than 10 minutes, I flip the wifi off.
Lo and behold, he is emerging from the bathroom much more quickly! Still not helping with the kids – according to some additional information in the post, it's not just a bathroom time issue – but spending less time in the john. Which is a step up.
Most commenters agreed that the poster was not the asshole, despite her extreme WiFi canceling tactics, and decried the husband's daddy-shirking methods. Parenting is hard, especially parenting infant twins, but it gets a lot harder when you're left to do it on your own.
We all need some alone time, and god knows many of us are guilty of getting it in the bathroom, but it's probably a good idea to earn that alone time by pitching in when needed.