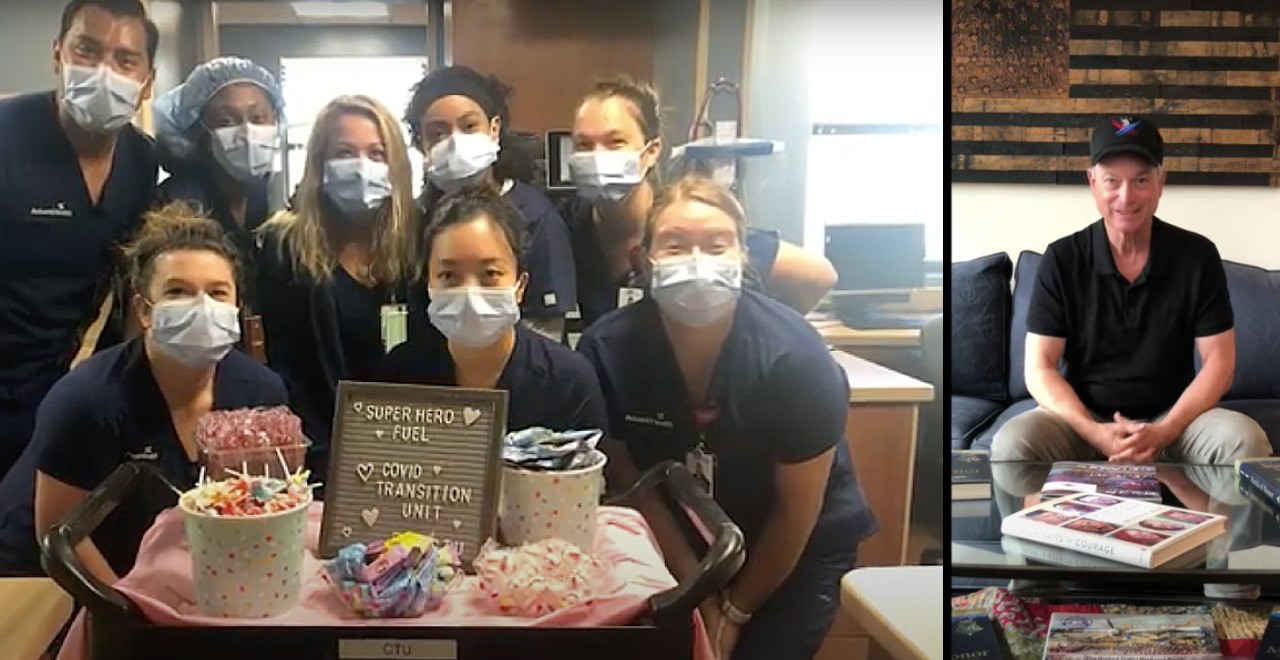 Credit: Youtube/GarySiniseFoundation
There's a lot going on in the world right now that, for the sake of keeping this PG, we'll call "garbage adjacent." Instead of talking about any of that (though the state of the world seems to weasel its way into even the most unrelated conversations), we're going to take some time to focus on one person who has proven time and again that he is about as wholesome as a person can get. The man of the hour is none other than talented actor and unrelenting philanthropist, Gary Sinise.
Though Sinise is known for playing on-screen heroes like Lieutenant Dan in Forest Gump, off-screen, Sinise is the hero's hero. Sinise has put an enormous amount of time, money, and effort, into making sure the people (and the animals) who keep our country running are supported. The Gary Sinise Foundation, founded by the big-hearted actor in 2010, aims to "honor our defenders, veterans, first responders, their families, and those in need." Even the Congressional Medal of Honor Society recognized Sinise's efforts and honored him with a Patriot Award.
Now, with all of the chaos of today's world, Sinise is responding in the only way he seems to know how – by doing more good. Recently, the Gary Sinise Foundation made a game-changing donation to a Boston nonprofit, allowing them to install 10 industrial washing machines and 32 brand new drying cabinets in local firehouses. The $380,000 donation will allow firefighters to clean their uniforms properly, both protecting them from burns and reducing their exposure to cancer-causing chemicals. Before the foundation's donation, many Boston firefighters had to send their uniforms to be cleaned professionally, meaning that they often had to wear the same dirty uniform multiple times or borrow ill-fitting spares. Thanks to Sinise, this no longer has to be the case – uniforms can be cleaned on-site in a matter of hours.
Gary Sinise is on such a roll with helping firefighters, one might even say that he himself is "on fire" (maybe don't say that). Sinise recently helped out Orlando firefighters as a part of his foundation's national COVID relief campaign, Emergency COVID-19 Combat Service. The "Serving Heroes" event was one of over 307 such events in under six months, delivering meals as a way of giving back to first responders. Between April 1 and mid-August, the campaign provided 55,401 meals to first responders, healthcare workers, veterans, and other essential workers who have needed extra support. The relief campaign has also donated over 5,675 pieces of PPE, assisted over 61 first responder departments nationwide, and provided services in 27 states.
The foundation's website explains, "During this public health crisis, Emergency COVID-19 Combat Service will be the gateway for providing grants to first responders in need of personal protective equipment when answering COVID-19 service calls. Financial assistance is also available to healthcare professionals, service members, veterans, first responders, and their families who have been impacted by the novel coronavirus."
To recognize Sinise for his efforts, the Location Managers Guild International (LMGI) will be presenting the actor-turned-philanthropist with the Humanitarian Award. LMGI Awards Co-Chair Lori Balton told Reel Chicago, "The LMGI proudly salutes Gary Sinise. We are humbled to help shine a light on the impact he and his foundation make on our military, veterans and first responder communities that they serve. In the turmoil of today's world, those men and women who make such great sacrifices deserve our honor and are too often forgotten."
We don't have any awards to give, but we see you Mr. Sinise, and we appreciate everything you do to make the world a better place.