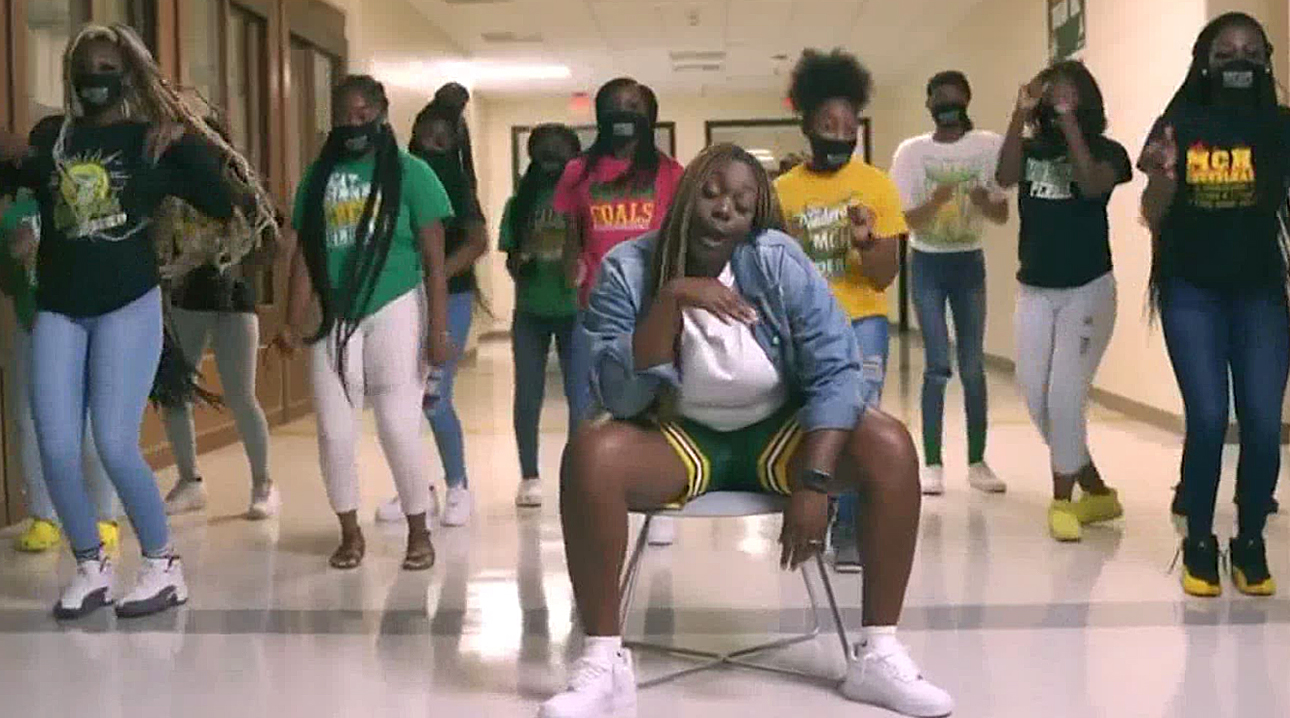 Credit: Twitter/TheeMaryWilson
A few weeks ago, a principal in Alabama made a fun video parody of MC Hammer's Can't Touch This to encourage students and teachers to stay healthy and practice social distancing and proper hygiene when returning to school in the time of COVID. It was goofy and hilarious and clever and went viral immediately.
Now a pair of teachers at Monroe Comprehensive High School in Albany, Georgia have stepped up with a video of a song that remixes Jack Harlow's "What's Poppin", welcoming students to the first day of virtual learning. There's nothing goofy about this one. These women spit pure fire, and they're backed up by a collection of sick dancers. No pun intended, of course, especially since those dancers are all wearing their masks.
The teachers in the video are Callie Evans and Mrs. Audrianna Williams, and they thought it was a fun way to get their students pumped up about what's sure to be a difficult start to the school year.
"It gets the kids excited. They like to dance so 'What's Poppin' is just like 'What's up y'all ready for virtual learning' so we wanted to meet them where they were just to get them excited about virtual learning," Mrs. Callie Evans told WALB News.
Rather than call back to an old-school rap hit, this pair's take is entirely modern and has more in common with Run the Jewels than parachute pants. The video also showcases the school's colors, by design.
"We exude school pride, okay. We have a chat saying 'that green, that gold'. We exude school pride and we truly love our school and that speaks from the video with the girls, the cheerleaders from everyone we really love our school," Williams said.
The video has over 265000 likes and 70,000 retweets on Twitter alone, and I dare you to watch it without getting excited to do some virtual learning!
Here it is:
Monroe High School teachers in Georgia started the 1st day of virtual school in the most 🔥 way ever pic.twitter.com/tY7PewrKtA

— Mary Wilson (@TheeMaryWilson) August 18, 2020

.