Trick or Treat? Dunkin' Created a Spicy Ghost Pepper Donut for Halloween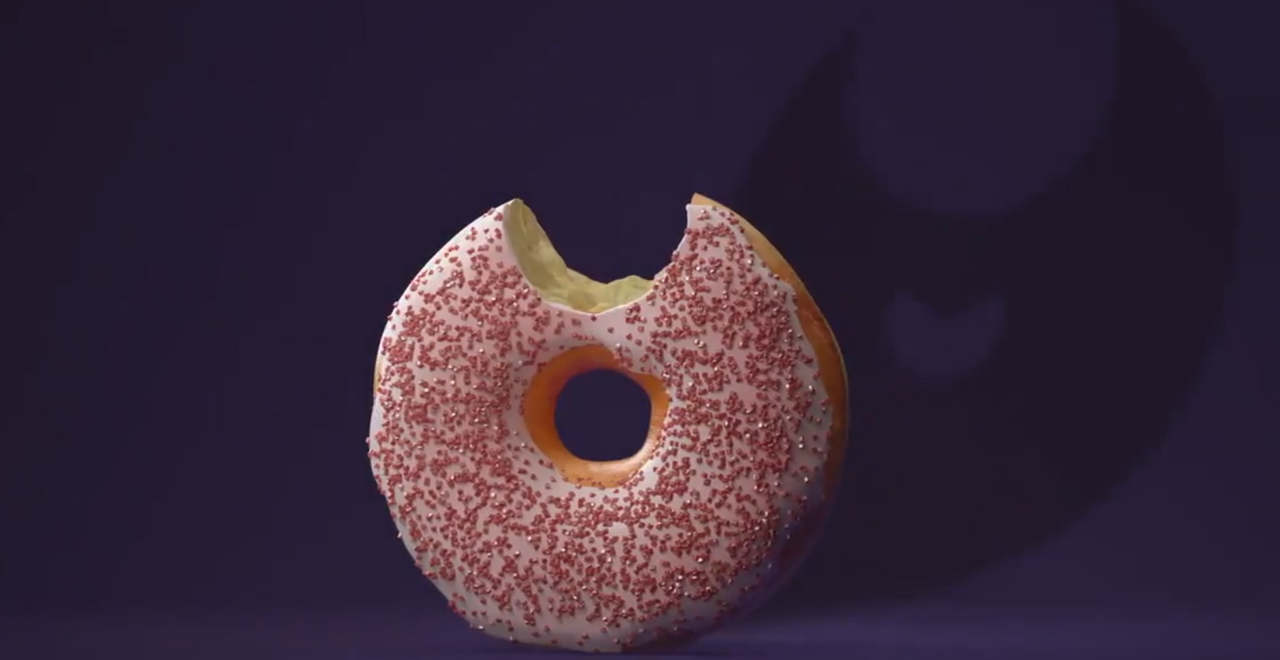 Spicy and donut are two words that, historically, do not go together. But it's 2020, and time to open your mind to new possibilities. Especially because Dunkin has created a Spicy Ghost Pepper donut, just in time for Halloween. Forget the old rules and try something truly crazy.
2020 is a terrible year, that breaks no ground. But it's not ALL terrible. Along with a crazy amount of beloved entertainers passing away and that whole pandemicky thing people keep talking about, there have been a few positive developments this calendar year. It's been a kinda fun food year, especially when it comes to overly sweet treats like a Reese's Breakfast Snack Cake and Cinnamon Toast Crunch's Cinnadust.
And now fast food spiciness is no longer relegated to chicken. Dunkin' is now serving a Spicy Ghost Pepper donut. The special donut was created for Halloween but will be available until December. It's a normal donut with a spicy strawberry icing containing a blend of cayenne and ghost pepper. It's topped with some red sanding sugar, giving it a perfect pairing of spicy and sweet.
🔥 A donut… but make it SPICY!🔥 Introducing the Spicy Ghost Pepper Donut ft. strawberry flavored icing with cayenne & ghost pepper for a sweet heat treat at Dunkin'. 👻 🌶️ Grab one & show your spicy side. 🔥🍩 pic.twitter.com/dYgBp7eCMj

— Dunkin' (@dunkindonuts) October 14, 2020
While it sounds pretty cool, it's also part of Dunkin's larger Halloween effort.
"While our classic bakery offering has plenty of crave-worthy treats, we're excited to show our spicy side with a donut that packs a touch of heat with something sweet," a Dunkin' rep said in a press release.
Here's the thing: it sounds interesting. But, early reports indicate it's actually…good. Like, quite good.
In case you are wondering, @dunkindonuts ghost pepper donut is, in fact, quite good pic.twitter.com/BK5IkDBtsJ

— Javier 🐝 Candyman 5X 🔪 (@TeflonGeek) October 14, 2020
Had a sample of the ghost pepper donut from dunking today and it was soooooo good

— Ry dolla $ign (@RWalkusky) October 12, 2020
I think my new favorite donut is @dunkindonuts new Halloween ghost pepper donut. If you're scared to try it don't be. It's really good I promise and surprisingly not that spicy. Just enough to be great.

— Rebekah (@_Quackers_) October 14, 2020