Good Samaritans Help 79-Yr-Old Travel Cross-Country to Visit Son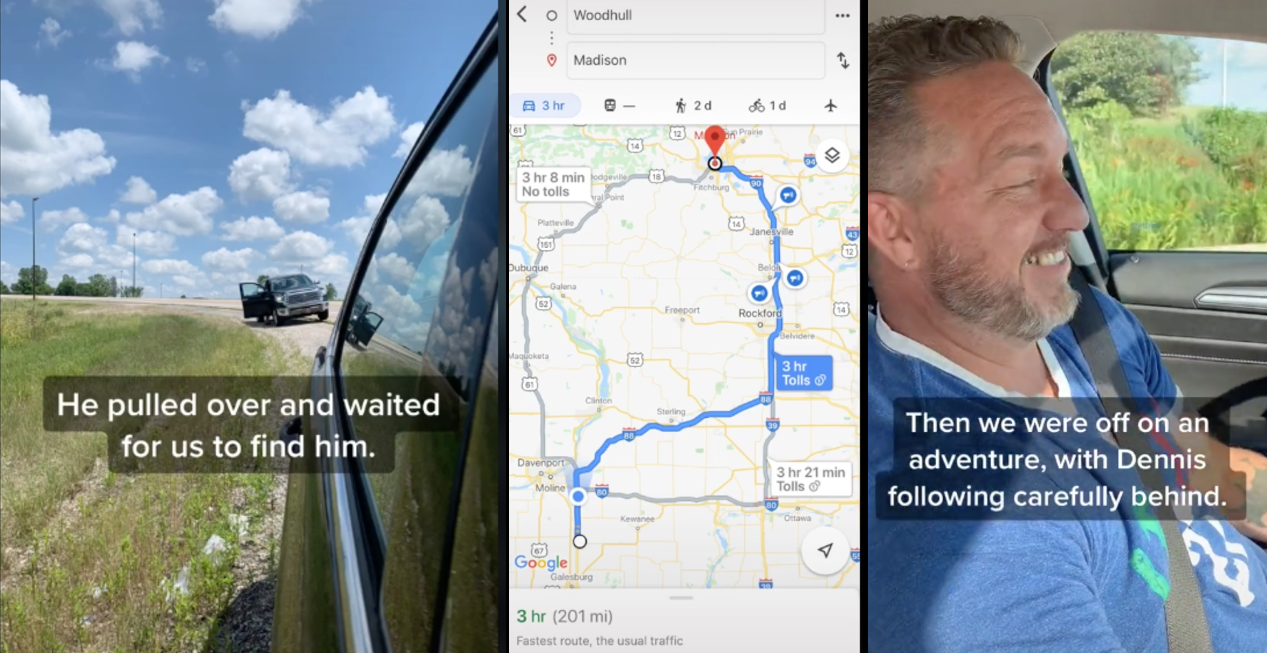 A viral TikTok video is truly a tale for the ages, with a much-needed happy ending. Last week, 79-year-old Dennis Milentz decided to make an ambitious journey. After 18 years of being unable to see him in person, this determined dad wanted to visit his son in Fremont, Wisconsin. The only problem? Milentz's hometown is roughly 1,660 miles away, in Heber-Overgaard, Arizona. Like any dad with a plan though, Milentz was going to see it through.
From the get-go, the trip was harder than anticipated. Milentz didn't know how to use his GPS, he repeatedly got lost, and ended up adding roughly 200 miles to his already grueling trip. He was stressed, worried, and it was starting to seem like his journey would never end. That is, until Milentz made a fateful stop at a gas station in Woodhull, Illinois on his third day of driving. There he met a friendly couple who wrote him clear directions and left him their phone number in case he needed help.
15 minutes later, Elton Hood and Tracy Eckhardt, the helpful locals, received a call from Milentz.
"Neither one of us could bear the thought of– if we saw a missing persons alert or if something bad happened to him," Eckhardt told WMTV. "if we had the potential to help turn this around and didn't do it. That was just not going to work for either of us."
To ensure the 79-year-old reached his son safety, the couple made the rest of the trip with him. They drove for three hours, with Milentz following closely behind until he reached his final destination. As if that wasn't enough, the couple stayed in contact with Milentz's family. They realized that due to unforeseen circumstances, the family wouldn't be able to help Milentz return to Arizona. So what did this couple, who had no prior connection to the 79-year-old do? Well, they planned on escorting him back to Arizona.
Thanks to the power of TikTok, word got out (nearly 4 million views later) – the heartwarming story premiered on NBC15 News, and two viewers connected with Eckhardt and Hood. They offered to pay for Milentz's flight back to Arizona so the couple wouldn't have to make the drive. Milentz quickly and gratefully accepted, wrapping up this incredible story in the best way possible – with more good samaritans going out of their way to help a 79-year-old man complete the journey of a lifetime.