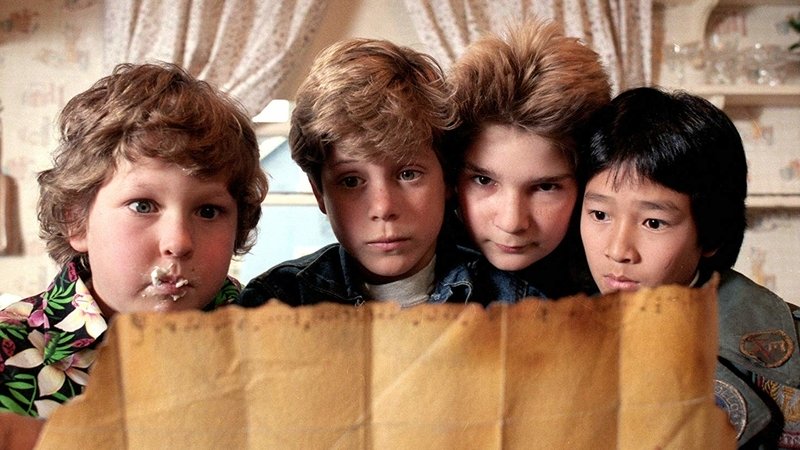 Credit: Warner Bros
The Goonies is a classic movie, the kind they don't make anymore. It features young kids – pre-teens in some cases – doing dangerous things, saying bad words, encountering violence, and it was rated PG. It's the kind of thing they made in the 1980s. A kids movie featuring kids acting like kids that kids could watch. (Nowadays, kids basically have Pixar and superheroes, except Batman, who is somehow way too adult.)
People love The Goonies and have been clamoring for a sequel for years, and I'm not just talking about Corey Feldman. Most of these people are now adults who won't get their wish. After years of false starts, an actual sequel seems unlikely. But in this day and age, a remake was almost inevitable. And it's getting one. Because Goonies never say die!
Sort of.
Fox has just greenlit a new TV series based on The Goonies, only it's not a remake or a reboot. It's about people trying to make a remake? It's okay, I'm confused too.
Here's the official word, from Deadline:
After failing to make it in New York and carrying a heavy secret with her, Stella Cooper returns to her distressed automotive hometown to substitute teach. She finds inspiration, hope and ultimately salvation when she agrees to help three students who are pursuing their filmmaking dreams by putting on an impossibly ambitious shot-for-shot remake of one of the student's favorite movies… The Goonies. Over the course of the season, their passion will inspire a town in desperate need of hope in this love letter to the power of cinema, storytelling and dreams.
Shot by shot remakes aren't unheard of. Some kids did it with Raiders years ago, a pair of brothers recreated Toy Story 3 over 8 years, and Gus Van Sant directed a shot-by-shot remake of Psycho starring Vince Vaughn, although I think we'd all prefer not to talk about that.
This is a little different, in that it's a TV show, and it's fictionalized. This isn't someone actually remaking Goonies, it's a fictional TV show about fictional kids remaking Goonies. My head hurts.
The thing that makes Goonies work, aside from the spectacularly treasure-hunt-with-booby-traps story, is the cast, and their chemistry. From well-known names like Sean Astin (Mikey), Josh Brolin (Brandon) and Corey Feldman (Mouth) to the beloved actors who played Data, Chunk, and Sloth (former NFL player John Matuszak), Fox is gonna be hard-pressed to capture that lightning in a bottle again.
Hopefully, they acknowledge that challenge, because it might be fun to watch them try.