Gordon Ramsay Admits He Fainted During Son's Birth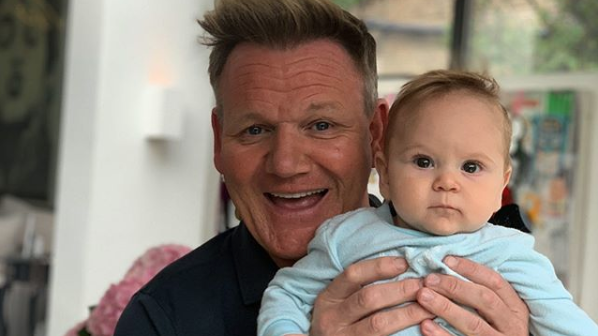 Beloved chef and professional rage monster Gordon Ramsay is officially a father again. Welcoming his fifth child, Oscar, into the family, the fiery-tempered Masterchef host admitted that this one wasn't just another trip to the hospital. Yes, this potty-mouthed bad boy of the culinary world finally met his match when the sight of his newborn son actually caused him to faint.
"Tana didn't want to see me there for previous births, she said 'I don't want you to see me in this state so get out.' This time around, I was there and I absolutely shit my pants. I fainted. I literally dropped on the floor," Ramsay recalled on the Jonathan Ross Show.
"I was sat there and Oscar popped out through the sunroof and then they sort of throw you on him and he's screaming and I fell back, the nurse grabbed me."
For a man so accustomed to screaming, you wouldn't think hearing it from an infant would affect him so strongly.
Even the soothing soundtrack of Ed Sheeren in the background wasn't enough to keep Ramsay calm and conscious.
"I put Ed on to calm everybody. I put Ed on then I blacked out, I fainted like an idiot. Have you ever been in the [operating] theatre where there is so much commotion, so much going on? And then bang. I've never fainted in my life, by the way, that was the first time.
The hardass chef then confessed that he simply doesn't have what it takes to deliver babies (besides the obvious reasons): "It's scary, it's full on also they are experts [the doctors] and I'm a control freak so I was like 'Get me the hell out of here, please.'"
Ramsay miraculously survived the daring experience of watching someone else give birth though, and he's finally kicking back and relaxing with his new, terrifying bundle of joy.
"He is six months, it's extraordinary, also for the rest of the kids it's just a welcome bundle of joy. And boy, does that take you back!"
Congrats, Chef. Just try and leave the pants-shitting to him from now on. Okay, big guy?