Grandparents Have a 350sqft Harry Potter Playhouse Built in Backyard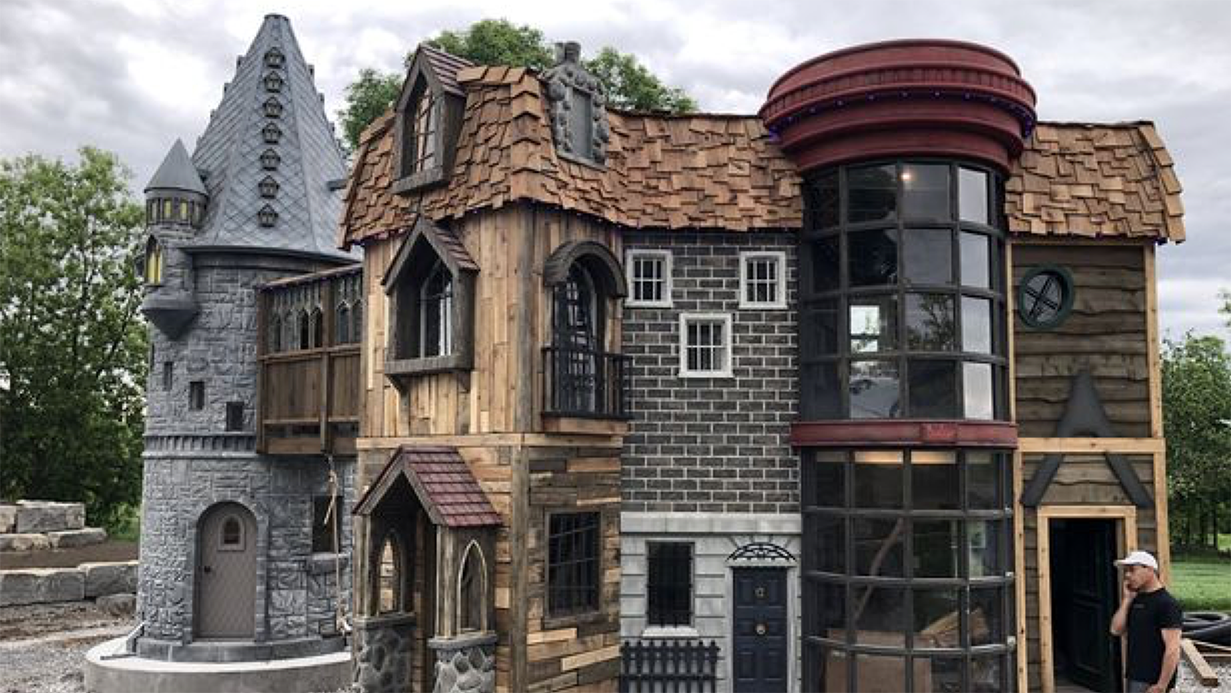 Most of us have memories of running away to a treehouse when we were kids; they were special places where grown-ups weren't allowed and imaginations ran wild. However, our rinky-dink tree platforms were nothing compared to a 2-year-old's brand new playhouse in Spencerville, Ontario.
Dave and Ruby Dunlop, grandparents to Logan, have erected a massive, two-story playhouse in their back yard themed after the magical world of Harry Potter.
"My daughter and her partner are huge Harry Potter fans – but none of us really know how to design a building, let alone a playhouse," Dave said. "We felt it would be so neat if Logan had a special place for her to come and play with at Pa's and Gram's. So we gave Tyson [Leavitt, founder of Charmed Playhouses] full creative freedom."
The 350sqft "play-mansion" features a number of classic Potter locations like Hogwarts Castle, Ollivander's wand shop, Platform 9¾, and even part of the Dursleys' Privet Drive. Of course, playground necessities like slides, hatches, and swings are all present too.
On top of the general wizard aesthetic, including owl-themed armchairs, chandeliers, and various types of architecture, the rooms are also filled with oodles of little Harry Potter details—broomsticks, toy basilisks, and even a Fantastic Beasts-style trunk drawer all make appearances.
It's surprisingly functional, too. The model kitchen shares the room with a working electric fireplace for chilly play days, and there's even a bed upstairs for cool summer sleepovers.
While the 3D design process for the structure only took a day for Charmed Playhouses in Alberta, Canada, actual construction took a whopping 6 weeks as well as 3 more long days just to set all up in the yard (with the help of a crane, of course).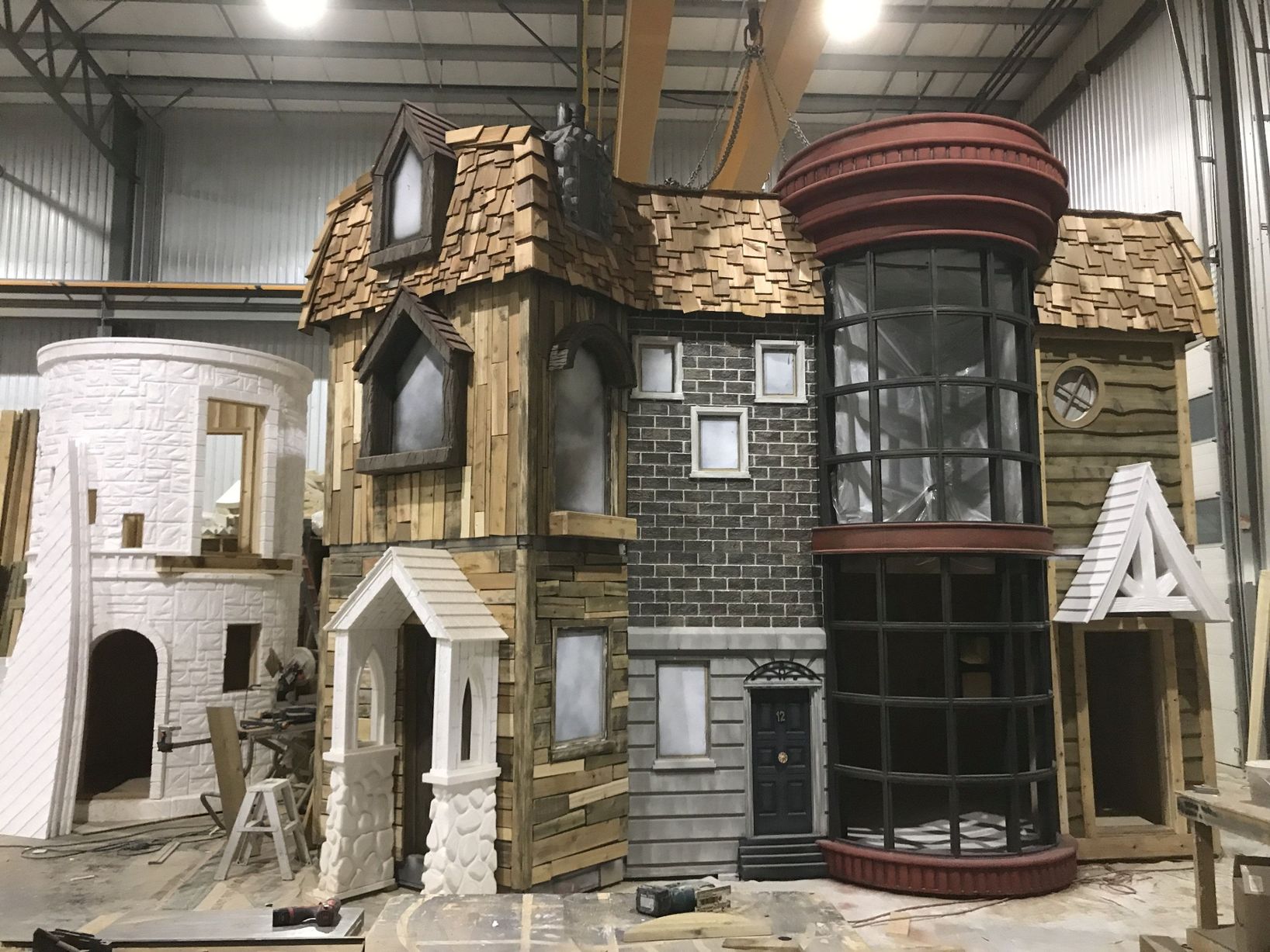 While these awesome grandparents declined to share the price tag of their magical structure, other custom luxury playhouses from Charmed go for anywhere between $15,000 to $250,000.
Past designs from Leavitt have included a Disney-themed princess castle attached to Rapunzel's tower, Captain Hook's pirate ship in Neverland, and even a Hobbit hole.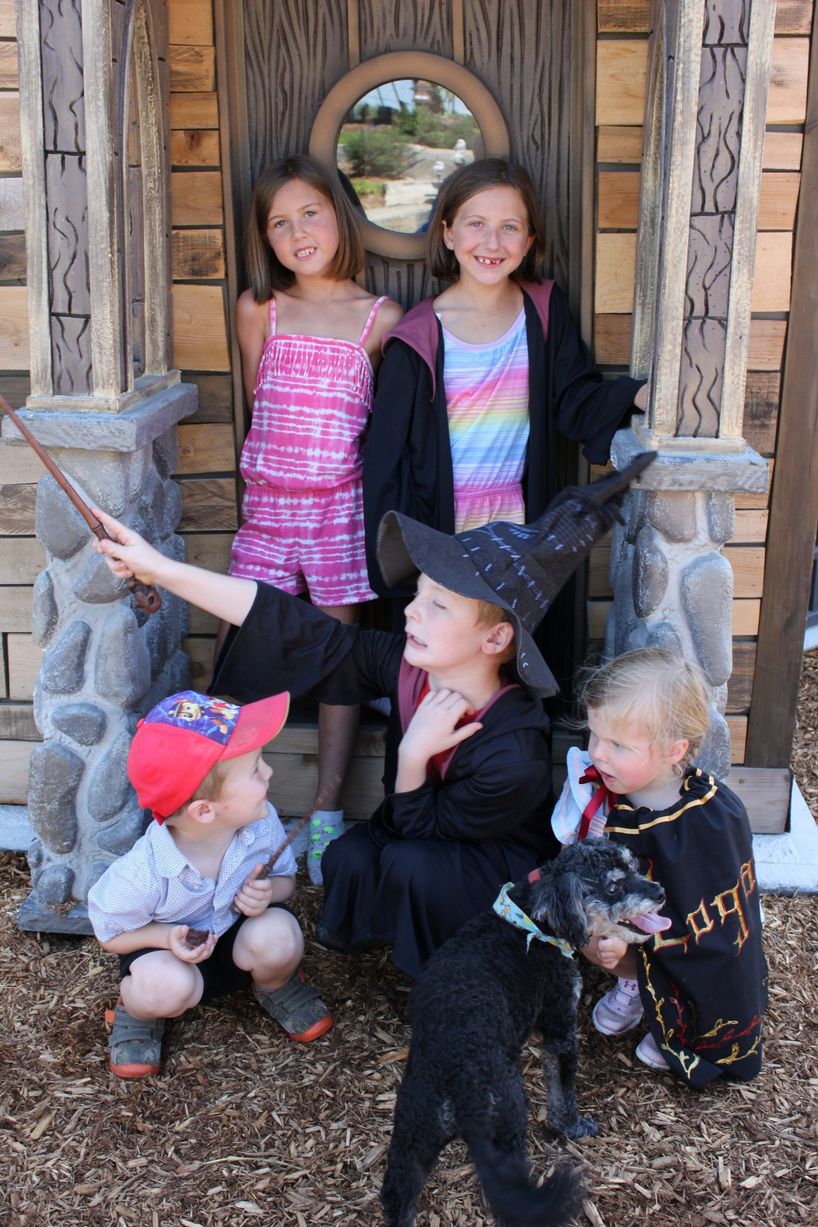 "Gram and her absolutely love to have tea in the little kitchen and lose track of the time," Dave added. "You should see her face when she's using the playhouse. We're so thrilled with it."
And apparently, the job still isn't finished.
"We hope to have a zip line attached in five to six years, which will go from the balcony of the Hogwarts tower down to the ground."
Not exactly congruent with the lore established in the books, grandpa, but we'll it slide this time.