Guy Pretended to Get Stood up on Valentine's and Scored Free Steak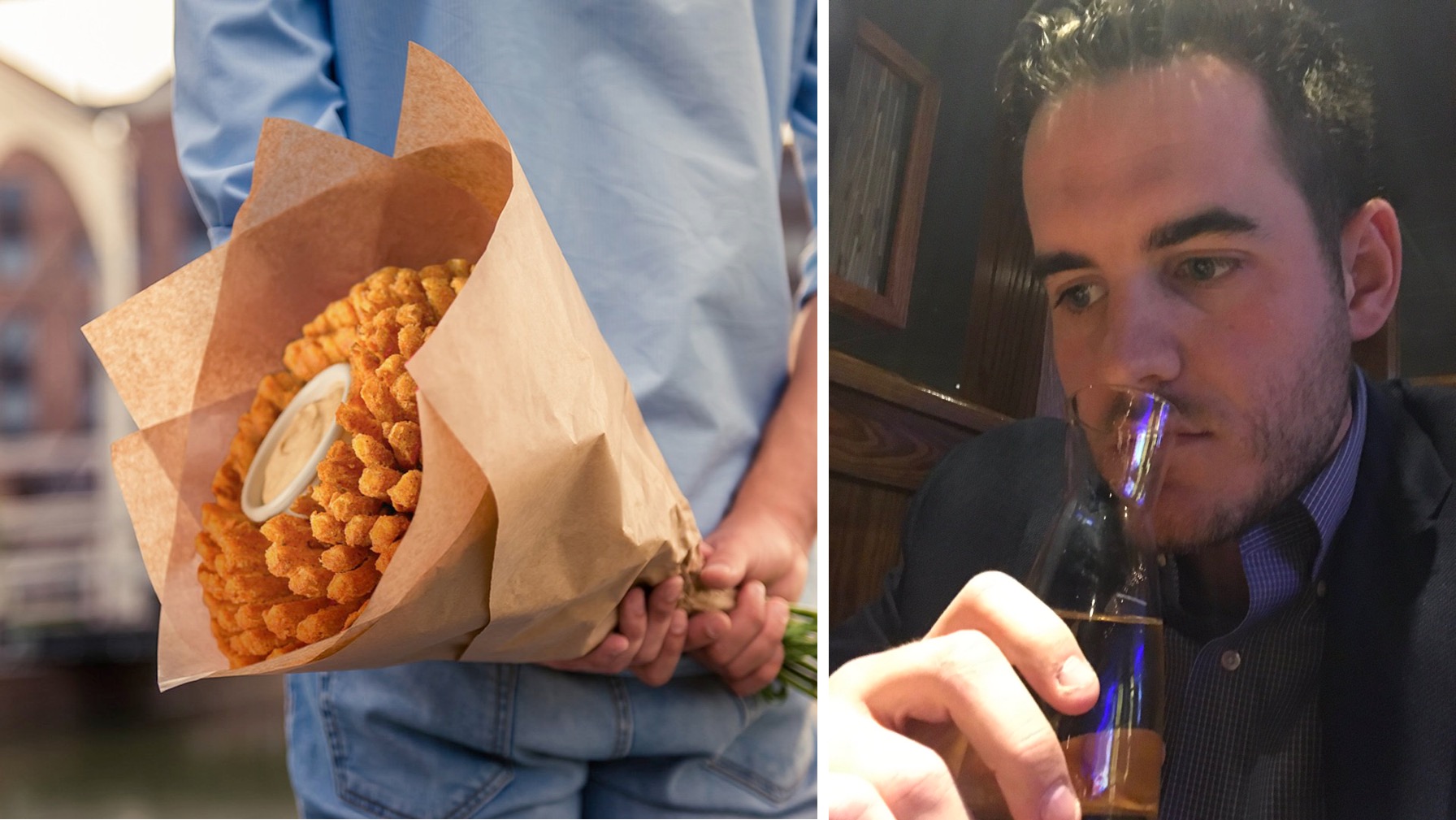 What's sadder than going to Outback Steakhouse on Valentine's Day? How about getting stood up at Outback Steakhouse on Valentine's Day?
Stephen Bosner, from Maryland, traveled to a local Outback on February 14th. Dressed to the nines and looking nervous, he was clearly waiting for a special someone to arrive… but all was not quite as it seemed.
Earlier that day, Stephen had tweeted to his followers:
if I went to Outback Steakhouse by myself tonight and asked for a table for 2, then got progressively sadder as the night went on alone, do you think they'd give me my steak for free?

— Phteven (@baconflavoring) February 14, 2019
Yes, this was all a well-conceived ploy to secure some free sirloin, and Stephen was committed to the ruse.
He ordered a beer for himself and decided on a nice Chardonnay for his lady-friend (whom he impulsively named "Katherine," by the way). Deciding to up the ante, he whipped out his phone to leave a fake voicemail for the fake girl who had the audacity to stand him up for a fake date.
audio of a fake voicemail I just left in earshot of anyone still at the bar pic.twitter.com/LfIttzT3u6

— Phteven (@baconflavoring) February 15, 2019
Due to the kitchen closing, Stephen was forced to order a steak—you know, just in case the imaginary girl showed up famished.
The ironically heart-shaped sirloin arrives with blue cheese crumbles, which proceed to melt, dousing the steak in a crestfallen puddle of cheese. Sheer perfection.
steak's here. blue cheese crumbles melted on top. restaurant's closed. how long can I stare into the distance before taking a bite? pic.twitter.com/w7bhvIAyne

— Phteven (@baconflavoring) February 15, 2019
With several patrons and employees giving Stephen's table furtive glances at this point, he decided to crank up the theatrics from 'sad' to 'totally pathetic.'
"I have started crying," he tweeted. "I dropped a piece of mac n cheese on the floor next to me. Picked it up with my hand and ate it."
With the restaurant clearly about to close, Stephen began to wonder how exactly this was going to go down.
"I still haven't gotten a check. I KNOW this waiter is getting ready to clock out for the night [sic]," he tweeted.
Not long after, however, we got the conclusion we needed:
UPDATE: a couple at the bar paid for my meal for me.

this mission?

SUCCESSFUL.

— Phteven (@baconflavoring) February 15, 2019
But don't go thinking this ended with Stephen, the Steak Bandit, running off with a boatload of free meat.
As a way of spreading the love to those who really need it on Valentine's Day, he donated $50 to the ACLU.
— Phteven (@baconflavoring) February 15, 2019
You'd think Outback would be at least a little angry upon catching wind of Stephen's shenanigans, but on the contrary.
Not only did the restaurant jovially reply to the stream of tweets, but they offered Stephen an actual free meal upon his return (with the caveat that he brings a real date next time).
How about you bring in a real date and the meal's on us? The love connection is up to you though. ♥️ Send us a DM so we can make it happen.

— Outback Steakhouse (@Outback) February 15, 2019
Congratulations, Steve, you wily minx.
If you want to read the entire thread of tweets from the night, you can check them out here.