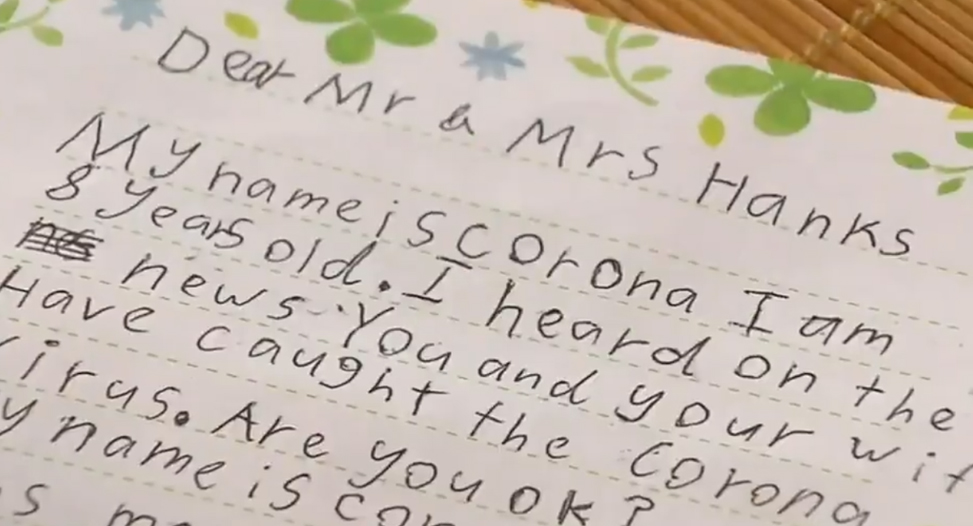 Credit: Twitter/TheTodayShow
They say don't meet your heroes, but what about becoming pen pals with them? Most celebrities probably aren't who you imagine them to be. Robert Downey Jr. isn't actually a superhero billionaire genius philanthropist. Robert DeNiro isn't actually a stone-cold bank robber. Steve Carrell isn't Michael Scott. They're all just professionals playing parts, some of which are surely more like their real-life personalities than others, but most of which probably aren't.
Except for Tom Hanks. He really is as nice and decent as most of the characters he plays. We have countless examples, and now we have a new one.
In March, Hanks and his wife were diagnosed with the coronavirus while on location shooting a film in Australia. Upon hearing the news, a young boy wrote a letter to Hanks, inquiring about his health. He asked the two-time Oscar winner, "I heard on the news you and your wife had caught the coronavirus. Are you ok?"
He also let the actor know about an unfortunate coincidence that was making his life more difficult. The boy is 8 years old, and his name happens to be Corona. It has led to some bullying, which was making the little boy "sad and angry." Well, Tom Hanks was not going to take that sitting down.
He wrote the boy back and sent him a Corona typewriter – with which he used to type the note – thanked him for his concern and reassured him about his name.
"Your letter made my wife and I feel so wonderful! You know, you are the only person I've ever known to have the name Corona — like the ring around the sun, a crown. I thought this typewriter would suit you. Ask a grown-up how it works. And use it to write me back."
At the end of the note, he added, hand-written: "P.S. You got a friend in ME!" Because he actually IS Woody from Toy Story.
Check out the video from Australia's Today Show:
Tom Hanks has befriended an 8-year-old boy named Corona, who wrote him a letter about being bullied for his name. #9Today pic.twitter.com/h7PckxoA4J

— The Today Show (@TheTodayShow) April 23, 2020