Hero Dad and Good Samaritan Protect Family From Wolf Attack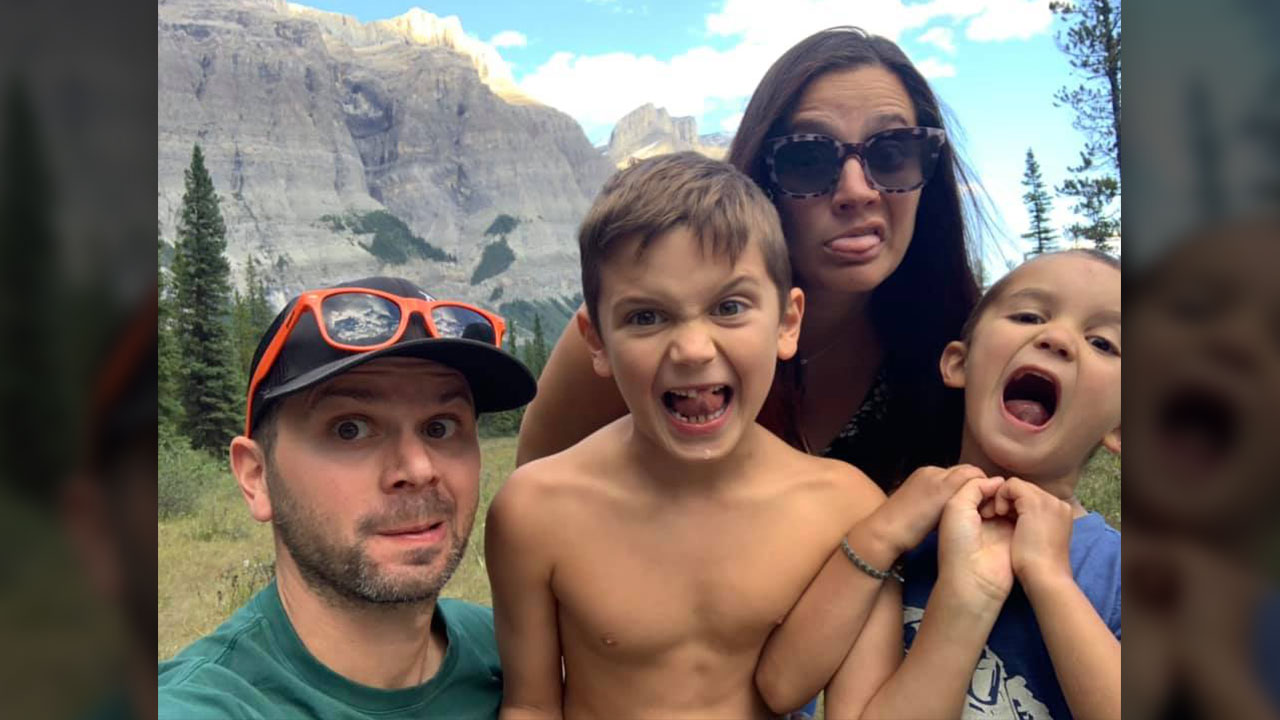 A picturesque family vacation in Canada quickly turned into a harrowing life or death experience for a New Jersey family last weekend.
What began as a scenic camping excursion in Alberta's Banff National Park ended in what Elisa Rispoli says "was like something out of a horror movie." The New Jersey mom, along with her husband, Matthew, were soaking up summer with their two young boys. On Saturday morning at around 1am, the family was literally torn from their slumber by a large wolf that had ripped through their tent. Elisa says her husband immediately leaped into action and "threw his body in front of me and the boys." Sustaining bites and injuries in the process, Matthew continued to battle the beast "for what felt like an eternity (but I think was anywhere from 1-3 minutes)," Elisa recalls. As the wolf began to drag Matthew further and further away from the tent, his wife says things looked worse by the second. "I cannot and don't think I'll ever be able to properly describe the terror." 
Eventually hearing their screams, a camper nearby came running to the scene. Russ Fee, or as Elisa calls him, their guardian angel, "came over to our site and kicked the wolf and it finally let go of Matt." Fee told CBC news his initial fear when hearing the screams was that parents had lost a child, but once he came upon the tattered tent and saw the wolf, realized the true nature of the situation. "I just kind of kept running at it yelling. I kicked it in the back half — kind of like trying to kicking in a door. Thankfully, I think it startled it enough that we were able to get it out."
The family retreated to Fee's minivan and eventually were able to get Matthew to a nearby hospital where the brave dad was treated for wounds sustained during the attack. Elisa posted details of the ordeal to her Facebook page saying "We are pretty traumatized but ok."
Park officials evacuated the area, eventually finding and destroying the animal and releasing the following statement: "Parks Canada takes the protection of wildlife very seriously. In rare incidences such as these, the destruction of an individual animal is required to ensure public safety. Veterinary tests confirmed the wolf was in poor condition and likely nearing the end of its natural lifespan." 
Elisa's post has been shared over 24,000 times on Facebook and has hundreds of comments from around the world from people simply wishing the family well and expressing gratitude for their safety. The grateful mom replying "It's been a very (VERY) overwhelming few days for so many reasons, but we are incredibly thankful for the love and support of our family, friends and strangers alike!"
She also gave a fitting shoutout to her husband for his heroic actions and for putting his life between their family and danger. "I love you Matthew- thank you for being our hero, a complete fucking badass and for fighting with everything in you."
While several outlets have censored her message, we decided that fighting off a wolf to save your family is fucking badass and describing it as anything less just wouldn't do it justice. Matthew and Russ' heroism, was a shining example of what every dad hopes they would do if caught in a similar situation, but what none of us ever care to find out first-hand.
Matthew's wife wrapped up her emotional post with one request, "And, do us a favor and go give the people you love most a big kiss and let 'em know."