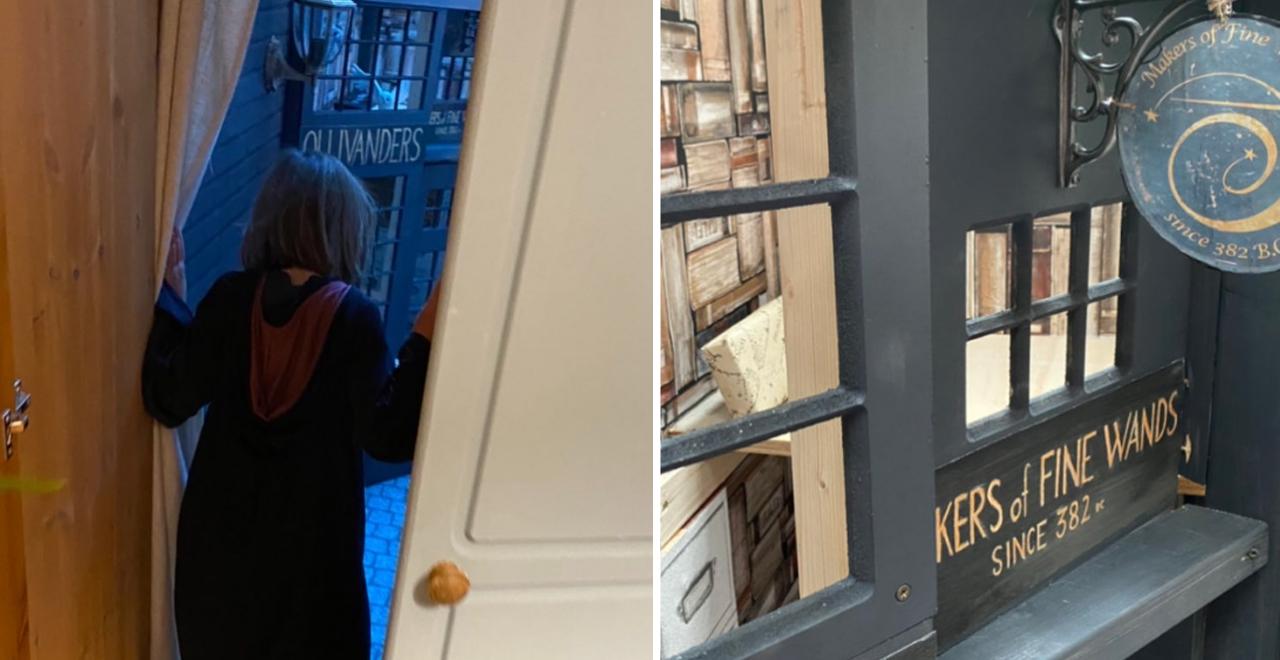 Credit: SUPPLIED
The global pandemic has forced all of us to make changes in the name of health, safety, schooling, and more. It hasn't been easy, and we've had to make a lot of sacrifices. But there's one thing it has given us more of, and that's time. Time with our kids and families, time to learn new skills, and time to kill without much of the entertainment options we might otherwise have.
One amazing dad tackled all three of those things at once. His name is Dylan, and he lives in London where he shares custody of his daughter. He had a trip to Disneyland planned, but thanks to COVID, that had to be scrapped, so Dylan found another way to give his daughter Ella an amazing memory.
"I had to cancel our holiday to Disneyland and seeing Ella work so hard on her school work with me working (I have Ella with me half the time) was good, but gutting to not be able to give her all my time, I wanted to do something special," he told The Dad.
He remembered the two of them bonding over the first Harry Potter movie, and it gave him an idea for her birthday.
"One day I was standing in part of my house and I thought 'it's a bit like a mini street…' I remembered the first day I watched the first Harry Potter film with Ella and thought wow how amazing would it be to put Diagon Alley in."
He says it so matter-of-factly – "to put Diagon Alley in," as if that were somehow possible. Well, for this handy, dedicated dad, it was. My man did it, spending months planning and designing the alley, making sure to customize the various shop fronts for his daughter's interests, and another month to build it, making sure to do the work when his daughter was with her mom.
Not only did Dylan recreate JK Rowling's famous street, he hid it behind his daughter's wardrobe, calling to mind another beloved fantasy series.
"I kept having new ideas like the wardrobe as a way in, as she likes Narnia too."
View this post on Instagram
"Ella's reaction was stunned silence," Dylan said," and then her assertiveness kicked in and she said 'can we keep this here forever!' The rest of the day was spent exploring it and opening a few presents I had put in the shops. I also dressed up as Hagrid which was hilarious for us both as I had a rubbish accent and acting skills but it was fun all the same. We went as Hagrid and Ella back through the wardrobe and took her dad's cushions for her reading nook."
THERE'S A READING NOOK!
To recap: He spent months designing a secret Harry Potter-themed street, spent a month building it in secret, hid it behind his daughter's wardrobe, stocked the different shops with gifts, and then he dressed in costume to explore it alongside her.
I think the Dad of the Year contest is over. We all lose.
Dylan's handiwork has gotten a lot of attention over the past few days – both via his Instagram account and his YouTube channel, where he details the project and preps for his next one (a new toy shop just in time for Christmas) – but he didn't do it for clicks, he did it for his daughter.
"The main inspiration for it was Ella," he explained. "She has an amazing imagination as do most kids and it's hard to keep up! Building it I was constantly excited when I finished something new she would discover so I'm going to keep going, adding bits and new games to play."
He's going to keep adding to it? Can we move in?
Follow Dylan via Ella's Secret Street accounts on IG and YouTube, and check out the making-of video and Photos below.