High School Football Player Prays With Opponent Whose Mom Has Cancer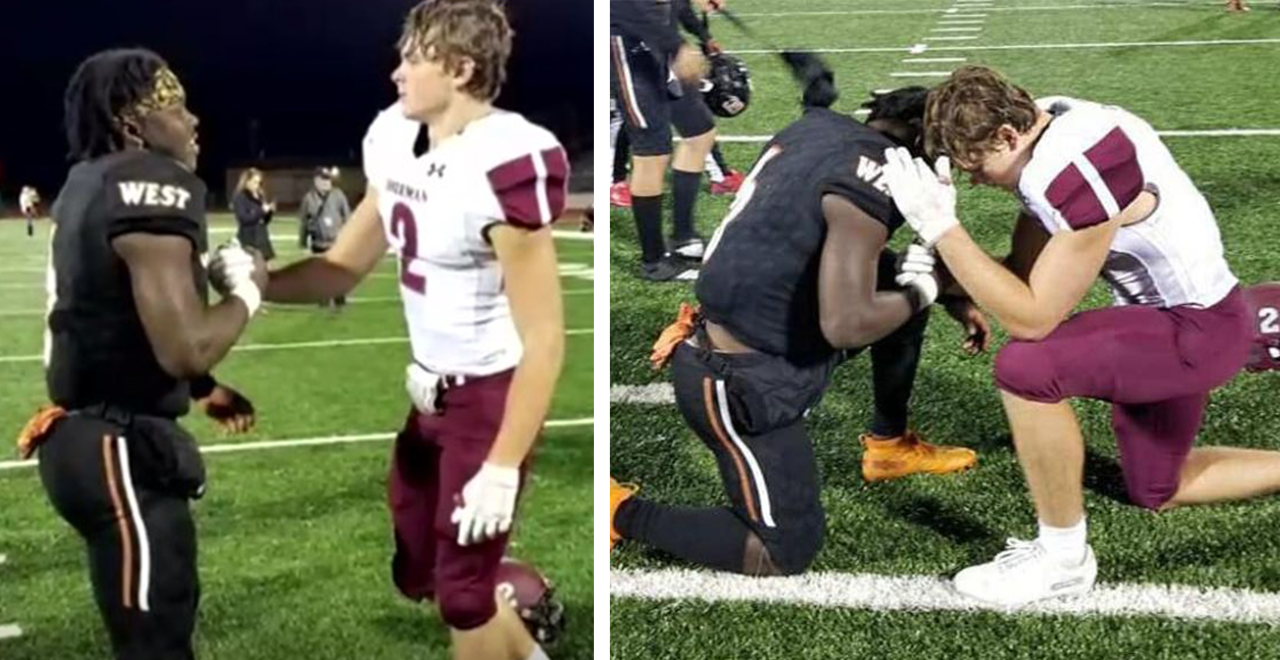 Two Texas high school football players from opposing schools left everything on the field during their game last week, but it's what took place afterward that has since gone viral.
Senior Gage Smith of Sherman High School approached one of his opponents, West Mesquite High School's Ty Jordan, with a simple request. Smith asked if he could say a prayer with Jordan, whose mother is currently battling stage 4 bone and lung cancer. The two senior athletes — former teammates who played together on a club team over the summer — knelt down on the very field they had just competed on to come together as peers.
Although Smith's team had won the game, a critical victory on their road to state playoffs, the team captain says that at that moment, all that was put aside. "I would've done that whether we would've won or lost," Smith recently shared with TODAY. "During the game we're enemies and we're gonna play and try to win the game, but you still have that respect for the other opponent. I wanted to do that for him."
Moments such as these can be rare, but according to Sherman coach J.D. Martinez, it's just who Smith is 24/7. "That special moment with Gage, I see that kind of stuff weekly from him," Sherman head coach J.D. Martinez told TODAY. "I see it all the time. I'm glad that other people are having the opportunity to see it, too." The school district echoing the coach's sentiments on Twitter:
The true essence of being a Bearcat is friendship and support! We're not at all surprised that Gage was caught in the act of being a great supportive friend. #BearcatPride ❤ @sherman_high @SHBearcatFB @ShermanISDSupt https://t.co/Xq6mmpR2Nh

— Sherman ISD (@ShermanISD) November 3, 2019
As for Smith, the senior safety says it wasn't about gaining notoriety or trying to make a scene. He was simply reaching out to a friend. "It was meant for just me and him to have a moment and to pray over his family and for his mom," Smith says. "I just wanted to let him know there are other people thinking about him and his family, and let him know he has somebody to turn to."
Photos of the exchange were shared and posted to Facebook, the initial post garnering over 100,000 likes before being removed. Both of the teen's mothers sharing their reactions. Smith's mom Patricia wishing the Jordan family well, and sharing to Facebook that it's the things her son does when he thinks no-one is watching is what truly shows his strength of character.
Tiffany Jordan continues her almost year-long battle with multiple cancers, saying that the incident has certainly helped to lift her spirits. "It made me feel really good," she said. "I've been down and depressed, but that has lifted my spirits." While Tiffany says financial stress with medical bills has been difficult on her family, it's simple gestures such as these that can often mean the world to those who may be struggling.
"A prayer, a kind word, a hug, especially when you know somebody is going through something, that's like the best thing you can do for a person."