Whether it was a big wheel, a bicycle with training wheels, or (for a very lucky few) a Power Wheels, everyone has memories of kicking up dirt in their first driveable vehicle.
The wind whipping our hair back as we took off down the street. . . confidently challenging our friends to race (if they dared). . . getting our first major injury due to our own pride and hubris while going over that janky "ramp" we built.
Kris Temmerman clearly has fond memories of such experiences and couldn't wait to share them with his 3-year-old son but instead of grabbing that Fischer-Price Jeep Wrangler from Target that all those other kids have, he decided to up the ante a bit.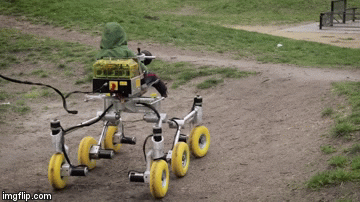 Using his engineering ingenuity, Kris constructed a functioning Mars rover for his son. Seriously.
The vehicle can easily handle uneven terrain thanks to its six fancy articulating wheels and is steered via a wired controller since this little astronaut doesn't quite meet NASA's age and size requirements to pilot it on his own.
And thanks to a deferential bar next to the seat, he always remains comfortable and upright while in the cockpit.
Honestly, if you slap on a bigger seat, ratchet up the engine, and throw on some more substantial tires, I will be the first to thoroughly injure myself while putting this bad boy through its paces.
Thankfully, Kris also created a video detailing the rover's creation in case any other dads want to take a shot at building one for their kids AND DEFINITELY NOT FOR THEMSELVES.
*wink, wink*