Hundreds Attend 4-Yr-Old Cancer Survivor's 'Bumblebee' Birthday Party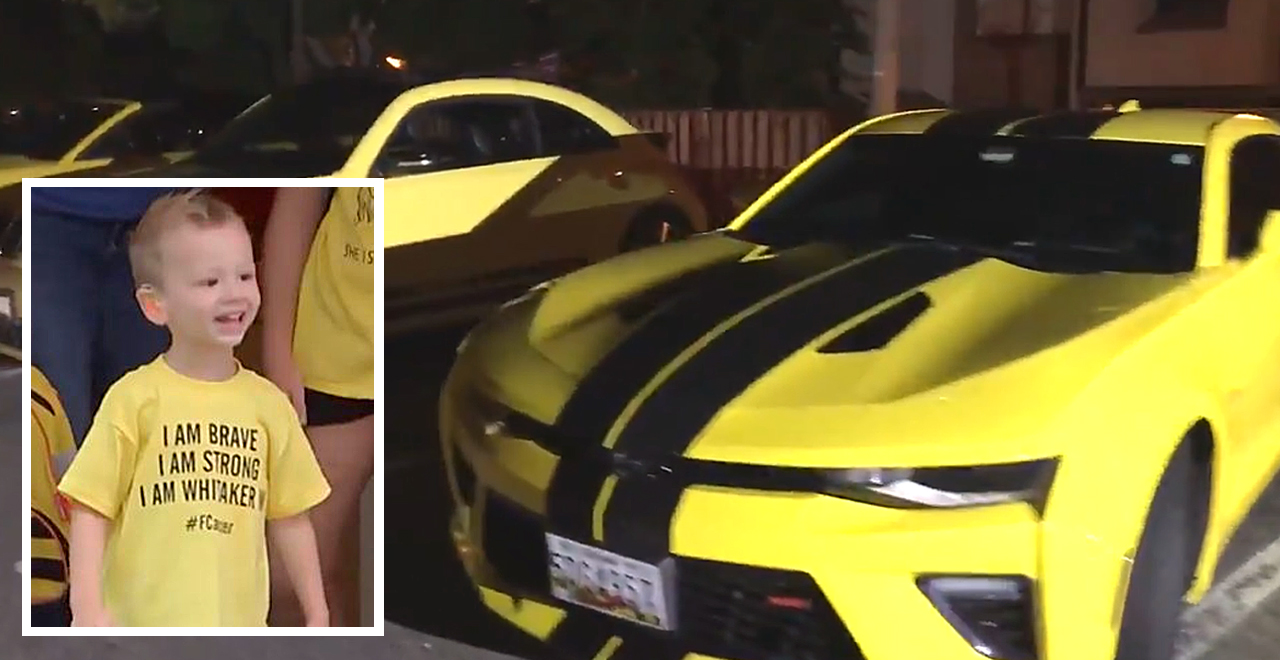 4-year-old Whitaker Weinburger has had a difficult life. Just weeks after his first birthday, Whitaker was diagnosed with Stage 4 neuroblastoma. The cancer on his adrenal gland would require the young boy to receive a blood transfusion and double stem cell transplant. "It was awful," Whitaker's mom Erin recalls, telling The Washington Post in a recent interview "It was terrifying."
Although treatment showed eventual success, Whitaker's next few years were full of daily medications and follow-up appointments. Sleepless nights and weeks spent awaiting results became the Weinburger family's new normal.
Photos from his second birthday show Whitaker between treatments, feeling "crummy" according to his mother, but still managing to celebrate. It wasn't until shortly after his third birthday that the brave young boy and his family received the news they'd been waiting for all that time. Scans came back showing the treatments had worked, and Whitaker was officially on the mend.
Fast forward to this September. Whitaker's fourth birthday was approaching, and his parents wanted to find a special way to help him celebrate. A huge fan of "Bumblebee" from the Transformers movies, his mom Erin knew just what to do. A neighbor down the street from the family's home drives a yellow Camaro, much like the one featured in Transformers. They sometimes pass the vehicle on their way to preschool, Whitaker often asking "Can we go the Bumblebee way?" Erin posted a message on Facebook asking anyone with a yellow car to park on their street on Whitaker's birthday so that his walk to preschool would be one he'd always remember. Her post spread quickly and was eventually picked up by local news station WJLA.
Number of yellow cars including bugs & Camaros have arrived for a special Bumblebee Transformers birthday. It's all a big surprise for a little 4-year-old who is fighting stage 4 cancer here in Alexandria Virginia. Drivers have arrived from NY, WVA and all around the DC @ABC7GMW pic.twitter.com/EuZQ9HSAtm

— John Gonzalez (@ABC7John) September 11, 2019
This past Wednesday, over 100 cars, trucks, buses, and cabs — some traveling hours just to be there — lined the sides of the family's street in Northern Virginia. Police officers shut down traffic, while crossing guards and neighbors sported Bumblebee themed shirts and costumes, all to help a young boy have his best birthday yet. Strangers and family friends alike showed up with gifts and support for the cancer-kicking youngster. Whitaker's mom Erin was overwhelmed by the support, telling The Post "I hope that all those people that come connect with each other, too, because they're seeing something great. They're seeing something great in each other."
If that wasn't awesome enough, Jeremy Levy, voice of Bumblebee for the cartoon Transformers: Cyberverse, also reached out to the family with birthday wishes, sharing their exchange on his Twitter account.
The best part of my day. Whitaker got to talk on the phone with Bumblebee. Or should I say, Bee got to talk to Whitaker, and let him know…he's *his* hero pic.twitter.com/4vETWnzBuC

— Jeremy Levy ???? (@mrjeremylevy) September 11, 2019
In addition, Paramount Pictures, the movie studio behind the Transformer movies, sent several boxes of toys to the family's house, many of which they say will be donated to other kids in need.
Overjoyed with the outpouring of support and love from so many in and around her community, Erin says she and the family now look forward instead of back. "I think the more time that passes, the more we focus on the future instead of what might have happened," she says, adding "No matter what the future holds, he's loved."