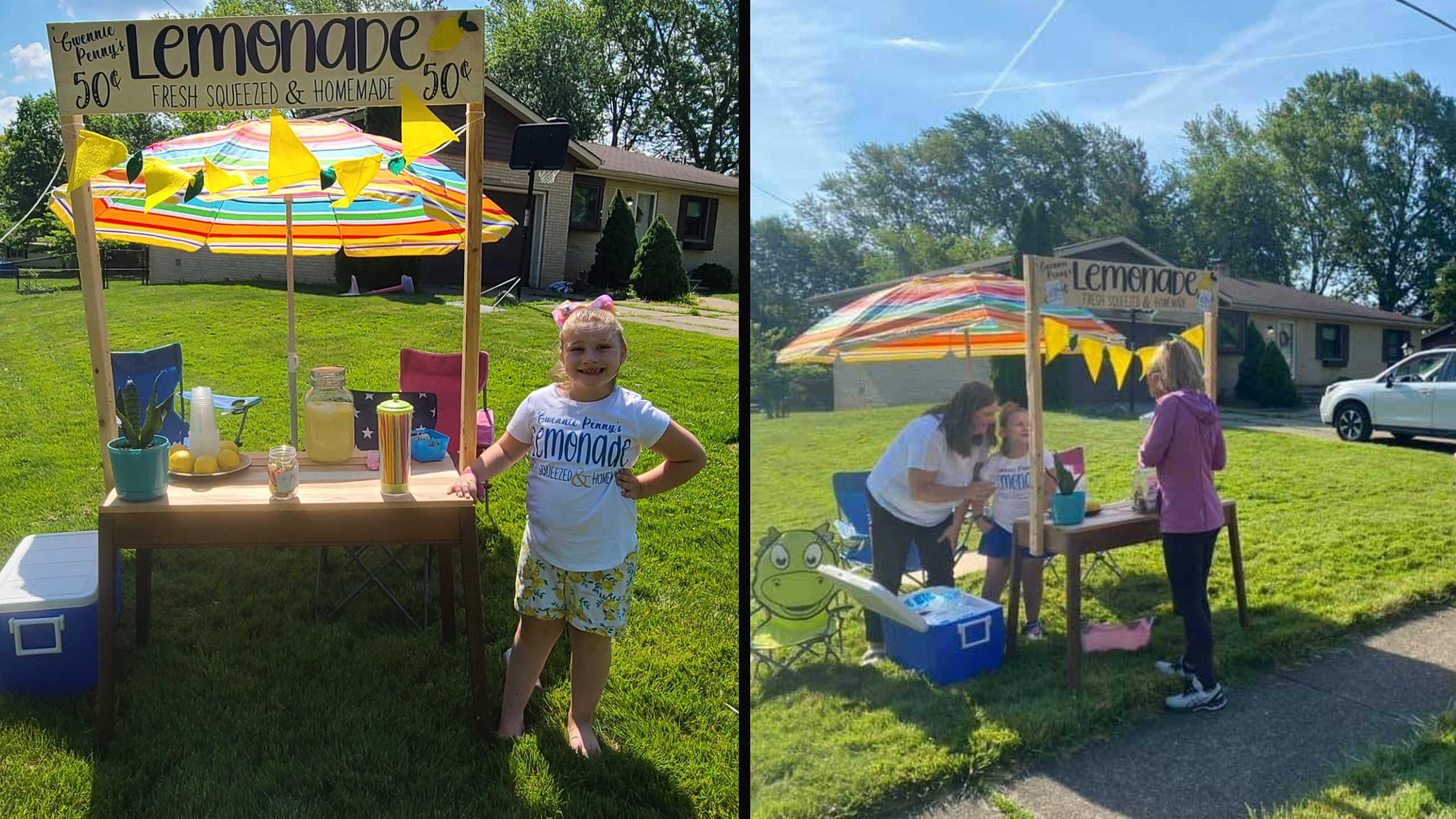 Credit: Facebook/GwenniePennysLemonade
Kids working to benefit their communities is always refreshing. In the case of a 7-year-old Ohio girl, that can be taken very literally. Gwen Ciccozzi started a lemonade stand to help fund an inclusive playground for her community. The young girl lives with hemiplegic cerebral palsy, and found that most playgrounds aren't designed to accommodate her. So, in classic lemons turned into lemonade move, she started the fundraising efforts for the new park herself.
On her first day of selling lemonade to raise money for the cause, she sold almost $1,000 worth of refreshment. Her mom said she was 'overwhelmed with the generosity' for the community. Currently, whenever they want to take Gwen to a park, they have to choose between driving nearly a half hour to an inclusive playground in a different town, or choosing one closer to home where she can't do as much since she has limited use of one hand.
"Typical playgrounds can be hard for a girl like Gwen," her mom wrote on the lemonade stand's Facebook page. "Inclusive playgrounds help her find joy and success more easily, we can't wait to have one so close to home!"
A former teacher of Gwen's took the idea for an inclusive playground to the town's city council, and it has been approved, but the hefty price tag means the final goal is still a ways off. So that's why Gwen jumped into fundraising. And the most touching part of the story? Her lemonade stand has inspired several other kids in the community to start their own lemonade stands to raise money for the park.
Gwen's teacher, Leann Alerio, is leading the efforts to get the park completed. As a Special Education Coordinator, she told a local media outlet that feeling like you don't fit in can be a huge detriment to a child's social development.
"They walk differently, they may communicate differently, they may behave differently but on the inside they're kids, they want to make friends and they want to play," she said. Thanks to her efforts, and the work of kids like Gwen, the community hopes to have the park completed by next spring.