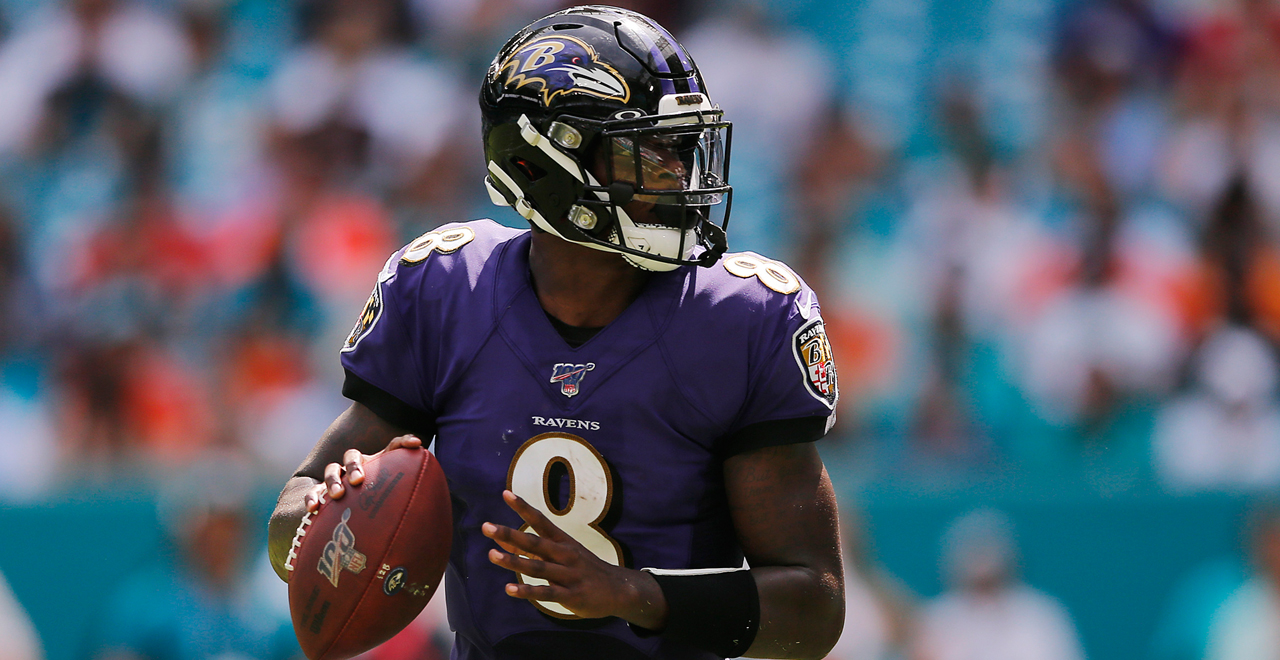 Credit: Getty/Michael Reaves/Stringer
Sports are in a strange place right now. There are none! There was no March Madness, no opening day, no Masters. We have no idea if the NBA will be back in time to hold their playoffs, and we don't even know if the NFL, which is in the midst of holding an all-virtual draft, will be back in the fall. Sports are up in the air.
But not e-sports! Or video games of any kind. Including Madden, the long-running NFL game from EA Sports which, aside from watching old games on YouTube, is about your best bet for football action these days. Video games are the one thing sports fans can count on these days. Well, that and the Madden curse. So I hope you're not a Ravens fan!
Reigning league MVP and two-time playoffs flame-out Lamar Jackson recently announced that he will be appearing on the cover of Madden 21, the 2021 edition of the premiere NFL-based video game. And if you're superstitious, you know what that means! And so does Lamar. But he's not sweating it.
In a video on Twitter, he says "I'm not worried about the curse. Patrick Mahomes, he was on the cover and he won MVP, I hope that's the curse!"
Lamar Jackson confirms he'll be on the cover of Madden 21 🎮 @brgridiron

(@Ravens) pic.twitter.com/ovKbcRMd78

— Bleacher Report (@BleacherReport) April 21, 2020
If you're unfamiliar, the Madden Curse refers to the idea that whoever appears on the cover of the game inevitably ends up getting hurt that season. It dates back to the 1999 edition of the game, which featured 49er Garrison Hearst, who broke his ankle shortly after being the cover boy. And after that, the hits just kept on coming.
Digital Trends has the whole history, including this insane fact: "Of the 22 players who have been selected to grace the cover of Madden games through this season, 16 have had troubling or abruptly shortened seasons following their cover debut — including several who suffered season-ending injuries shortly after their game hit shelves."
I am not a superstitious man, and I like Lamar Jackson (especially after drafting him in fantasy last year), but this is not good news. I'm glad to see that he's taking it in stride because curse or not, it's an honor to be on the cover of the game. Let's just hope he manages to stay on the field!
Lest we forget:
"Madden curse" lol 😂 pic.twitter.com/qWgen4KAPK

— Kansas City Chiefs (@Chiefs) February 3, 2020