Into the Spider-Verse's Jake Johnson Will Send Voice Messages to Quarantined Kids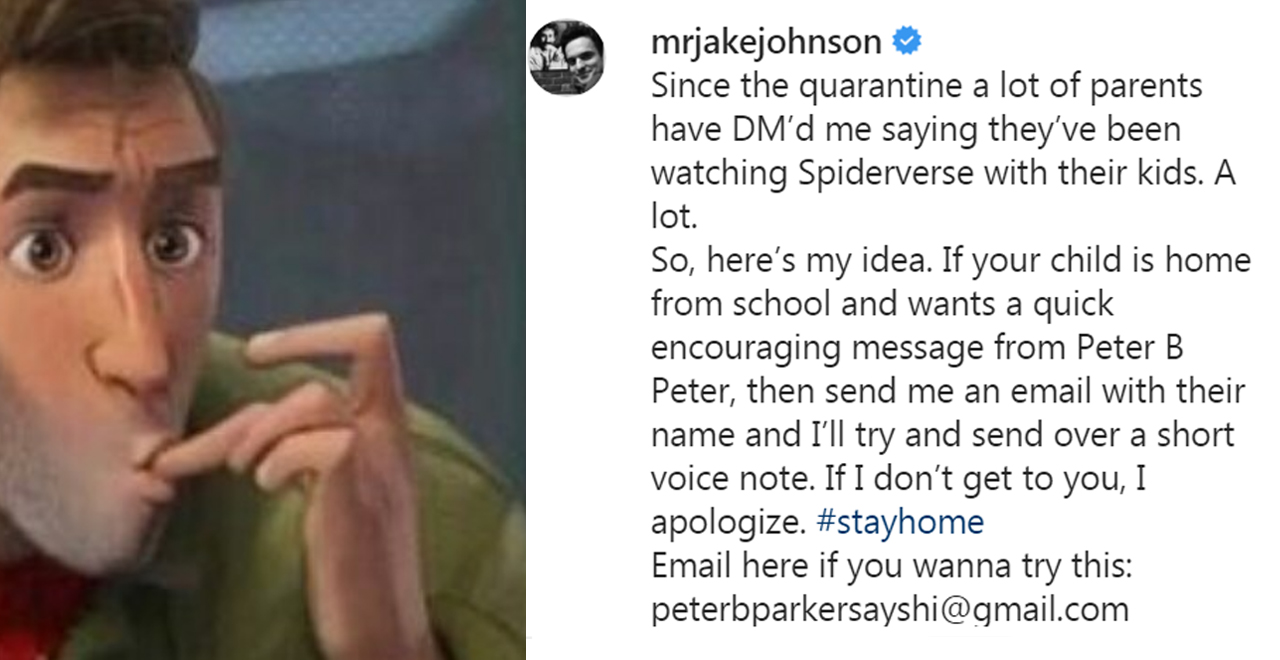 As everyone attempts to weather the Coronavirus pandemic together, people are stepping up in a variety of ways, especially Hollywood.
Disney released Frozen 2 to their streaming platform a few months early, Sony is making movies that are currently in the theater available for rent, and the other day, Gal Gadot led a collection of celebrities in an Instagram sing-a-long to help lift spirits.
One actor is taking it a step further than merely going on social media and blasting messages to the world-at-large. He's actually offering to reach out one-on-one.
Jake Johnson, the comic actor from TV's New Girl and the Jurassic World movies, is perhaps best-known to children as the voice of Peter Parker in 2018's Into the Spider-Verse. And he's putting that voice to good use, offering to call quarantined kids in character as Spider-man himself.
Johnson made the offer on Instagram, sharing an image of his animated alter-ego with a long caption offering his services, and explaining that he was getting so many DMs from parents and kids who are cooped up and watching the movie that he figured it was the least he could do.
"So, here's my idea. If your child is home from school and wants a quick encouraging message from Peter B Peter, then send me an email with their name and I'll try and send over a short voice note. If I don't get to you, I apologize. #stayhome"
He added the "#stayhome" hashtag to encourage people to continue to protect themselves, and others, while the virus is making the rounds. He also included a custom email address – [email protected] – to make it easier for him to respond with a recorded message.
The post has nearly 100,000 likes, so it seems people like the idea. Jake had better stock up on lozenges because with great power comes great… difficulty speaking.
Here at The Dad, we hope you, your families, and communities stay safe and healthy during the COVID-19 pandemic. For the latest information, please utilize online resources from local public health departments, the Centers for Disease Control, and the World Health Organization to remain as informed as possible.