James Corden Forced Writer to Binge 7 Seasons of GoT for a 4 Min Series Recap [WATCH]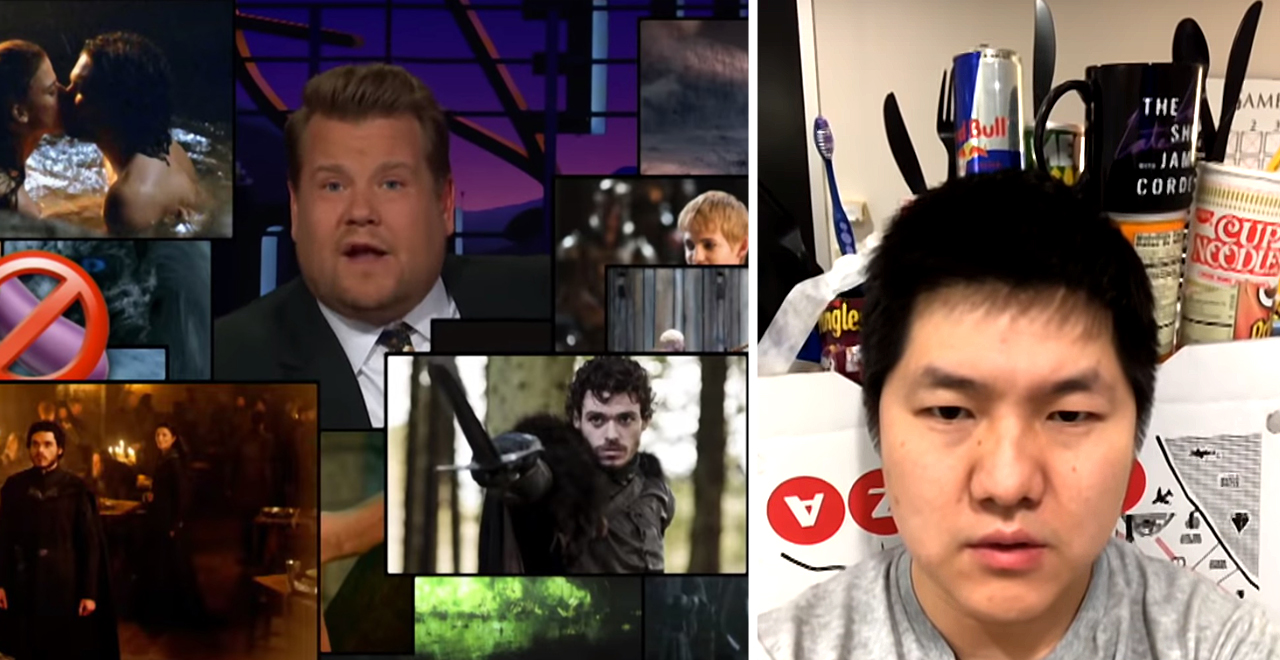 Unless you live under a rock that doesn't include an HBO Go password, you know that winter is coming this weekend.
The final season of Game of Thrones—one of the most highly anticipated premieres in history—is finally here and people are frickin' amped.
There's probably a few unfortunate folks out there who still haven't watched the series though, so James Corden decided to do a little recap.
Yes, he reviewed the entire series. . . in four minutes. . . and it rhymes.
(Heads up for spoilers, obviously)
Whew, even I'm exhausted after that.
Following the rhythmic recap, Corden recognized The Late Late Show writer Lawrence Dai, who is known for putting together impressive summaries like this one. But there was a problem.
"We asked Lawrence if he would write a recap of this, and he told us he has never seen a single episode of Game of Thrones," explained Corden.
So, rather than simply task someone who's actually seen the show to write the segment, they locked their guy in a room for an insane crash course in the fantasy pop culture phenomenon.
Lawrence films mini reviews after many of the episodes, which lets those of us who are longtime fans relive some of the amazing and harrowing moments that comprise the epic series. These include, "Joffrey kinda sucks, but I did get to see Aquaman's butt, so that's cool."
Well said, Lawrence. We remember. That was cool.
The montage over the 67-episode binge continues with Lawrence eating copious amounts of takeout, getting an IV to replenish his fluids, and even grabbing a quick snooze break with his mom.
Near the end, he comments that he's "so delirious" that he was hallucinating that Sheeran was on the show.
At the conclusion of Season 7, sitting atop a homemade "Iron Throne" built from a pizza box and various snack food containers, Lawrence's watch finally came to an end.
"I just watched 67 episodes of Game of Thrones in one sitting. I have never felt more accomplished and more worthless at the same time."
Welcome to the club, Lawrence. Valar Morghulis.