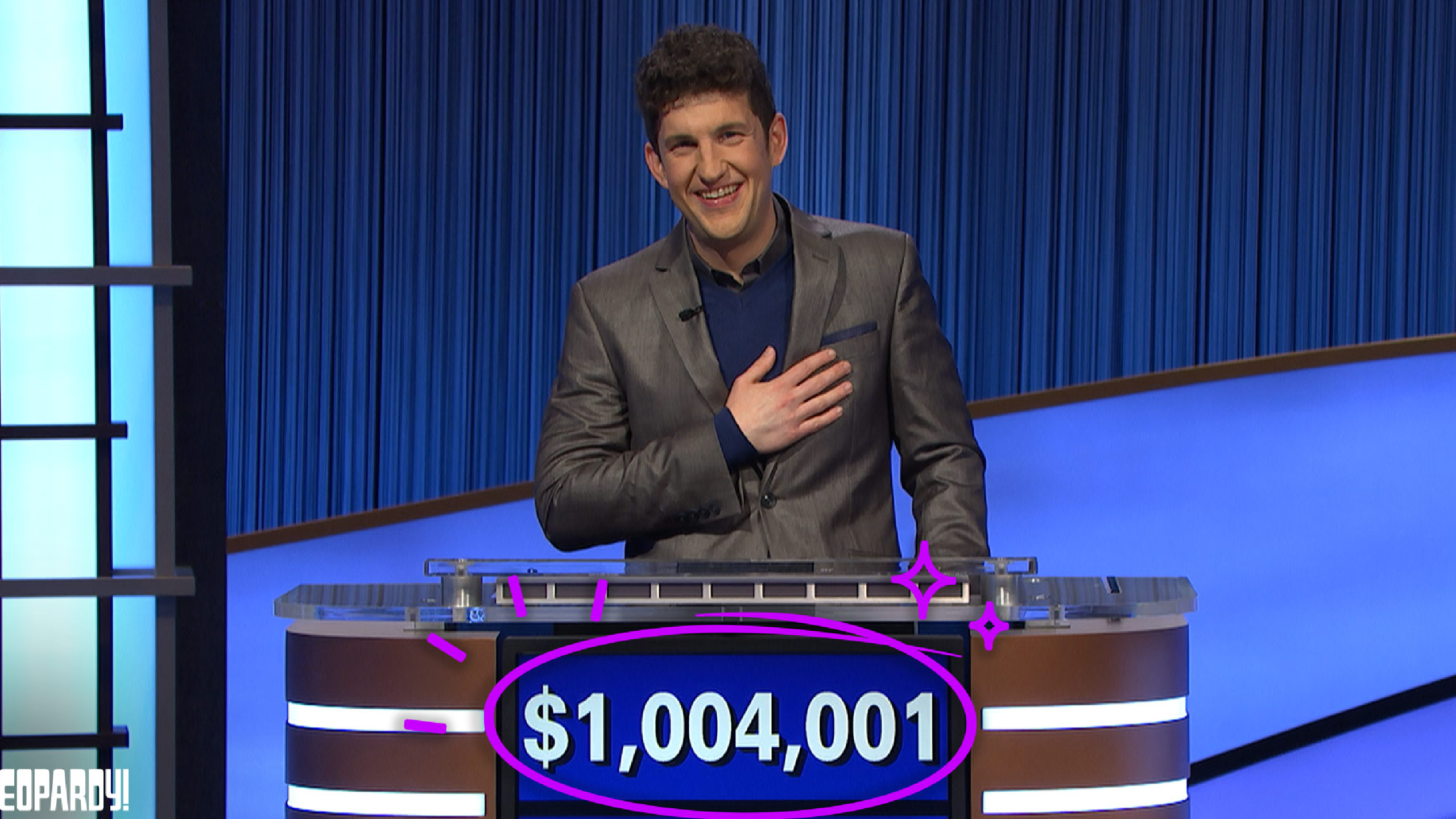 Credit: Twitter/Jeopardy
"Jeopardy!" is back in the news again. But, this time, it's for something unrelated to the hosting madness that gripped America all summer. The beloved game show finally has a new breakout player, as Matt Amodio won his 33rd straight game at the beginning of the month, making him the show's newest star.
🚨 @AmodioMatt passed the $1 MILLION mark! 🚨

The #AmodioRodeo continues Monday. pic.twitter.com/8gjOajiXKp

— Jeopardy! (@Jeopardy) September 25, 2021
Amodio's total winnings now stand at an amazing $1,267,801. That is a LOT of money for the PhD student. And now, his incredible win streak has him at SECOND all-time, with only the legend Ken Jennings in front of him. Of course, Jennings' streak stretched into the 70s, so Amodio still has some work to do to become the greatest of all Jeopardy players.
"Ken's always been the face of 'Jeopardy!' to me, so when I think of 'Jeopardy!,' I think of him," Amodio said in a press release distributed by the show. "To be right behind him is a surreal experience."
His win at the beginning of October helped him officially pass James Holzhauer, another one of the most recognizable players of all time. Amodio also became the third player ever (behind those two) to cross the $1 million mark in total winnings. Of course, Jennings holds that record too with more than $2.5 million in total winnings.
One clue at a time https://t.co/6sj5lWgFyD pic.twitter.com/BuU1xI77ix

— Matt Amodio (@AmodioMatt) October 3, 2021
Amodio is definitely an enormous fan of Jennings, as his social media postings back that up pretty well.
Ken, you've been a hero and an inspiration to me for almost two decades. I just want to thank you for everything you've given to the world.

— Matt Amodio (@AmodioMatt) August 10, 2021
And the show is surely just happy to have some fun news that isn't about the complete debacle the search for Alex Trebek's replacement has become. After Mike Richards picked himself to host the show and was unceremoniously dumped, Mayim Bialik and Ken Jennings have been named as temporary hosts. It's still unclear who will shepherd the show into the future.
But one thing IS clear. The game is still fun and was never driven (completely) by the host. Trebek thrived by making the game the star, and the new hosts are following suit. And when that happens, it makes room for players like Amodio to go on truly incredible breakout runs.