Jimmy Kimmel Pays Gratitude to Hospital Staff on his Son's 2nd Birthday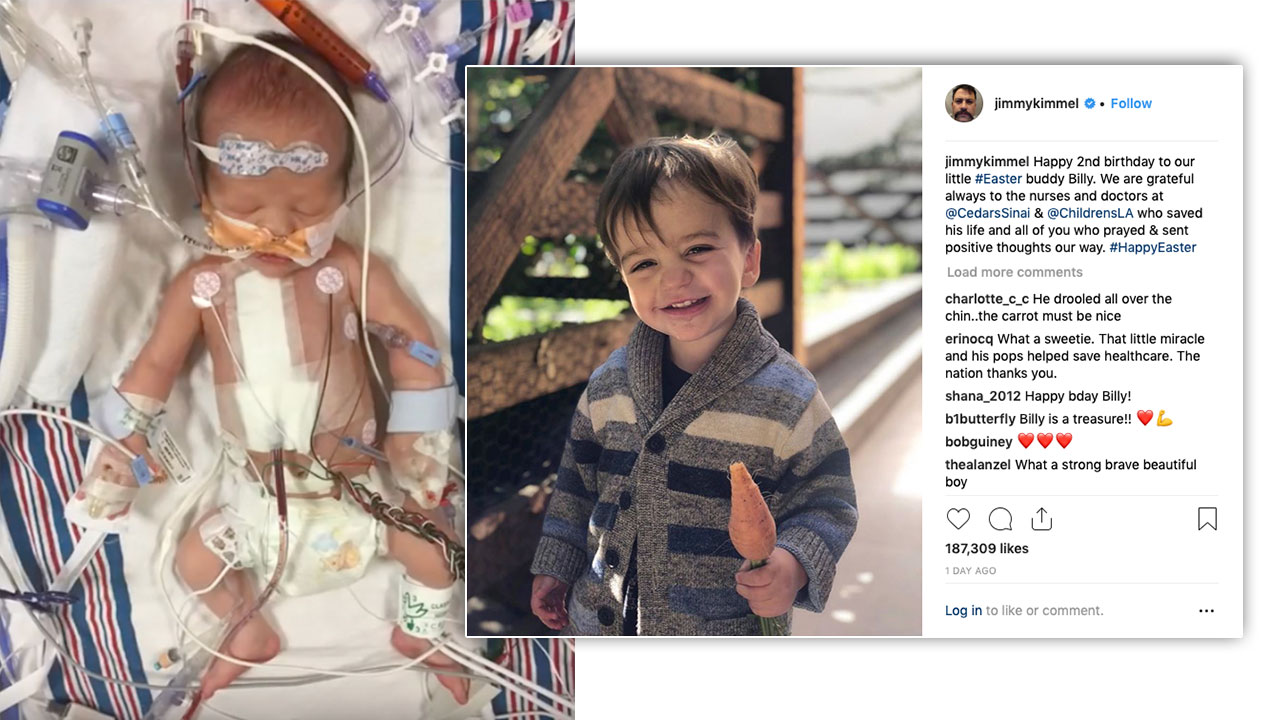 While families around the world were celebrating Easter this past weekend, one family had an extra reason to rejoice.
Late Night host Jimmy Kimmel took to social media on Sunday, not only wish his son Billy a happy second birthday but to thank everyone involved in helping their family reach this seemingly ordinary occasion.
While a second birthday may sound like a relatively minor milestone, it's one the family was unsure young Billy would ever reach. That's because Billy was hospitalized at birth with a congenital heart condition.
Undergoing his first surgery at just 3 days old, then another at seven months, Billy's first year on earth was a difficult one for the entire family.
Kimmel shared his family's struggle during an emotional monologue on his show just weeks after Billy was born.
Choking back tears, Kimmel shared his son's story.
"It's hard to explain. Basically, the pulmonary valve was completely blocked and he has a hole in the wall between the left and right sides of his heart."
After the initial three hour surgery, doctors had successfully repaired one of Billy's valves, allowing him to go home with his family just 6 days later.
Billy's struggle was far from over, but it was the first of several victories for a family who had been given a very serious and potentially fatal prognosis.
After the second successful open heart surgery, Kimmel opened up about some of the challenges he and his wife Molly faced along the way in an interview for the April 2018 issue of O, The Oprah Magazine.
"There were secrets we kept from each other that we revealed only after the second surgery," he revealed, saying "The biggest one was that, I think subconsciously, we didn't want to get too close to the baby because we didn't know what was going to happen."
It was a difficult time for Kimmel and his family, but one he's glad he shared with the public, telling Oprah in the interview that he values having a forum but knows most people tune in to laugh.
"I know my job is, for the most part, to entertain people and make them laugh. That said, if I can be selfish every once in a while and talk about something serious that's important to me, then I do want to take that opportunity."
Now two years later, Billy is a happy and healthy young boy and his parents are grateful to everyone who has helped them along the way.
Kimmel thanked the staff at Cedars-Sinai, Children's Hospital L.A and all the supporters "who prayed & sent positive thoughts our way."
His wife Molly echoed the sentiment on Twitter:
Happy 2nd Birthday Billy. Thanks to all the nurses and doctors at @ChildrensLA who saved his life. Sending love and prayers to all the families in the hospital today and always. ❤️ pic.twitter.com/sdlblD66MG

— Molly McNearney (@mollymcnearney) April 21, 2019
Congratulations to the Kimmels and happy birthday, Billy – Here's to many more!