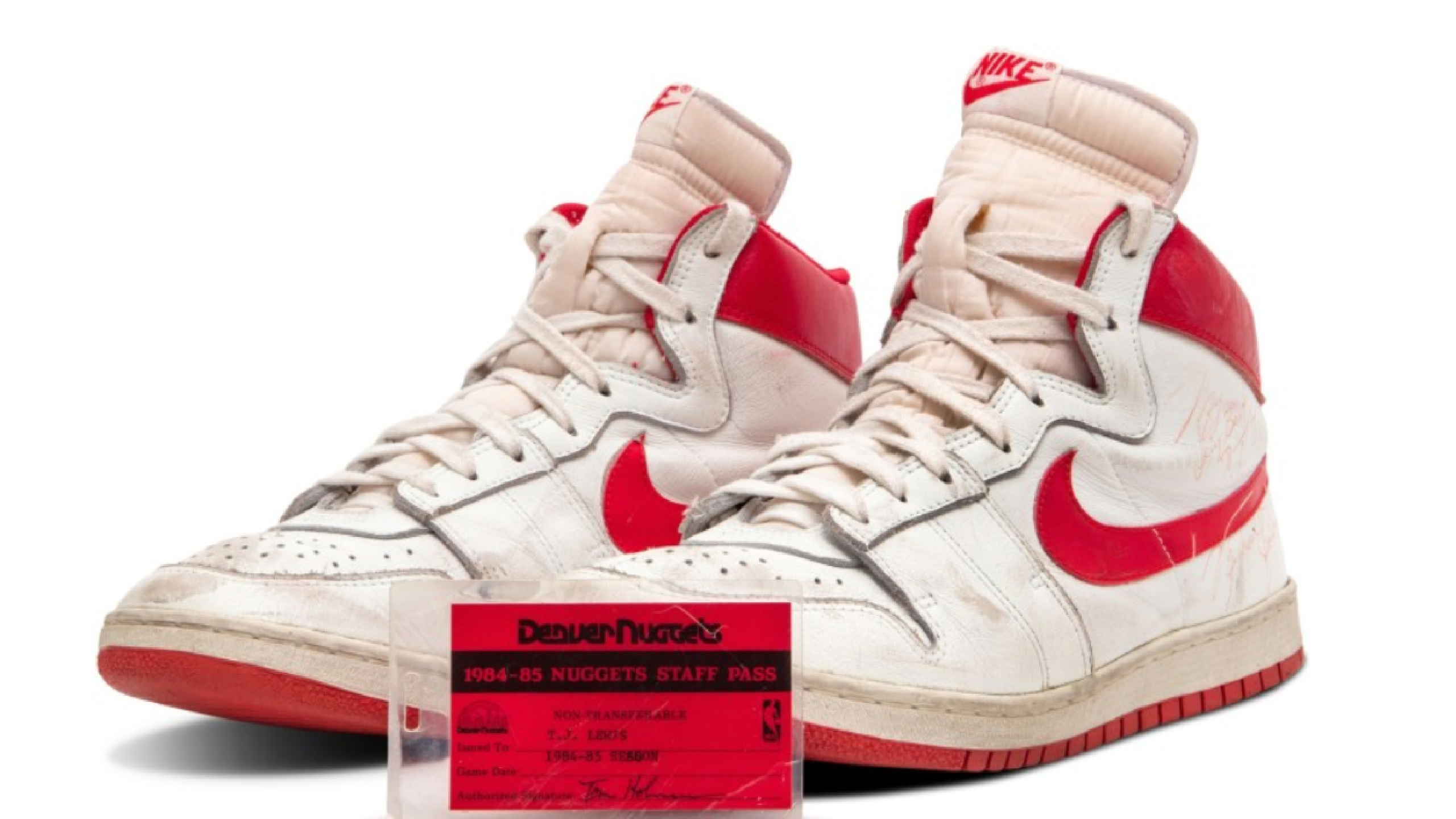 Credit: Sothebys
A big piece of Michael Jordan memorabilia broke records at a recent auction when the earliest pair of game-worn Nikes from Jordan's playing days went for nearly $1.5 MILLION. The red and white Nike Air Ships were worn by Jordan during his first season in the league and this particular pair was from his fifth game in the NBA.
Jordan is the GOAT when it comes to basketball. Not only for the way he played but how he changed things off the court. He's also proved a savvy businessman; his Air Jordan brand has made him far, far wealthier than any of his playing contracts. The 1984 Nike Air Ships were an integral foundation to the eventual design of the Air Jordans.
Sotheby's reveals that the winner of the earliest NBA game-worn Michael Jordan sneakers (matched to his fifth game), which sold for $1.47 million today, is Nick Fiorella.

Fiorella famously bought the Luka Doncic 1/1 Logoman card for $4.6 million in March. pic.twitter.com/qA49geajb7

— Darren Rovell (@darrenrovell) October 24, 2021
A Sotheby's spokesperson said in a statement released to media that "such a groundbreaking and important pair of sneaks at this special auction in Las Vegas further solidifies the strength and broad reach of the sneaker collecting community."
It certainly says something about Jordan's legacy, that a collector was willing to pay such an astronomical price for an old pair of shoes. Granted, I have some grass-stained New Balances that *I* think are worth a million bucks, but I don't think the kind folks at Sotheby's would share that opinion.
Jordan wore the size 13 Nikes in a regular-season game against the Denver Nuggets on November 1st, 1984. The shoes were given to a Nuggets ball boy, and he was the one who put them up for auction. These shoes were the first shoes EVER to be auctioned off for more than $1 million, which says a lot about the future of the sneaker collecting industry.
Sotheby's wrote the Nike Air Ships were a "remarkable artifact in the history of sports and basketball, and have been kept in excellent condition by the Denver Nuggets Ball Boy they were originally gifted to."
Not a bad haul (eventually) for a ball boy.