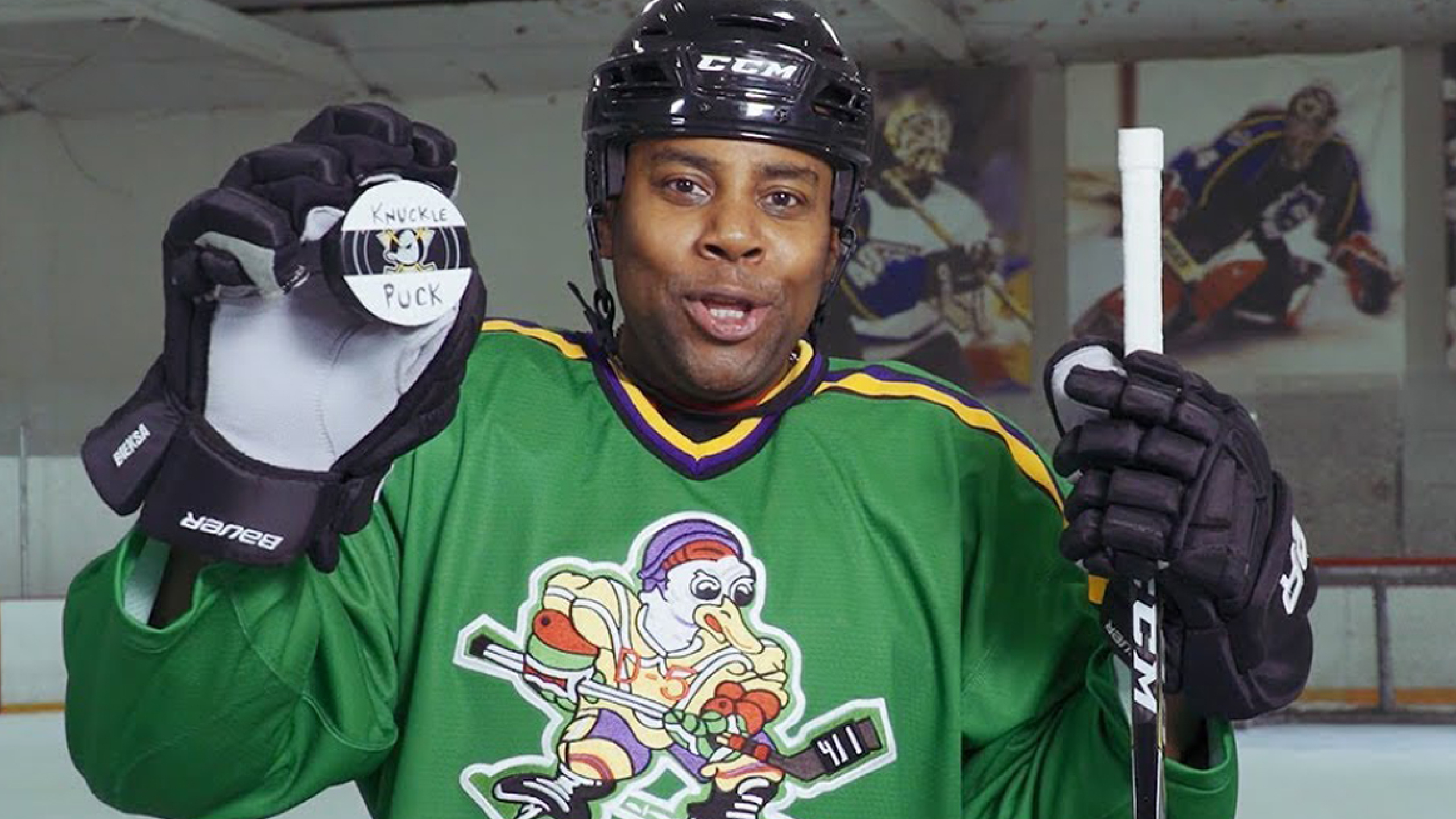 Credit: YouTube/Anaheim Ducks
With the conclusion of the first season of "Mighty Ducks: Game Changers" on Disney+, we learned a lot (spoiler alert, if you can actually be surprised by the most predictable things ever). First, the balance was restored to the MDCU (Mighty Ducks Cinematic Universe) when the plucky, ragtag team of outcasts coached by Gordon Bombay managed to defeat the heavily favored Mighty Ducks team.
OK, well, his plucky team of outcasts technically didn't get to play for the title, because of a forfeit, but they got something even more prestigious; the Mighty Ducks team name back. And, in one of the best moments of the season, we even got the throw-back original Mighty Duck jerseys, in an infamous mid-game jersey switch (highly illegal, but it was a pickup game anyway, who cares?).
And, more importantly, if there's a season 2, showrunner Steve Brill said we would get at least one former star BACK for one episode. In an interview with TVLine, Brill said Kenan Thompson promised he would do at least an episode of Season 2 if there is a season 2. Brill said he was planning to hold Kenan to that promise.
#TheMightyDucksGameChangers Boss Talks Finale Twist, Kenan Thompson Agreeing to Appear in Season 2 https://t.co/K35xh4ajz9

— TVLine.com (@TVLine) May 28, 2021
Of course, Kenan Thompson is by far the most successful of the Ducks alumni, and bringing the knuckle-puck back to the sport is just what hockey needs. The guy *is* pretty busy, you know with Saturday Night Live AND his own sitcom on Peacock. But still, he can find at least a little time in that schedule to lace up the skates again and show the kids how it's done.
There are other stars fans would love to see back. Sure, we got some of the old original cast back for an episode in season 1, but it would also be awesome to see Danny Tambarelli back, and of course, Josuha Jackson back to reprise Charlie Conway, who was more than a little integral to the original trilogy (he's basically Luke Skywalker on skates).
View this post on Instagram
Brill said Jackson was too busy with other projects to film anything for season 1, but the two have talked before about a reboot and the showrunner said he'd love to fire up those talks with Jackson again.
Even if there's not a season 2, at least we got to see Emilio Estevez teach the Flying V to the next generation, and bring the hockey franchise back to where it belongs.