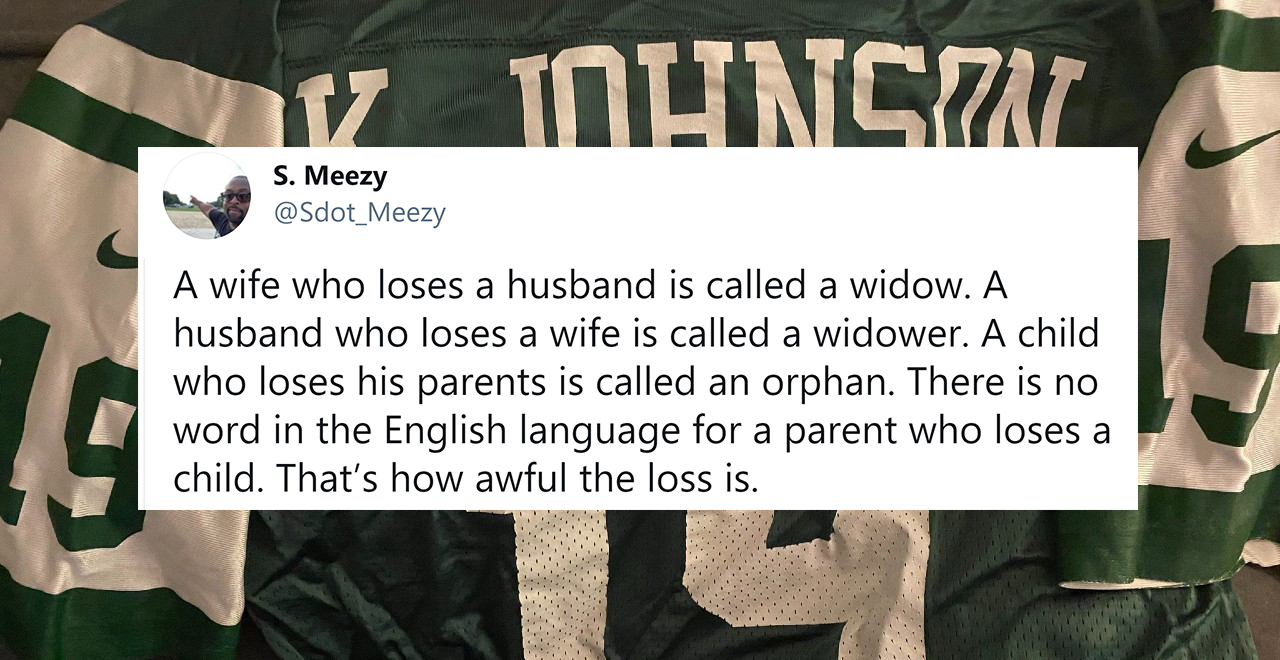 Credit: Twitter/Sdot_Meezy
The loss of a child is the most painful thing a parent can endure. Over the past few years, there has been a movement to broaden the conversation about things like miscarriage, to make the discussion of it more acceptable, to allow men into the conversation, and more.
Unfortunately, it's not just during pregnancy that parents are forced to deal with the grief of a lost child. All human lives are fragile, and many parents are faced with the unimaginable well into a child's life. Talking about that is just as difficult and painful.
Keyshawn Johnson recently shared the news that his daughter had passed away at the age of 25. The former NFLer and current ESPN broadcaster posted a series of tweets revealing his family's loss, and praising Maia, his firstborn daughter, in the wake of her passing.
It is with incredible sadness that I have to share the news about the passing of my beautiful Daughter Maia. Maia, as my first born child, has been the joy of my, and her Mother Shikiri's, life.

— Keyshawn Johnson (@keyshawn) March 15, 2021
He shared a bit about where he and his wife Shikiri were at when Maia entered their lives…
She came into our lives just as we were both coming of age as adults and has been a constant beloved presence for both of us. We are heartbroken and devastated by her loss. Shikiri, Maia's siblings, our family and me appreciate your thoughts and prayers at this difficult time.

— Keyshawn Johnson (@keyshawn) March 15, 2021
And he thanked everyone for their support.
We also all appreciate your support and respect for our privacy as we move forward. Thank you all, God Bless. Keyshawn Johnson, Sr.🙏🏾

— Keyshawn Johnson (@keyshawn) March 15, 2021
Johnson's tweet was quickly met with plentiful responses offering their condolences from fellow athletes:
My heart goes out to my good friend Keyshawn Johnson who lost his oldest daughter Maia. Cookie and I are sending our deepest condolences, thoughts, and prayers to Keyshawn and his family. 🙏🏾 @keyshawn

— Earvin Magic Johnson (@MagicJohnson) March 16, 2021
My Prayers goes out to my brother @keyshawn and his family!!! Speechless. 🙏🏾🙏🏾🙏🏾🙏🏾

— Kendrick Perkins (@KendrickPerkins) March 16, 2021
🙏🏾 up for Keyshawn and his family.

— 🏁 Jamal Crawford (@JCrossover) March 16, 2021
Praying for Keyshawn and his family . Stay strong Bro https://t.co/R972zlxtIa

— Cris Carter (@criscarter80) March 16, 2021
His alma mater offered support:
Our thoughts and prayers are with you and your family. We are all behind you during this tough time.

— USC Football (@USC_FB) March 15, 2021

As did Johnson's employer:
Statement from ESPN on the passing of Keyshawn Johnson's daughter, Maia: "Our thoughts are with Keyshawn and his family as they deal with this unthinkable tragedy. He has the full support of his ESPN family." https://t.co/tQFc6R6Txk

— ESPN PR (@ESPNPR) March 15, 2021
And some fans:
A wife who loses a husband is called a widow. A husband who loses a wife is called a widower. A child who loses his parents is called an orphan. There is no word in the English language for a parent who loses a child. That's how awful the loss is.

— S. Meezy (@Sdot_Meezy) March 16, 2021
Including one who offered a sad explanation of how devastating the loss of a child is:
A wife who loses a husband is called a widow. A husband who loses a wife is called a widower. A child who loses his parents is called an orphan. There is no word in the English language for a parent who loses a child. That's how awful the loss is.

— S. Meezy (@Sdot_Meezy) March 16, 2021