Hero Claims to Have Cracked the Code to KFC's Secret Recipe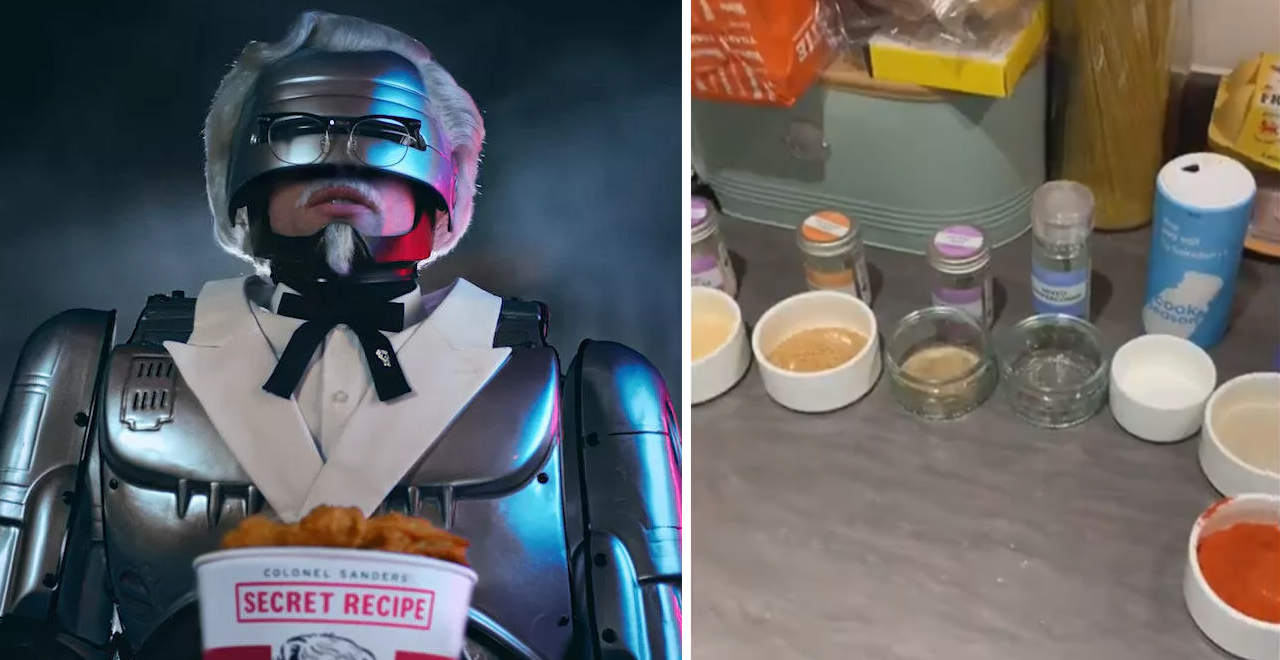 Many folks are using their downtime in quarantine to find purpose and pursue meaningful life goals they'd never had time for. Whether you're learning a new language or penning the first draft of a novel, now's as good a time as any to see your passions through to completion.
For the last 18 months, Twitter user Dan Fell's passion has been figuring out the secret recipe for Kentucky Fried Chicken.
Harland "Colonel" Sanders perfected his highly classified mix of 11 herbs and spices in the late 1930s while peddling fried chicken out of his Corbin, Kentucky gas station. He shared it with no one. Lips tightened, fingers licked.
To this day, it remains one of the food biz's most closely guarded trade secrets, and KFC's most indispensable asset. It's become so embedded in the restaurant's mythos that the official KFC Twitter account only follows 11 people: six dudes named Herb, and all five Spice Girls.

But back to our hero, Dan. As restaurants began shuttering their doors, Dan Fell found a purpose: ensure anyone craving KFC could replicate it at home. With a little moxie, determination, and some government-mandated time indoors, he finally pinned down the ingredients following a year-and-a-half of trial and error. They're as follows:
5 cups of plain flour
4 tablespoons of paprika
2 tablespoons of white pepper and garlic powder
1 tablespoon of ground ginger, mustard powder, celery salt and black pepper
1/2 a tablespoon of oregano and thyme
1/3 tablespoon of sea salt
Dan posted an instructional video to outline his finely-tuned coating process…(wait for it, after the dramatic opening)
You wanted to know how to make #KFC at home. Here's my recipe which took me nearly 18 months to perfect. #thedarkKFC pic.twitter.com/gI12R3NDGD

— Dan Fell 💭🏏💻 (@TheKidLewis) March 28, 2020
We obviously can't taste this photo, but we're gonna go ahead assume this gorgeous yield would be nothing short of finger lickin' (which is safe to do in the comfort of your own home having washed your hands thoroughly for 20 seconds) good.
Two different batches. Flavour really depends on many factors, the oil used. Temperature, chicken temp, temp of egg wash, salt on the chicken. But you are hard pressed not to get 7.5/10 to 10/10 for this recipe. pic.twitter.com/kLGiMrLSog

— Dan Fell 💭🏏💻 (@TheKidLewis) March 28, 2020
Finally, some pointers:
TIPS:
wash = egg white & milk
Seasoning: 3 part mix to 1 part self raising
Chicken = room temp for cooking & light salt seasoning
Coating Order: flour, wash, flour
Oil: 162.5. C for 5-6 minutes
Warming oven: 80C whilst you batch cook
Final Fry for 90s before serving

— Dan Fell 💭🏏💻 (@TheKidLewis) March 28, 2020
We commend Dan on his hard work and wish him well in his commitment to hacks of the food industry's biggest trade secrets in these uncertain times. Now grab some graduated cylinders and get to work on that Coca Cola recipe, bro.