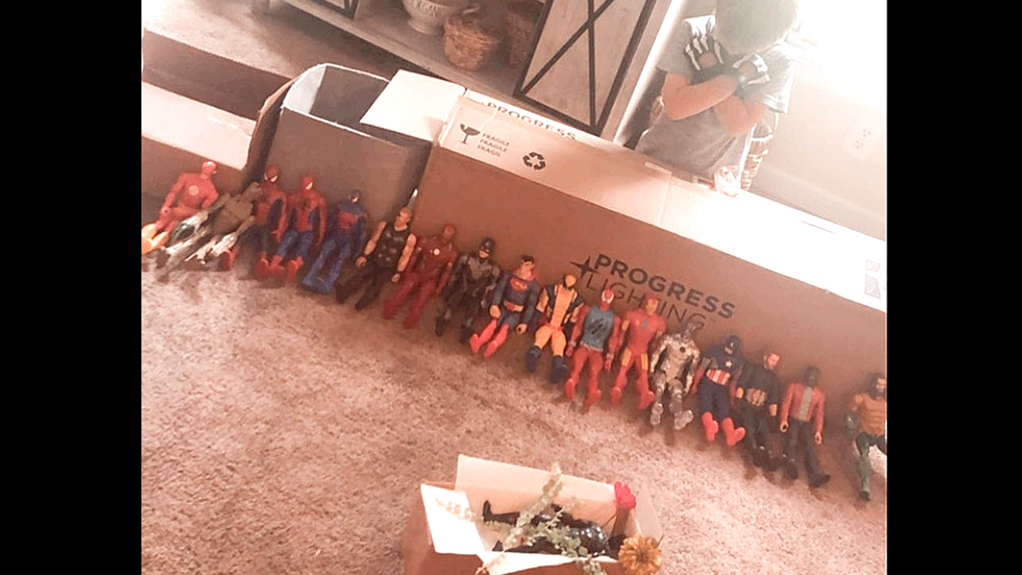 Credit: Facebook/Kristin News
One incredible thing about watching kids grow up is that we get to see them experience everything in life for the first time. We watch them discover their favorite foods, try out hobbies that grow into life-long passions, and meet friends that eventually become welcome additions to your family. On the flip side, we also watch our kids learn to deal with life's most difficult challenges. Many kids around the world recently learned that even their biggest heroes aren't invincible, and people are taking to Twitter to share moving photos of kids celebrating the life and legacy of their favorite superhero.
Last Friday, at just 43 years old, Chadwick Boseman of Black Panther fame died from a 4-year-long battle with colon cancer. Boseman was far more than just an on-screen hero – he gave Black youth everywhere a superhero they could identify with, and he continued working to make the world a better place even when he was quietly fighting for his life. The big-hearted actor even communicated with two young fans who had terminal cancer while filming Black Panther, sending the boys messages of love and support.
After the tragic death of Chadwick Boseman, kids are trying to figure out how to both celebrate and grieve for their beloved hero. An incredible thing about kids is that they aren't yet influenced (at least not nearly as much as we are) by social norms, meaning that they're going to do whatever feels right to them in the moment. Since Boseman's death, people have been sharing touching photos of kids mourning in the best ways they know how. The staggeringly poignant pictures remind us just how important it is to allow our kids and ourselves to experience the full range of human emotion – and perhaps more importantly, they remind us that no matter what we're feeling, we're not alone.
One woman named Kristin News captured this heartbreaking photo of her son Michael's Black Panther memorial. "This was definitely a tough loss for many. Including young kids," Kristin told The Dad. Upon asking Michael why he cared so deeply about his hero he replied, "I looked up to Black Panther because he made kids believe they can be their own superhero, and they can be anything they want to be. He was a good guy and strong superhero."
This young boy holds the Wakanda Salute next to the powerful Black Panther memorial his mom helped him build.
MY BABY BOY AND THE AVENGERS HOLDING A MEMORIAL FOR BLACK PANTHER❤💪🏾#Wakanda4Ever pic.twitter.com/nYAnER23Ig

— King Westbrook (@KingWestbrook7) August 29, 2020
Mark Ruffalo shared two heartbreaking pictures of boys giving their hero a Marvel farewell. A T'Challa figurine lays on the ground, while the boys' other Marvel action figures surround their fallen friend. "This is his power and impact on the next generation," Ruffalo writes.
This is his power and impact on the next generation. #ChadwickForever pic.twitter.com/uzwaNOt8M0

— Mark Ruffalo (@MarkRuffalo) August 30, 2020
One Twitter user shared a photo of her nephew's Black Panther funeral, his action figures solemnly arranged around a photo of his hero.
My nephew gave @chadwickboseman a "Black Panther" funeral.😭😭💔💔 It's really sad to see kids mourn their idol!🥺 May he rest in peace!👼🏿 #WakandaForever pic.twitter.com/OZBIedwfQD

— M D J.🌻 (@Myy_Drondria) August 30, 2020
This family had a Black Panther viewing to honor their favorite superhero.
Kids wanted to watch #BlackPanther in memory of @chadwickboseman. He's my daughter's favorite superhero. pic.twitter.com/wKv99iqpQZ

— Misti Jorges (@FallenStar1985) August 30, 2020
"The whole force came out for this one."
OMG these kid tributes to #BlackPanther Chadwick Boseman and just ripping my heart apart 💔
The whole force came out for this one 😭 #WakandaForever #RipChadwickBosman pic.twitter.com/3cC7ufTUot

— 👑 Queen Bee 👑 (@QueenBee_73) August 30, 2020
This boy closes his eyes as he holds the 'Wakanda Forever' salute, while his action figures raise a fist for the fallen hero.
My nephew wanted to give Black Panther a Funeral.😭 I'm not crying you are. pic.twitter.com/cdpPr2V6Yx

— ROYL (@98Royalty) August 29, 2020
Thank you for everything, Chadwick. Wakanda Forever.