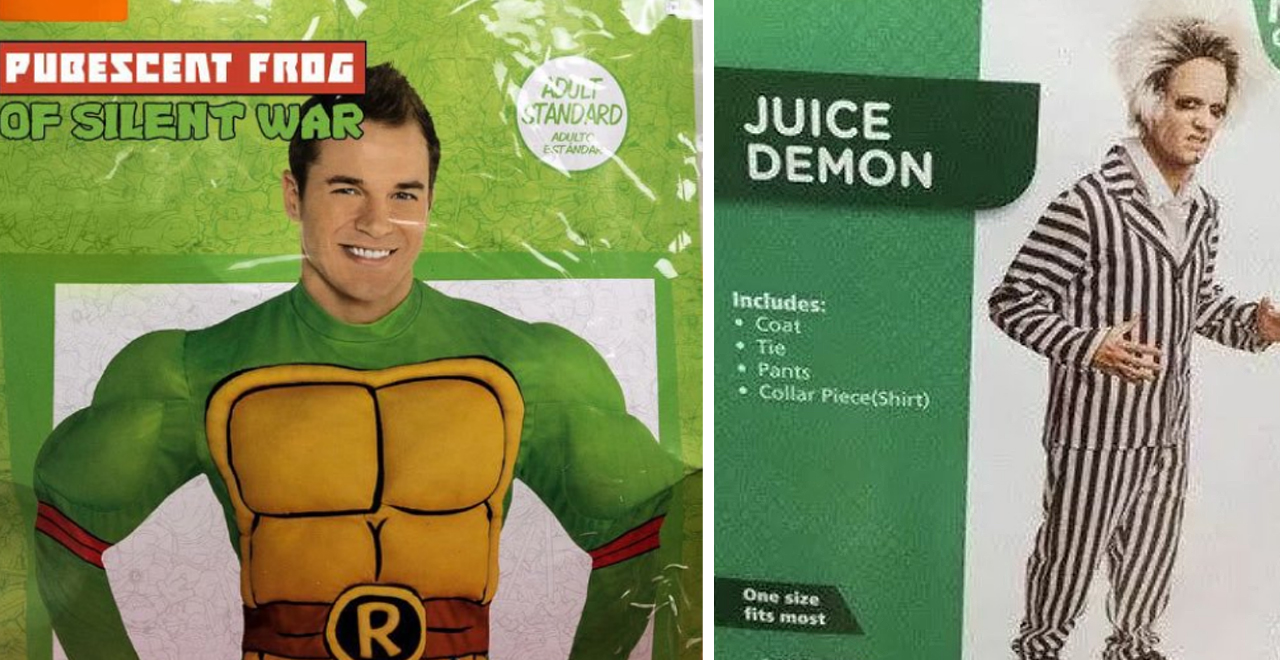 Credit: Twitter/acidpanther/dannygberg
One of the best parts of Halloween is the people-watching.
After all the preparation and planning and fretting over costumes is over, it's time to trick or treat, or to go to a costume party, and regardless of how much you like your own outfit, you can have a blast scoping out all the stuff everyone else is wearing, and trying to guess what they are.
Of course, not all of them are obvious, especially if they've been bought at a pop-up store or Party City, where the costumes come in bags are often cheap imitations of famous characters, pop culture icons, or recent fads. Users on Twitter shared some of the best knock-offs they've seen this Halloween season, and part of the fun is not only guessing who or what that costume is meant to be, but what the off-brand version is called.
Twitter user @DanaSchwartzzz started a thread asking people to tweet the funniest ones they found, and it's downright hilarious.
Up first is the stylishly outfitted Cyber Man, from the Keanu Reeves blockbuster "The Maytrix?"
This might be my all time favorite. The best part is the "or Padre" for just in case you decide you wanna change it up. pic.twitter.com/iaA5pSDKjA

— Haley (@haleysaurusrex) October 22, 2018
Whatever you do, don't say "Juice Demon" three times!
— Danny Goldberg (@dannygberg) October 22, 2018
Look, it's the adorable young girl from the Netflix hit "Unusual Events!" I assume her name is Twelve?
UNUSUAL EVENTS pic.twitter.com/XbHE3VVvj5

— Kaycee (@MeriwellAmory) October 23, 2018
Laugh if you want, but I respect Fantasy Land's commitment to gender neutrality:
— alexa bowers (@alexabowers) October 22, 2018
I may be wrong but didn't Adam Sandler sing a song about the cafeteria lady at Chogborts, who served Hermanies and Grinders?
The Top Student at Chogborts: a classic pic.twitter.com/xvd74okmnm

— Dumbledoria (@the_doria) October 22, 2018
I barely even have words for this one. Thankfully they added a few extra:
— Maddy (@maddybt90) October 22, 2018
Every guy dreams of a Supportive Hamburger Wife, including Bob from Bob's Burgers. P.S. How is this not Velma from Scooby-Doo? Or maybe it's both?
— Angela Smith (@GelaSmith) October 22, 2018
Sorry, but if you're an adult who wants to dress like a minion for Halloween, you deserve what you get. As Eminem said, you're like Despicable Me, the generic version:
That old classic: Mischievous Worker pic.twitter.com/vOW2RTpLBj

— Kaz (@kazzani) October 22, 2018
We think you'll FIND this one amusing:
Here's a very relatable one. pic.twitter.com/9uXW5rjVkc

— Jurassic Smark (@TheRealFaizanH) October 23, 2018
Enjoy a glass of this orange juice every day if you want a little but of ultra-violence in your diet.
This one is viddy good. pic.twitter.com/4wkolBb5yh

— Spooky Dan Casey (@DanCasey) October 23, 2018
Louis and Marvin are the Sidekick Bros:
— Efrain (@ETrevi29) October 23, 2018
Cowabanga dude!
— Aynsley (@AynsleyAnn) October 22, 2018
Go check out the whole thread here.