John Krasinski Surprises COVID-19 Workers With Lifetime Red Sox Tickets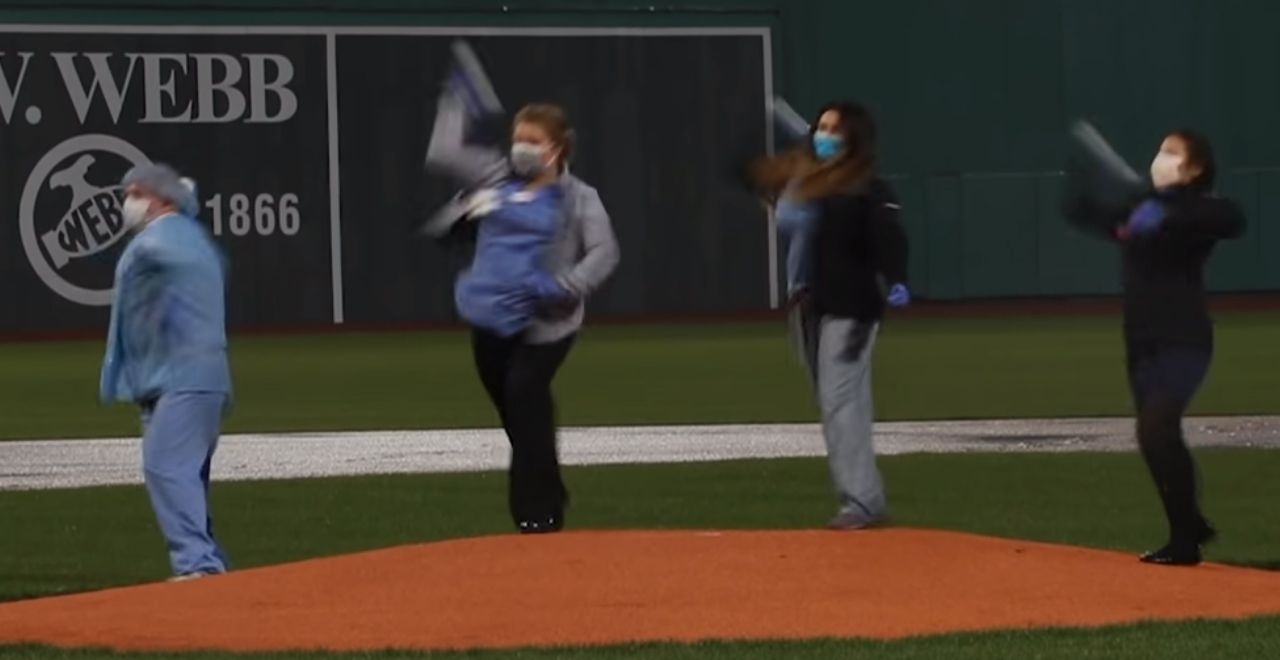 It can be tough to find anything positive on the news. While that was true even before COVID-19, it seems even truer now that our lives have moved more underground until science gets a handle on this thing. Every nightly news broadcast or Twitter-thread is full of details about how much things suck now, or how they will keep sucking for a while. So when you find sources of good news, you need to go back to the well as much as you can.
John Krasinski, of The Office fame, has been a lifeline in this area. His weekly YouTube show, appropriately titled "Some Good News" will leave you with a smile on your face every time. Whether it's a chat with his old co-star or a singalong with the original cast of Hamilton, his weekly show comes up big.
Last week, he used it as a chance to give back to those on the frontlines of the COVID-19 battle, healthcare workers. Krasinski, a Boston native, teamed up with Boston Red Sox legend David Ortiz to cheer up healthcare workers in the COVID-19 unit at Beth Israel Deaconess Medical Center in Boston. The actor and the ball player wanted to say thanks, so they decided to surprise the workers with free Red Sox tickets.
Yeah, currently, the MLB season is suspended, so we don't know when those workers will get to actually use those tickets to go to Fenway, but Ortiz and Krasinski covered them there: they got them free tickets for life.
He then surprised the unit with a duck boat tour of the city which stopped at a closed Fenway park. It was opened up for the city's hometown heroes, and the unit got to watch a personalized thank you video on the jumbotron. They also threw out the "first pitch" of the Red Sox season.
HUGE thank you to each and every one of our #HealthcareHeroes and to @RedSox and @ATT for making episode 3 of @somegoodnews such a special one! https://t.co/6Xo4opHjpm

— John Krasinski (@johnkrasinski) April 13, 2020
Our bravest heroes on the front lines are not only in our hospitals! Send me @somegoodnews about the other frontline heroes in your community from delivery and sanitation workers to Grocery employees to our police and fire fighters. They are all out there for us! Thank you!!

— John Krasinski (@johnkrasinski) April 14, 2020
Krasinski's web series has become appointment viewing for a quick infusion of positivity. Especially when he's putting smiles on the faces of healthcare workers or DJing a digi-prom for seniors who missed out this spring.
Goodnight class of 2020!!! Happy prom!!! #SGNProm pic.twitter.com/fgQJhbCKQw

— John Krasinski (@johnkrasinski) April 18, 2020
Here at The Dad, we hope you, your families, and communities stay safe and healthy during the COVID-19 pandemic. For the latest information, please utilize online resources from local public health departments, the Centers for Disease Control, and the World Health Organization to remain as informed as possible.