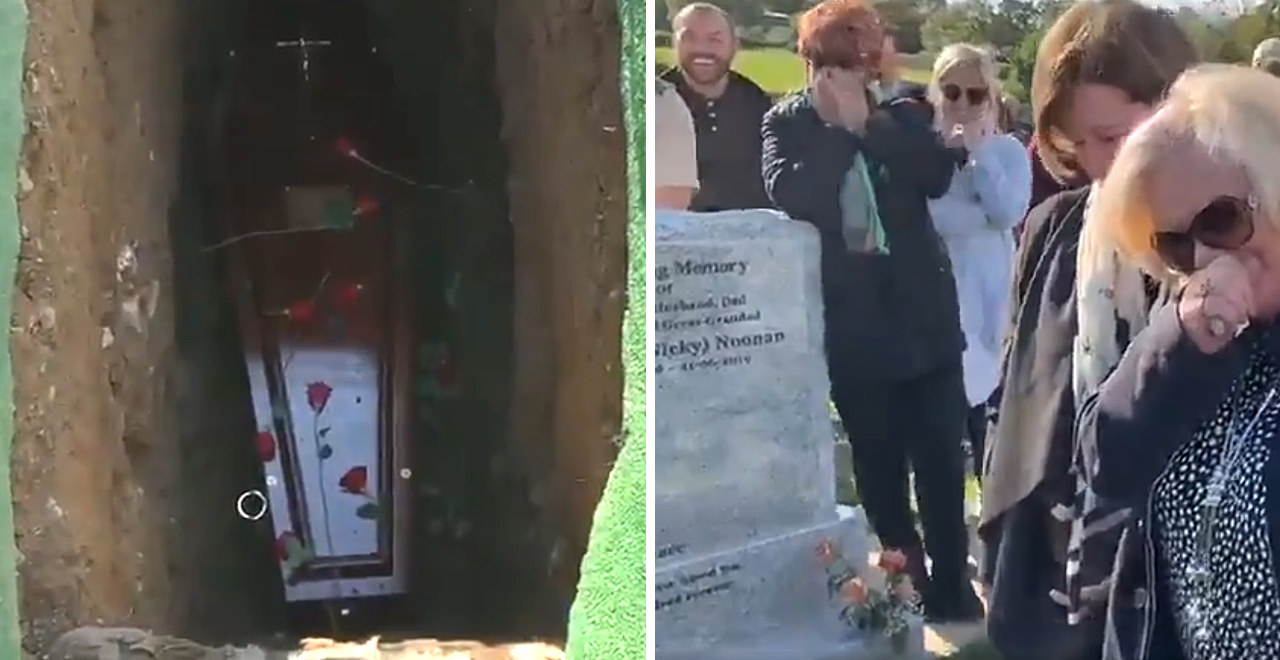 Credit: Twitter/Lucky2BBritish
Funerals are generally pretty somber affairs. It's never fun to lose a loved one, and the traditional thing to do is to show up dressed in black, mourn their passing, and then remember them fondly with a drink and some covered plates.
Every once and again, though, some brave soul throws a wrench in the proceedings and insists their life be celebrated, rather than friends and family sit around all bummed out. One pioneering dad did what he could to lighten the mood at his own funeral, providing his family with a pre-recorded message to play during the funeral, thus ensuring his mourners left the ceremony with a laugh and a smile on their faces.
Late in 2019, in Dublin, Ireland, Shay Bradley was laid to rest. The beloved father had one last surprise for his friends and family, which began playing as his casket was lowered.
As it starts descending, the message beings with a knocking sound, as if coming from inside the coffin. Then bagpipes begin to play, as Shay's voice emanates, yelling, "Hello? Hello?"
The recording continues, with Shay's voice shouting out: 'Let me out! Where the f*ck am I?! Hello, hello! Let me out, it's f*cking dark in here,' he continued to shout, 'Where the f*ck am I? Is that the priest I can hear?'
The priest smiled, and Shay's family laughed, presumably used to his antics, and happy to fall victim to them one last time.
Video of the moment was originally shared on Twitter by a user named "Lucky2B1rish" with the caption: "Make them laugh til the very end. #Dublin #Funeral #Legend"
It has since moved to Facebook, posted by Shay's daughter:
Underneath the video, she wrote:
"My dad's dieing wish, always the pranksters, ya got them good Poppabear 😉 and gave us all a laugh just when we needed it!! I will love you forever 😘😘#shayslastlaugh"
Lucky2BBritish also shared a video celebrating Shay's life.
Legend indeed.