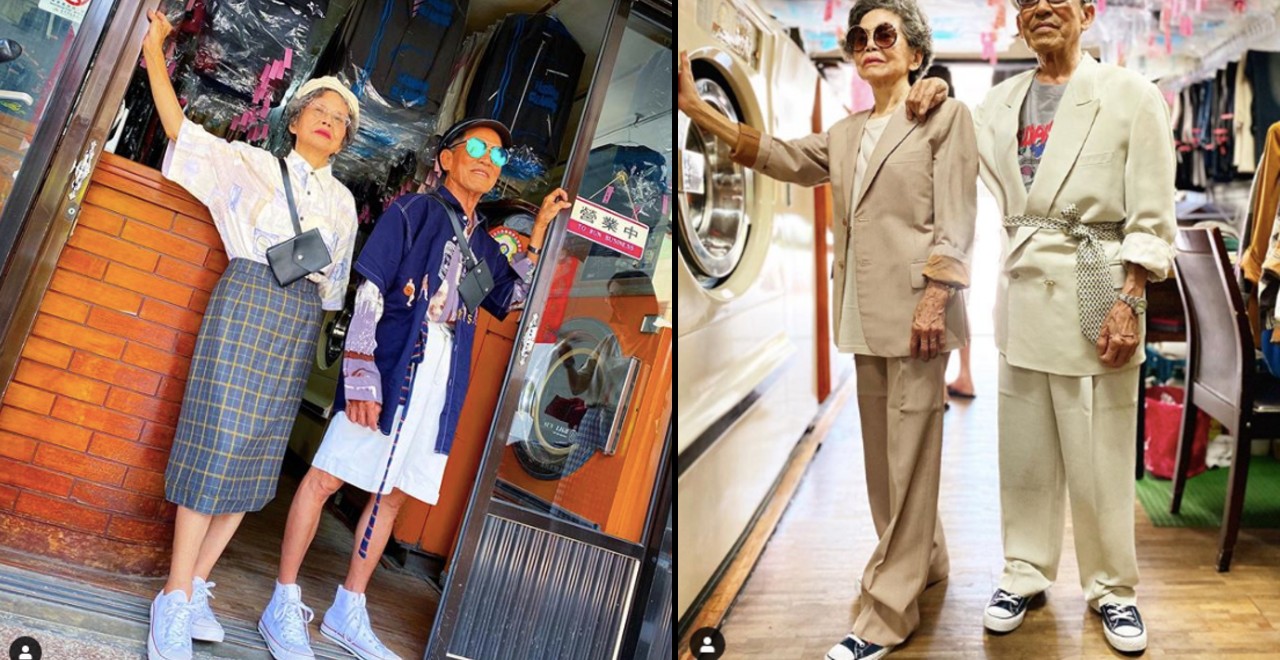 Credit: Instagram/wantshowasyoung
Instagram always felt like it was missing something, but I couldn't quite put my finger on what until I found it. As it turns out, what this globally popular image and video-based social media platform desperately needed was 83-year-old Chang Wan-ji and 84-year-old Hsu Sho-er, aka the fashion icons of Central Taiwan.
It started with the all-too-familiar quarantine slump. Reef Chang, the couple's 31-year-old grandson, saw that his grandparents' business had dwindled significantly since the start of the COVID-19 pandemic. Despite their age, this couple didn't want to slow down – with the lack of business came overwhelming boredom, and the loving grandson wanted to bring some brightness back into their lives. So Reef became a stylist of sorts, using clothes that had been left behind at his grandparents' laundry shop to create their iconic Instagram looks.
And let me tell you, they were naturals.
View this post on Instagram
The couple's Instagram page exploded, with only 21 posts and over 450,000 followers, and it's easy to see why. The concept is not only brilliant, but the couple is overflowing with personality. The sass, the lighthearted nature of the photos, the youthful playfulness of this elderly couple, it's the breath of fresh air we need right now.
It's a real shame for whoever left these clothes behind, because they've never looked better.
View this post on Instagram
The Instagram comments show just how quickly people around the world have fallen for this stylish couple. "I want to have as much swag as them when I get older," commented one user. "The two of you are what the world needs right now. Thank you for these joyful photos," replied another. Several others on Instagram share memories of their own grandparents, connecting with the photos in a deep and meaningful way.
Reef told the New York Times, "I'll read them some of the messages we get and tell them where the senders are from, and they'll say, 'Ah, I've been there!'"
The viral photos have helped the family stay entertained and connected during a time where both of those things are exceedingly difficult. Even more amazing? Someone spotted some familiar clothing in one of the photos and, more than a year later, returned to pay the bill and take them home.