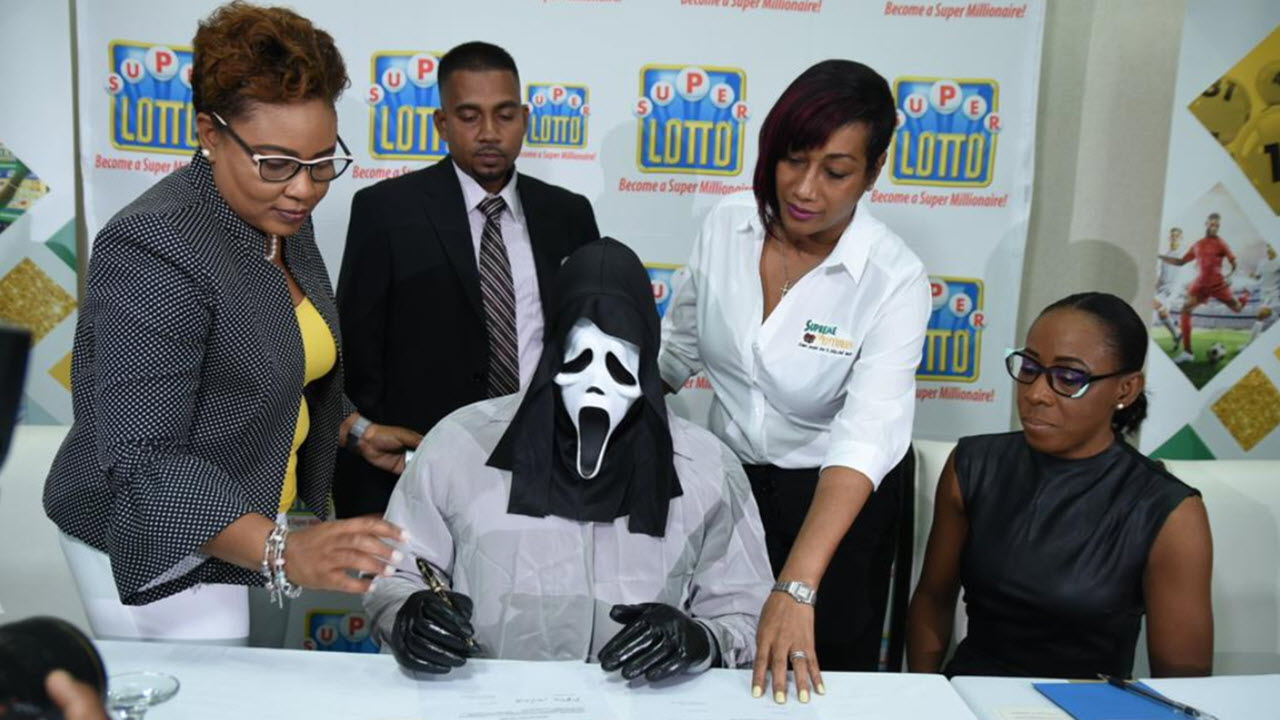 Credit: Twitter/SVLGrp
Winning the lottery sounds like a dream come true. God knows, collecting a huge windfall would allow many of us to solve a lot of problems! But the history of lotto winners is littered with horror stories, wherein the winner's life not only doesn't improve, it gets worse. Suddenly having all that money attracts a lot of attention from family, friends, acquaintances, even strangers, and it's not always easy to say no to those people.
One recent winner was determined to avoid such a fate and to try to prevent his big win from turning his life into a horror movie, he decided he'd collect his winnings wearing a famous horror movie mask.
A man in Jamaica, who won his country's Super Lotto, showed up to collect his winnings – and his oversized check – while wearing the mask from Scream.
The winner of the Super Lotto's $158.4 million (1.17 million in U.S. dollars) identified himself as A. Campbell and posed for photos with his enormous check and the lottery team, leading to some surreal images of a horror movie icon getting rich.
Our #SuperMillionaire greets the team. Nice costume???????? pic.twitter.com/LQxoLQ0vqg

— Supreme Ventures Ltd (@SVLGrp) February 5, 2019
Campbell was so distraught at the prospect of becoming rich that it took him 54 days to claim his winnings. He had purchased the ticket for $200 but clearly never expected to actually win the jackpot. He explained that despite learning he had won the day he bought the ticket that it took him a while to collect because the whole thing made him a little ill.
"I found out (I won) the same night. Normally, I would write down the numbers from the [televised] draw, eat and then go and check my numbers. I looked at my ticket (that night) and ran into my bathroom and said: 'I won! I won!'," he told St. Lucia Online.
When asked about reports that he felt ill upon learning he'd won, he responded: "I'm kinda OK, I'm just a bit numb, a little bit." Imagine how the lottery commission must have felt when Ghostface showed up at their door.
Despite his terrifying outfit, A. Campbell seems to have recovered nicely, already making plans for how to spend the money.
"I want to get a nice house. I haven't found it yet, but I'll be looking for one soon. I like to handle money. I don't beg, I don't borrow. So I'm looking at things that can turn over the money. I have a little business, so I plan to make it bigger, buy an apartment. I love to have money," he said.
Here's hoping the scariest thing about his big win is the outfit he wore to collect it.
Hey, some lottery winners aren't so cautious, like this dude who demanded an oversized cheque for his $1 prize.