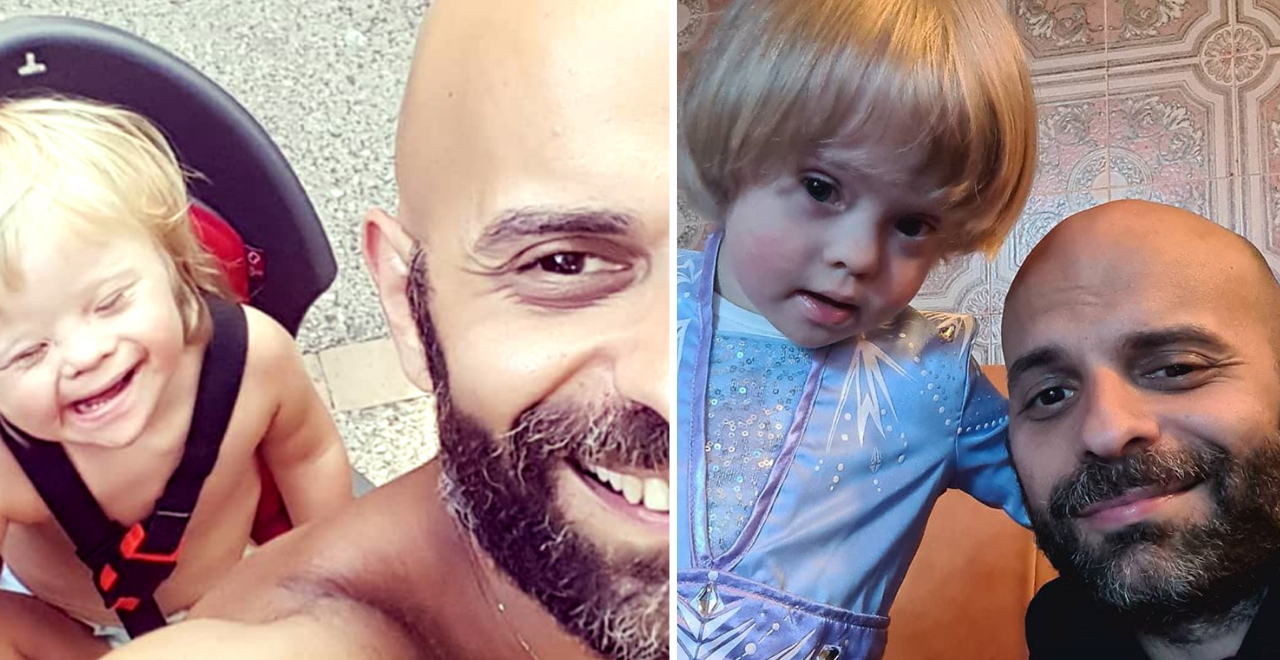 Credit: Instagram/trapaluca
Remember Luca Trapanse and his daughter, Alba? Here's a quick refresher, in case you somehow forgot this incredible duo. Nearly three years ago, Luca adopted an adorable little girl named Alba. Amazing in itself, right? This was no ordinary adoption, though. Alba was put up for adoption when she was just a few days old because she had down syndrome. Subsequently, Alba was passed over by 20 families simply because she was born a little bit different than other children. Luca Trapanese, a single man living in Italy, heard about Alba and felt compelled to pursue adoption. Although Italy's laws about adoption are strict, especially when it comes to single parents, Luca knew he had to be Alba's dad. Because of the multiple families that had passed Alba over combined with the fact that she had down syndrome, Luca's application was accepted. When Alba was just 30 days old, Luca became her father.
View this post on Instagram
Well, Alba is nearly three years old now, and life with this tiny family has been nothing short of incredible. Luca found the role of a lifetime in fatherhood. "I am made to be a father!" Luca told The Dad, "I really like to dedicate myself to Alba and her life. I feel very happy". The pair loves spending time together, and especially enjoy dancing and singing (although Luca admits, Alba is the real star).
The duo have had so many successes, and reached so many goals side-by-side. Luca recalls, "Surely the most exciting moment was both when Alba called me 'Dad' and when she walked for the first time meeting me." For any child, this is an enormous milestone – but for children with down syndrome, these markers of growth and achievement are often even more special.
View this post on Instagram
To an outsider, it's clear that Alba is not like other children. Luca explains, "My greatest struggle is to make others understand that Alba is above all a person, and needs to be considered for all her needs. We must fight against mental barriers and against exclusion. I hope Alba will meet people who value her talents and who don't consider her just a person with a handicap." Any parent of a child with a disability knows this to be true – your child is incredible. They are capable, strong, and faced with so much more adversity than their non-disabled peers.
View this post on Instagram
Luca even wrote a book, "Vi Stupiremo Con Difetti Speciali", or "We Will Amaze You With Special Flaws", a book that talks about disability and diversity. The book follows three children who turn their disabilities into gifts, which is a mentality he tries to instill in Alba every single day.
To potential adoptive fathers, Luca imparts, "Adoption is the most rewarding gesture that can be done. One must be aware and make this choice with conscience and determination, without ever going back. Being a father is a vocation". A vocation that, in our humble opinion, Luca is absolutely nailing.
For more updates and to see more of Luca and Alba's journey, follow them on Instagram.