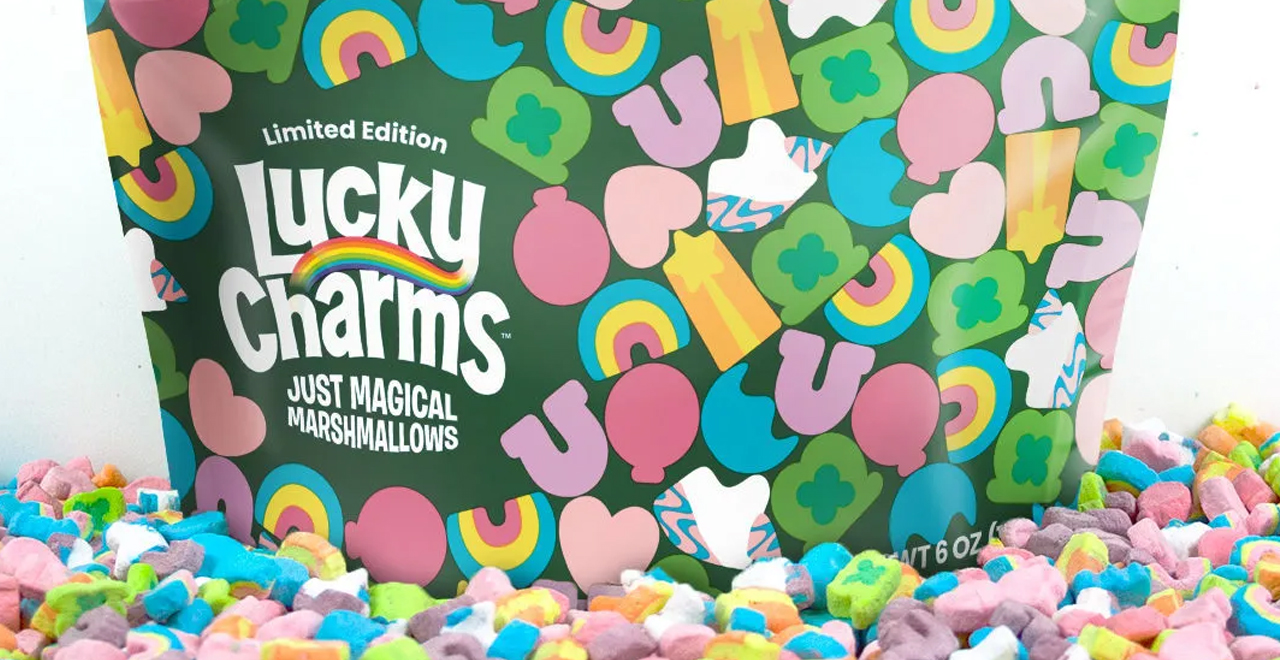 Credit: General Mills
I don't know how many days I lost as a kid, harvesting the marshmallows from bags of Lucky Charms. Pouring the contents of each box onto my kitchen table, and sorting them piece by piece. Marshmallow, garbage. Marshmallow, garbage. It was monotonous work, but someone had to do it. If I finished in time to catch my favorite cartoons at 3pm (or if I remembered to slip in a VHS tape to record them), it was a good day. Kids have it so easier these days – not only do they have a nearly endless supply of their favorite cartoons at their fingertips but now, Lucky Charms is stepping up to give kids their mornings back in the form of a marshmallow-only bag of sugary goodness.
Last year, Lucky Charms teamed up with Jet-Puffed to trick us into thinking they were finally giving us the bag of marshmallows we so desperately craved. What did we get instead? A bag of regular, puffy marshmallows, masquerading as our favorite cereal marshmallows by dressing up in colorful dyes and familiar shapes – a desperate attempt reminiscent of a dad buying a big red shirt at Goodwill the day before Christmas and stuffing a pillow underneath because he forgot to rent a Santa costume.
Now, after all these years, Lucky Charms is doing it right. Sure, there have been rare promotions that gave us the opportunity to buy "Just the Good Stuff," but they were extremely short-lived, and only the fastest kids got their hands on them. This new product, Just Magical Marshmallows, will be available at grocery stores and big-box stores for anyone with $3.99 (give or take, depending on the store) to purchase. While Just Magical Marshmallows will also have a limited sales window, it will be more widely available than any similar promotion in the past.
Lucky Charms brand manager Mindy Murray said in a press release, "Lucky Charms is the only magical marshmallow cereal and I'm so excited to see that families across the country helped bring the magic back. To thank our fans for helping us restore this magic, we're celebrating the launch of the Just Magical Marshmallows with a spectacle that embodies the magic of Lucky Charms."
Lucky Charms will also be doing some in-person (remember when things happened in person?) marketing in New York and LA in the very near future. For those of you in the area, take a look in the general direction of the Hollywood Hills around noon on August 31st. New York people, keep your eyes on the sky on September 1st. Everyone else, keep checking your local grocery stores to make sure you get your hands on a 6-ounce bag of Just Magical Marshmallows.