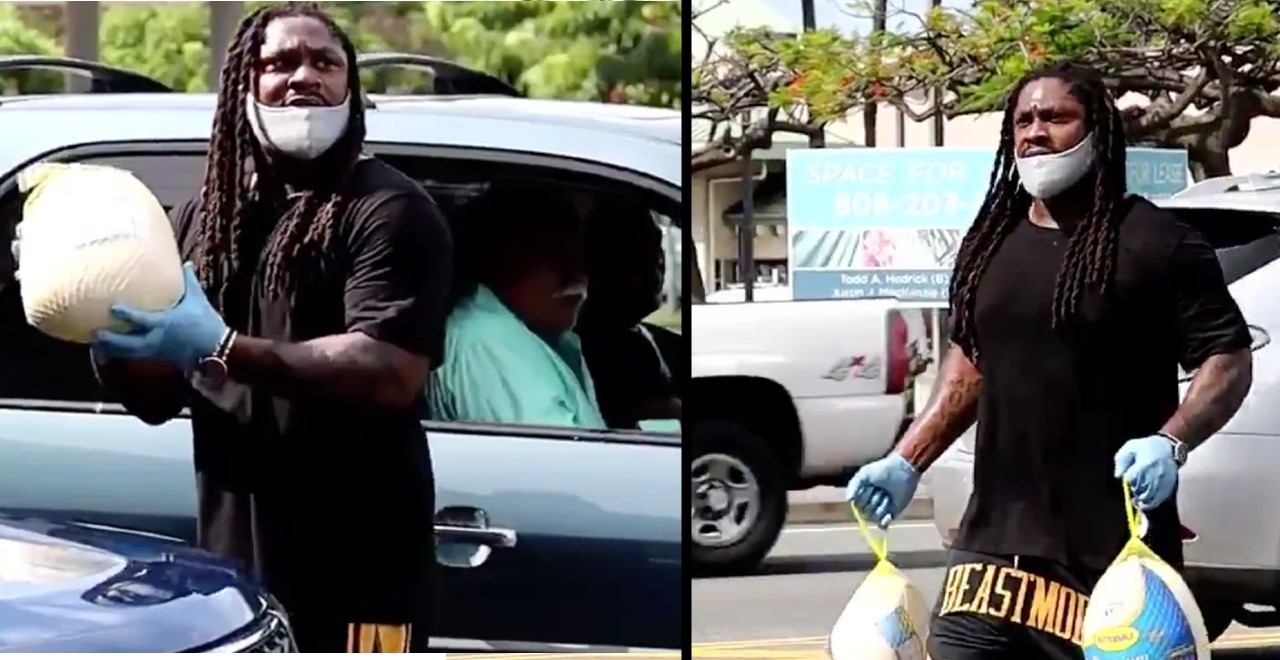 Credit: Twitter/RobDeMelloKHON
Once a famous athlete retires, the sports world is quick to forget them. If they suddenly pop back up in the news, it's not usually a good sign, but Marshawn Lynch is a clear exception to this. The former All-Pro running back who led the Seattle Seahawks to a pair of Super Bowls made news this week for his charitable side, as Beast Mode handed out 200 free turkeys to families in Hawaii (where he lives).
Big charitable efforts from celebrities are usually PR stunts, tied into a vague sounding foundation without a clear impact on helping people (this isn't to dog all charities, some obviously do major good). Then there's the other side of it, where people give directly to those in need. Like Josh Gad giving money to laid-off Disney workers, or Tyler Perry buying groceries for senior citizens.
Beast Mode falls into that category, as he not only helped buy turkeys for 200 fams, he donned the PPE and handed them out himself.
.@MoneyLynch helped hand out 200 free turkeys to people in Hawaii for Thanksgiving 👏

(via @RobDeMelloKHON) pic.twitter.com/084m5Bz2sb

— SportsCenter (@SportsCenter) November 24, 2020
Officially, he partnered with Young's Fish Market and his foundation, Fam1stFamily, to pull off the Thanksgiving giveaway. Former star football player at Hawaii, Chad Owens, also helped pass out the turkeys, and said they were "blessed" to have Marshawn out there donating turkeys and that he was there 'to help and support Marshawn in his wanting to give this Thanksgiving season."
Lynch has always been a big force of giving back to the community, as he's participated in numerous food drives, built a school in Haiti, bought a soul food restaurant so it wouldn't have to close and much more. And he also does stuff like this, which will make a big difference for a few hundred families on Thanksgiving. In the spring, he drove around on a golf cart handing out face masks to people to help stay safe during the pandemic.
And here is NFL'er Marshawn Lynch riding around his hometown of Oakland, California handing out masks to anyone and everyone. Beast-mode.

Humanity.pic.twitter.com/qfIQIUUwj7

— Rex Chapman (@RexChapman) April 23, 2020
Lynch was a terror on the field (hence the Beast Mode nickname), and though he was never a big interview off the field, his actions speak much louder to his character than any words could've.