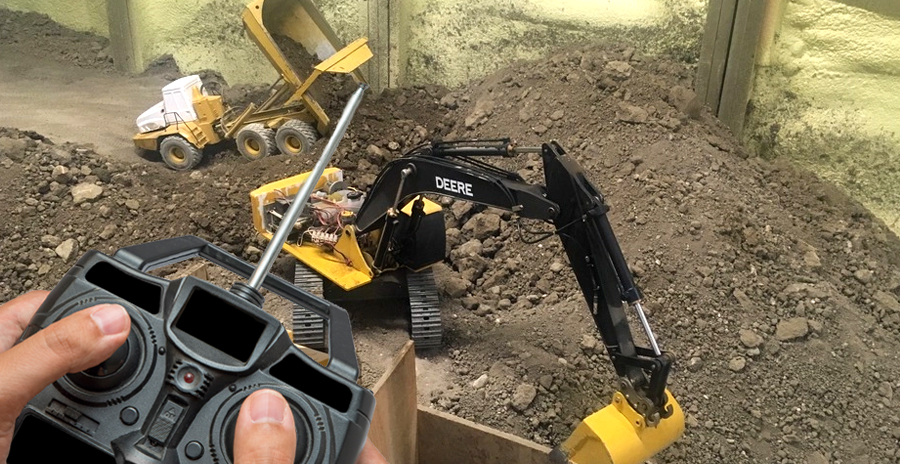 Credit: Getty/Czgur RC Truck and Construction
"Choose a job you love, and you will never have to work a day in your life."
The common phrase typically applies to a person's career but there's no reason why such wisdom can't be applied to daily tasks and responsibilities, which is why Joe Murray of Saskatchewan, Canada has spent the last fourteen years excavating his basement; not with a basic shovel, but with some of his favorite remote-controlled vehicles.
Sure, if you halfway know how to handle a shovel, you could clear out a room the size of Joe's basement on just a couple of weeks but that's not the point of the project.
Joe's day job consists of farming cattle and grain, so his position as overlord of his remote-controlled workers is his preferred way to turn his brain off while still being productive after a long day.
"[It's] my escape from everyday realities," he told News.com.au. "Nothing more."
He estimates that the tiny vehicles move roughly three cubic meters of soil per day—not a lot, but seemingly faster than actual construction jobs I've encountered in some cities.
Plus, the hobby has helped Joe develop skills that assist him in his day job as well:
"(I've got) greater dexterity in both hand and eye coordination," Joe says. "I can better judge accuracy at a good distance from me. I can mentally picture several different scenarios of how to best tackle a project, make a better plan for success lessening the chance of a costly failure… and also [have] some specialized tools that I have bought for my hobby and then later used them too to fix my farm equipment myself."
Despite their toy-like appearance, the vehicles are made to do genuine work like this. The 88lb JD850 excavator Joe acquired in 2010, for example, is armed with an operating hydraulic pressure of nearly 400psi.
Over the years, Joe has uploaded countless videos to YouTube to document the project, which has been surprisingly successful. Altogether, the project videos have earned over 6 million views.
As for where Joe will direct his efforts after the basement is finished, there's a barn on his property that has already caught his attention.
"The one thing I'm looking forward to about the barn is the much bigger area and it's flat too, which will work better for bigger, more powerful R/C models," he said. "I might dig a pond in there with some river channels for tugboats/barges… We'll see."