Man Supports Wife During Chemo Treatments Outside of Hospital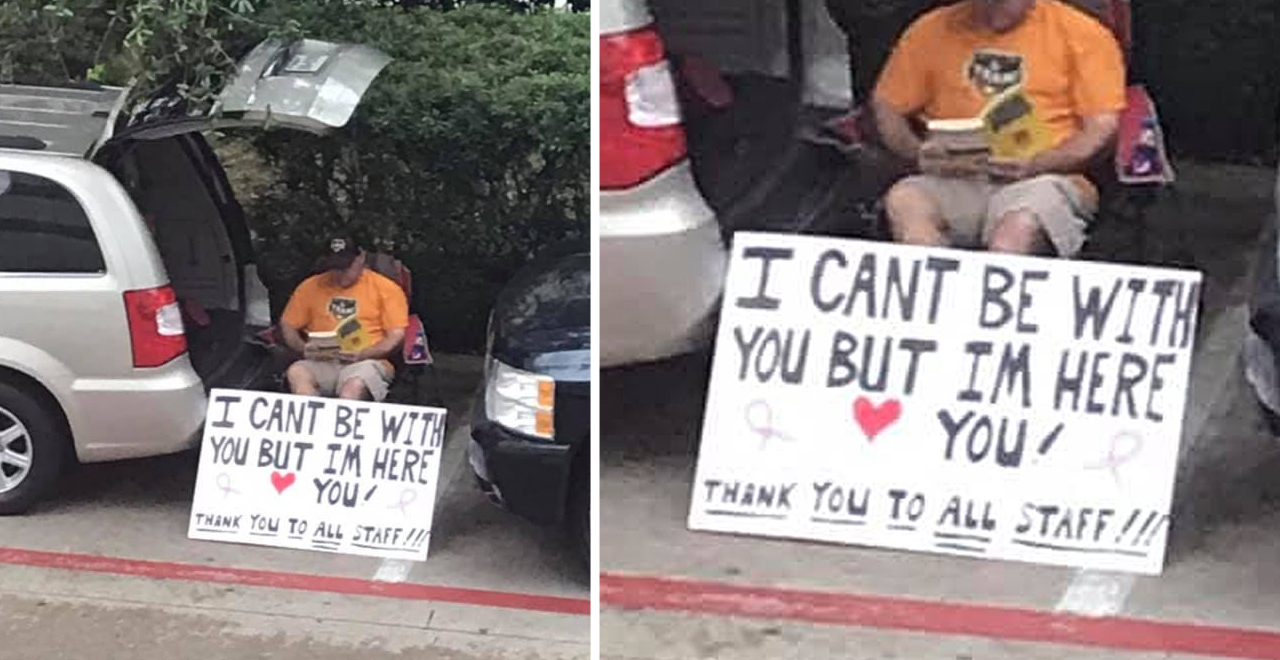 COVID-19 has disrupted so many facets of daily life, and one of the more heartbreaking examples is having to go through difficult medical procedures alone. Whether it's a spouse in a locked-down nursing home, or not being able to be with loved ones during a hospital stay, people are finding creative ways to show their love and support.
One Texas dad is showing that in spades. Albert Conner had been dutifully by his wife Kelly's side for every test and procedure after she was diagnosed with breast cancer. But, due to the COVID-19 pandemic, he wasn't able to go inside to keep her company during her latest chemo treatment. But he didn't want her to think she was alone, so he held a vigil outside, with a sign big enough to let her know he was still there for her.
The sign, that he propped up near his car across the street, where he'd be fully visible to Kelly during her chemo treatment, simply read "I can't be with you but I'm here" and a heart. It also included a thank to you all the staff, who continue to serve their community during the health crisis.

"I didn't feel right not being a part of it because I had promised her that I would be there every step of the way and I felt like I would be breaking my word," he told "Good Morning America. He said his kids helped color the sign.
Kelly said she didn't know he was coming since she thought she'd be alone and drove separately to her appointment. When she got a text that he was in the parking lot, she looked out the window and immediately began to tear up. She wasn't the only one, as her nurse also teared up at the gesture.
Her chemo treatments are supposed to extend through May when she will then have surgery. Albert said several nurses stopped him outside to say people like him were the reason they come to work.
And others around the globe have been getting creative with showing appreciation for healthcare workers.