Man Takes His 89-Yr-Old Grandmother on Adventure of a Lifetime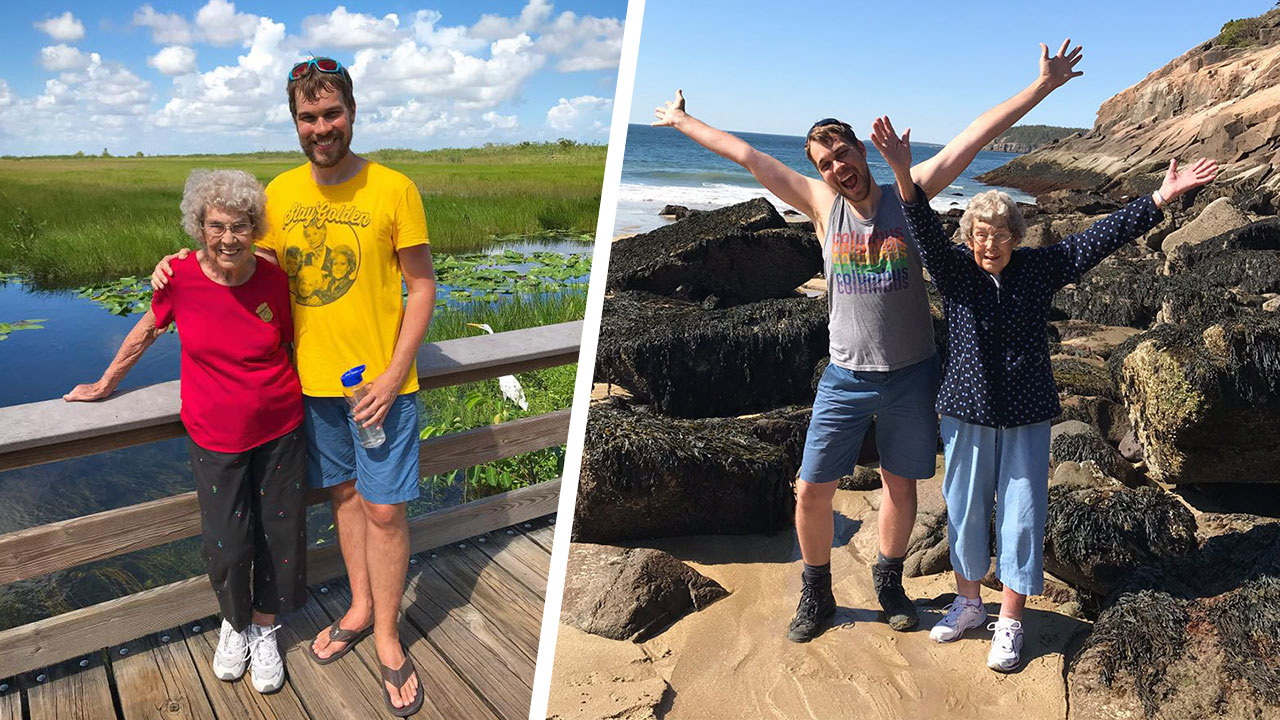 Back in the fall of 2015, Ohio native Brad Ryan was dealing with his fourth year of veterinary school in addition to the tragic loss of a classmate. On a trip back to his hometown, Brad stopped in to see his 85-year-old grandmother, Joy. After sharing stories of his travels overseas and time spent on outdoor excursions, Joy shared that she had missed out on such adventures in her life. "She said, 'I haven't seen the ocean, or the mountains,'" Brad said.
While the pair had been hiking in area parks before, they'd never taken a real trip together. It was then that Brad casually suggested his grandmother come hike the Smoky Mountains with him. She immediately agreed.
"When we hiked Smoky, I realized what we were doing had an effect on people, because this is not a very common occurrence, for grandchildren and grandparents to do this," Brad said. "And the idea of being forgotten, left alone in your life without any adventure, it felt unethical to me. I hadn't heard the story of her life, and it gave us a chance to share those stories."
That first trip almost four years ago has now turned into an incredible journey that has taken the pair to 29 national parks and various locations all across the United States. Although they've encountered some wild animals and steep terrain on their trek, both Brad and Joy have savored every minute of it. Brad says that his grandmother's positive outlook and appreciation of nature has had an impact on the way he sees things too. "Seeing it through my grandmother's eyes, who every morning wakes up and is thankful to be alive, has taught me how to live."
The pair have chronicled their journey on social media, capturing incredible shots of parks, mountains and most importantly, memories that will last a lifetime. While seeing so many fantastic sights has been a blessing to them both, Brad says his hope is that others will follow their lead. "I want people who are younger to know, you aren't too cool to hang out with your grandparents," Brad said. "I think we've lost that as a society. There's so much perspective and knowledge we stand to gain from our elders."
Although Brad has now moved to D.C. after accepting a position at The National Zoo, the pair plan on continuing their travels for as long as possible. "With her, I've had to slow down and see it in a different way, which has made it a lot more rich. I love my grandma so much, and it's just really giving me a lot of peace that when she eventually does pass on, I can go back to these places and feel her spirit, feel connected to her, that she set her eyes on these same things."
To follow their journey, visit their Facebook page or follow the hashtag #GrandmaJoysRoadTrip.