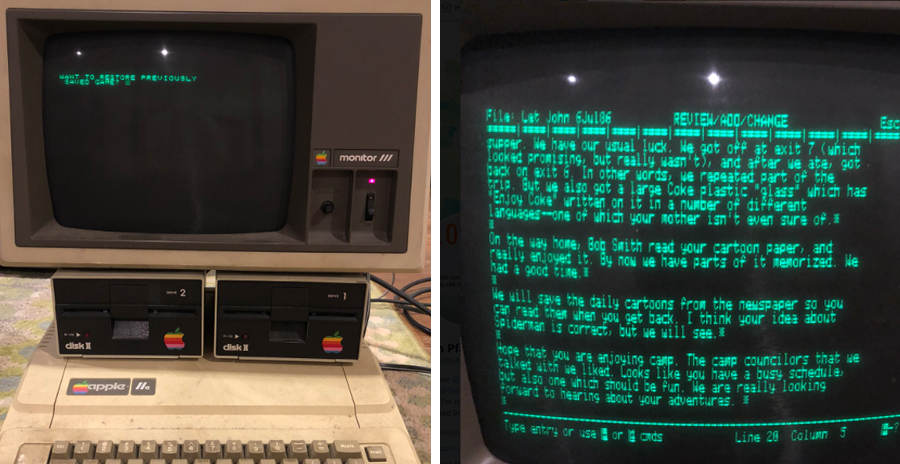 Credit: Twitter/JohnFPfaff
Every time I visit my parents in my childhood home, I find myself rifling through all the stuff they've saved in my old bedroom, the basement, the garage. The assorted detritus from 50 years in the same place. There are old report cards from elementary school, old yearbooks from high school, folders full of early attempts at stories. Some of it is useless, some of it is priceless, and all of it brings back memories. Even my collection of Garfield books.
Every once in a while, I stumble across something that I hadn't seen in years, if not decades, and it's thrilling to revisit that specific time in my life. The next time that happens, I might have to document it on social media, though I doubt I'll find anything as monumental as a Fordham University law professor did this past weekend.
On Sunday, John Pfaff was in his parent's attic, where he discovered an ancient Apple II series computer, which was released in 1983, making the Apple IIe John found a solid 30 years old. He took the old box home and plugged it in, upon which he learned it still worked! And with that, he was off, down a rabbit hole of nostalgia, playing old computer games he hadn't even thought of in decades.
He shared his journey on Twitter.
Oh.
My.
God.

An Apple IIe. Sat in my parents' attic for years. Decades.

And it works.

Put in an old game disk. Asks if I want to restore a saved game.

And finds one!

It must be 30 years old.

I'm 10 years old again. pic.twitter.com/zL7wWxOo36

— John Pfaff (@JohnFPfaff) February 17, 2019
He took a spin through some of his old games, which included Millionware, Olympic Decathlon, and Neuromancer, and Adventureland. He was surprised, and thrilled, to learn that they all worked, even if he could barely remember how to play them.
Then, amidst all the nostalgia and funny comparisons of today's tech to yesteryear's (there is some discussion of floppy disks, which will be truly mind-blowing to anyone who is used to playing their games on a Nintendo Switch), he found something even more special than his old games. He found a letter his late father, who passed away last year, had written to him when he was an 11-year-old away at summer camp.
Just found this letter my dad typed to me in 1986, when I was 11 and at summer camp.

I REALLY WONDER what my theory abt the daily newspaper comics Spider-Man was.

My dad passed away almost exactly a year ago. It's amazing to come across something so "ordinary" from him. pic.twitter.com/Aog3MiSnXN

— John Pfaff (@JohnFPfaff) February 17, 2019
There was nothing groundbreaking in the letter, but that's what John appreciated about it, tweeting, "My dad passed away almost exactly a year ago. It's amazing to come across something so 'ordinary' from him."
"We will save the daily cartoons from the newspaper so you can read them when you get back. I think your idea about Spiderman is correct, but we will see." reads the letter.
It concluded, "Hope that you are enjoying camp. The camp councilors that we talked with we liked. Looks like you have a busy schedule, but also one which should be fun. We are really looking forward to hearing about your adventures."
Twitter really enjoyed hearing about this adventure. John's original tweet has nearly 170,000 likes and over 29,000 retweets.