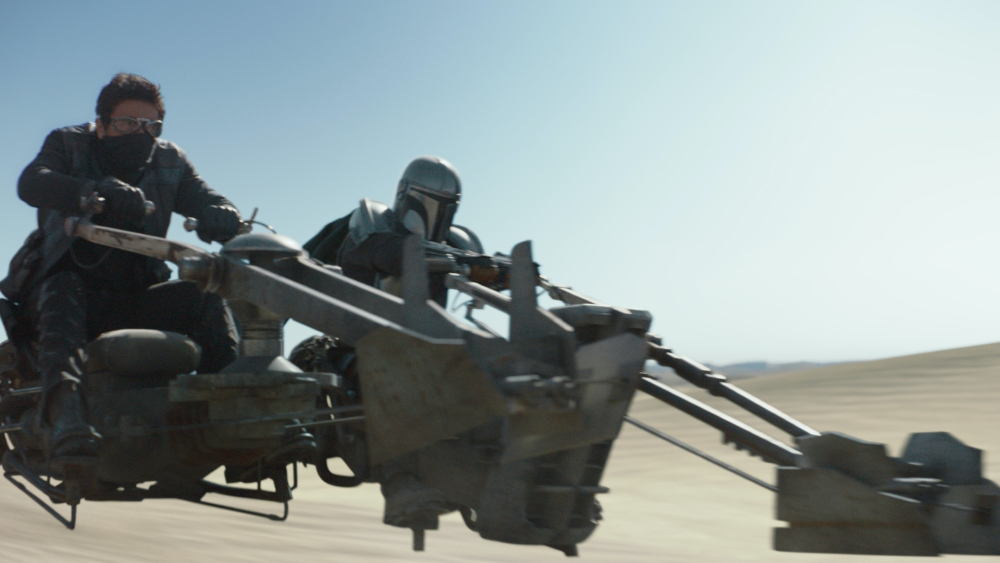 Credit: Disney
Dave Filoni has a reputation as The Chosen One of Star Wars thanks to his Clone Wars and Rebels animated shows. Filoni is known for his love of the prequel era of Star Wars, and the latest episode of The Mandalorian is jam-packed with prequel references like pit droids and young heartthrobs who can't act their way out of a paper bag.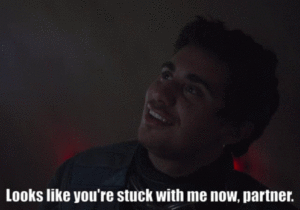 The image above was supposed to be a gif, but it won't play. That's how bad at acting he is. This is an objective fact, not at all rooted in this writer's personal jealousy. But I'm getting ahead of myself. The rest of this story will be chock full of Spoilers, and if you haven't already check out our recap for episode four to catch up.
We pick up with Mando and Baby Yoda stumbling their way into a bit of a star war. Their ship is being attacked by another member of the Bounty Hunter's Guild, and it's great. I'm of the mind that as good as Star Wars has been in Disney's hand, with notable exceptions there have been way too few WW2 dogfights in space.
After the fight, Mando has to set down for repairs and the only place to go is everyone's favorite planet furthest from the bright center of the universe: Tatooine. We get some lovely shots of the Razor's Crest soaring into Mos Eisley, including a flyover of the same cliff where a certain Jedi exile and his young apprentice first looked down on the wretched hive of scum and villainy. The ship settles into a docking bay almost identical to the one where we first glimpsed the Millennium Falcon, and we get a Lucas-approved Three Stooges routine from the Pit Droids I mentioned earlier. The Mando is still pretty droid-racist, though.
The garage is run by Amy Sedaris, playing I assume, Amy Sedaris, Actual Space Alien. Some people are bothered by goofy characters in Star Wars, as though Jabba the Snail Gangster and his Pig Guards were hard sci-fi serious creations. As for my money, I'll take Amy Sedaris playing a million different weirdo characters over more graduates from the Academy of Making Pouty Faces like we'll meet in a minute.
Having stashed Baby Yoda in the closet, Mando heads to the Cantina looking for work. I love this because it does make perfect sense for him to hide the child considering we know there are countless ruthless bounty hunters after him, but also WHAT THE HECK IS WRONG WITH YOU MAN? You should get arrested for leaving a dog in the car with the windows rolled up, don't even get me started on you leaving your kid like that. I mean good lord, Mando.
Anyway, at the Cantina, we see things have changed around here since New Hope days. For one thing, droids went from not being allowed in the bar to running the show. Which is fine with me, since the original bartender sold out Han to the stormtroopers and you know, always seemed like an asshole regardless. Like some of these Brooklyn bartenders who won't serve someone whose mustache isn't pointy enough, or doesn't have the death sentence on enough systems.
We learn that because the Hutts no longer control Tattooine, (thanks Leia!) the Guild isn't active on the desert world anymore. That means nobody will be looking for Baby Yoda, but it also means work to pay for ship repairs is going to be hard to come by. Enter Bobby Cannavale's Boy. Bobby Cannavale's Boy is an aspiring bounty hunter who is immediately and obviously an idiot, and he's out to prove himself to the Bounty Hunter's Guild by capturing Ming-Na Wen's character, Space Ming-Na Wen. She's the most feared and dangerous of all the Ming-Na Wens, according to Bobby Cannavale's Boy.
The new partners gear up to head out to the Dune Sea (still a cooler-than-your-really-think-about-concept) before Mando gets scolded by Amy Sedaris for being a shit parent leaving Baby Yoda alone like that. Amy Sedaris is all of us. Just like me when my lady wins an argument, The Mandalorian gets all pouty and quiet and goes to hang out with some jackass friend he doesn't even like that much.
Out in the desert, the two bounty bros encounter a group of Tusken Raiders, and we get a neat little spin on the original Luke/Tusken surprise before the Mando negotiates with them. The scene is leaning heavily into the Western influence here, with Mando and the Tuskens playing cowboy and "Indians," only less racist because Tusken Raiders are make-believe. It's pretty cool to see The Mandalorian skilled at something even Old Ben didn't know how to do. When we've seen Jedi interact with the Tuskens, they either trick, scare, or outright murder them all. The Mandalorian just talks to them. Remember, a big lesson of the prequels and The Last Jedi is that the ideals and the actions of the fallen order don't always align.
Further down the road, the two come across a dewback dragging another fallen hunter through the desert; a trap sprung by Space Ming-Na Wen. She's been camping with a sniper rifle like she's playing a round of COD, so Mando and Bobby Cannavale's Boy wait until dark to get the drop on her. It's a fun action sequence with flash grenades, so maybe they are playing COD actually. After the fight, Mando has to go find the dewback from earlier to get back to Mos Eisley. This errand takes all freaking day, which is plenty of time for Space Ming-Na Wen to get inside Bobby Cannavale's Boy's head.  She convinces him that turning in the Mandalorian and Baby Yoda would be much more lucrative than she is.
The poor sweet bounty hunter's mind clunks its way into a devious plot, and he decides to kill Space Ming-Na Wen instead, then heads back to the Razor's Crest to get the drop on his partner. Things play out like you'd expect from there, with the Mando and Amy Sedaris getting the upper hand on Bobby Cannavale's Boy by using his remaining Checkhov's gun flashbang. The Mando gives Amy Sedaris way more money than they agreed on because A) he's actually a Pretty Decent Dude and B) he loves his Baby Yoda baby just so much. The boys blast off, leaving Amy Sedaris to toss Bobby Cannavale's Boy into Beggar's Canyon, where Luke used to shoot womp rats in his T-16. The En-
OH BUT WAIT THAT'S NOT THE END OF THE EPISODE!!?!!!!!!!!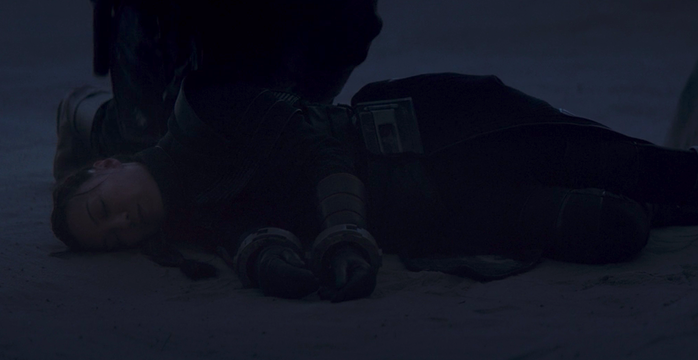 The big tease of this week is the mysterious stranger who approaches Space Ming-Na Wen's body in the desert. There are two big possibilities who this could be, which I'll break down in the Blaster Fire below. Otherwise tune in next week for the continuing adventures of Space Xena: Warrior Mandalorian!
Blaster Fire:
The ship chasing Mando, in the beginning, looks awfully similar to the Z-95 Headhunter ship, created by Brian Daley in his Han Solo Adventures novels. Fans of LucasArts from the 90s will remember the Headhunter ships from the X-Wing and Tie-Fighter Video games. It's an interesting easter egg because Daley wrote the books during the gap between New Hope and Empire, and had almost no lore or worldbuilding to work with aside from what we saw in the first film. For a show so reliant on parading out the familiar, it's a nice shoutout to a creator who built Star Wars with imagination rather than nostalgia.
Was the Bartender in the Cantina the same droid from Jabba's torture chamber in Return of the Jedi? It was definitely the same model, but knowing Filoni, it seems likely that it's an even more direct connection. Hey, you gotta get work where you can, right?
TUSKEN RESPECT: It's cool that Mando and the Tusken Raider Scouts communicate through sign language, but that's made even cooler by one of the Scouts being played by deaf actor Troy Kotsur.
Okay, the mystery boots at the end. Here are the options:

Moff Gideon – The upcoming character played by Giancarlo Esposito is a prime suspect. We don't know anything about him but we do know that he's wearing a cape in the marketing promos, and this mysterious character was also wearing a cape, so that's basically what we have to go on.
Boba Fett – Yeah, yeah, yeah. The most distinctive thing about this moment was the jingle of spurs as the boots walked towards the fallen body. Boba Fett made the same sound when he walked, and that's way too specific a reference to be coincidental or throwaway. Also, the gun Space Ming-Na Wen used was mentioned as an MK-modified rifle. That's an extremely specific Mandalorian-built rifle based on Boba Fett's own weapon. That's another cut too deep to not amount to anything.
Luke Skywalker – Look, it's not Luke Skywalker, but someone suggested it and in a previous recap I said I thought he might show up, so I'm including that theory here simply to give myself a little pat on the back.
Cad Bane – Dave Filoni is obsessed with Westerns so much that he created a cowboy bounty hunter character who wears a cowboy hat and boots that is essentially a stand-in for who Filoni wishes he actually was. I love Filoni and all he does, but I'll never understand how anyone takes this character seriously. Still, I haven't seen anyone else suggest him yet, so this is sorta my bettin' on the house. If it does turn out to be right, I assure you, I'm gonna be WAY smug about it.


Credit: fandom.com