Marine Vet Helps Dad With Alzheimer's Dance With Granddaughter [WATCH]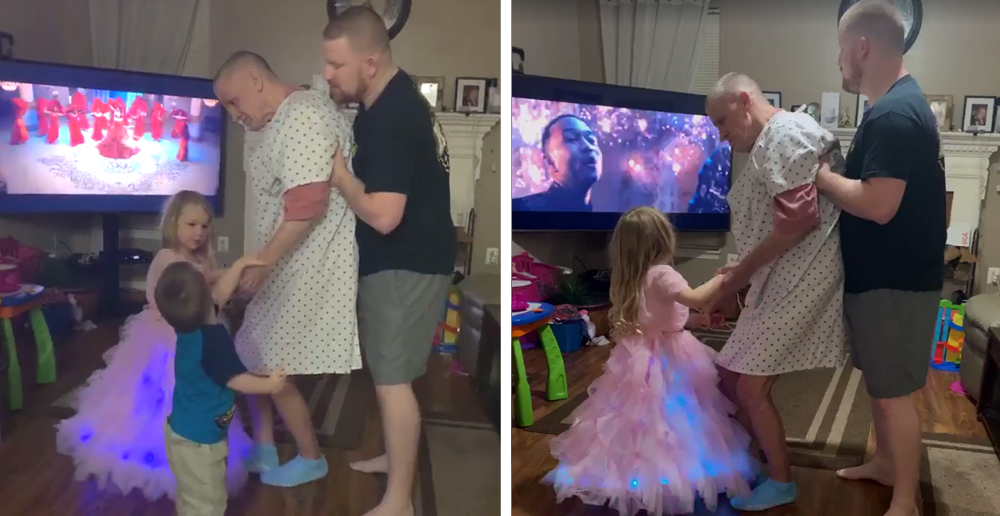 Whether it's made for a princess or a hospital, wearing your best gown and dancing with someone you love can make anyone feel better.
Inspired by Disney's "Beauty and the Beast", 3-year-old Paisley Evans wanted to host her own special princess ball with one of her favorite people—her grandfather, Ricky Evans.
Ricky has been living with Alzheimer's disease, dementia, and Parkinson's disease and is only 66-years-old. When he was diagnosed in 2011, Ricky's son, Dean Evans, left eight years of military service to move in with his parents and care for his father.
Naturally, when Dean saw that Paisley wanted to share this special moment with her grandpa, he wasn't going to let a silly thing like limited mobility stop them. He promptly helped his father up and swayed along with two of his favorite people.
With over 1.3 million views on Facebook, the video has people all over the internet lighting up in a way that rivals Paisley's electrifying dress.
"Oh I cried ugly tears! My dad is 64 and is stage 7 Alzheimer's," one person commented. "My kids will never know the great man that I loved so very much! Praying for you and your family!"
Well done, Dean! Your service, both to your country and your family, is exemplary!