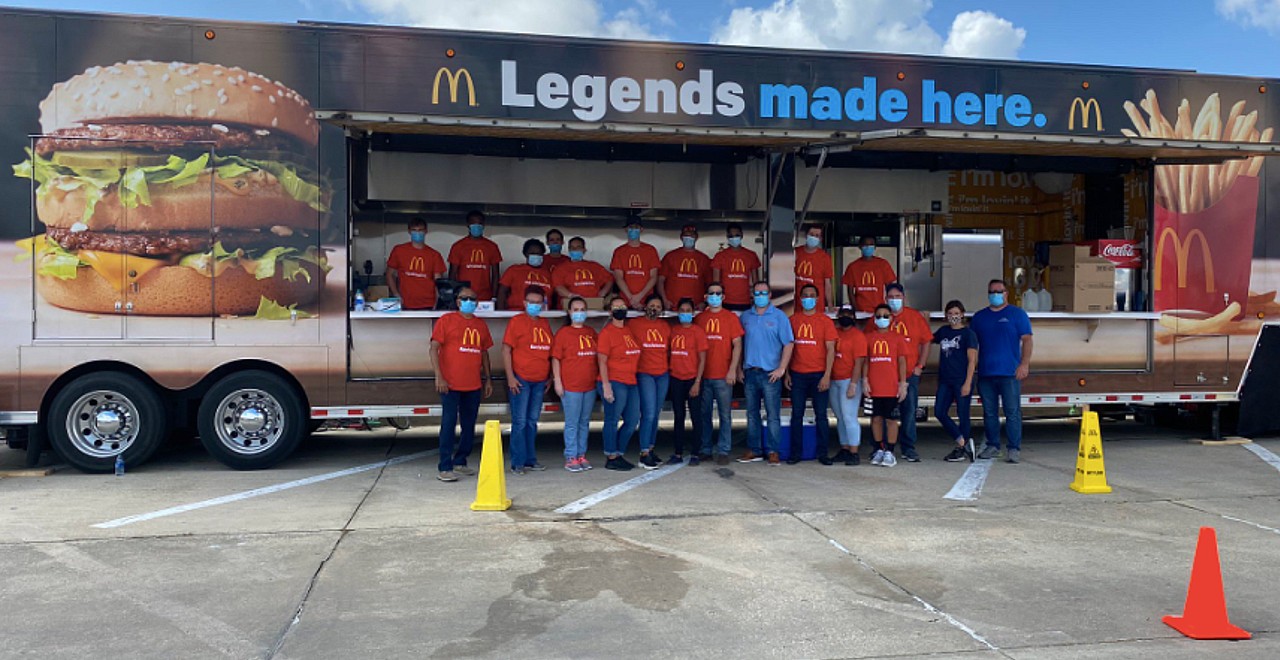 Credit: SUPPLIED
Natural disasters are inevitable, and they often present challenges to families and communities that can take years to overcome. When communities are hit with hardship, it often presents an unexpected opportunity for members of those communities to come together and support each other. In difficult situations, as the great philosopher, Mr. Rogers reminded us, "look for the helpers. You will always find people who are helping." When Hurricane Laura struck his town, that's exactly what Rikesh Patel did – he became a helper.
Hurricane Laura was the strongest hurricane to hit Louisiana in over 150 years. The storm caused widespread damage, power outages, and flooding, leaving many without electricity for weeks. Rikesh Patel owns 25 McDonald's in Louisiana, a career that helps him feel connected to his community. After seeing the damage the storm caused, Patel knew he had to do something.
"My family and I run this business together," Patel told The Dad. "My dad started it many years ago. My brothers and I grew up in the business and we have always believed in giving back to the communities we do business in."
The day after the hurricane hit, Patel made a call to the McDonald's Corporate Office in the hopes of obtaining the McRig. The McRig is a mobile kitchen that is completely self-sustained, meaning that it doesn't rely on external power to function. Just a day later, the McRig arrived and Patel got to work.
"We staffed the McRig with our own employees," Patel explained, "The employees that returned to the city, which were very few."
Since most of his staff had evacuated, Patel did what he could with the resources he had. For six days, Patel and his dedicated employees served over 10,000 warm meals to members of the community, completely free of charge.
"The community was so grateful," Patel recalled. "We had many people who cried when they came and visited us, and we were just so happy to provide this for our community."
The cheeseburgers and fries served by Patel and his staff were likely the first and only warm meals many members of the community had all week. Patel and his team worked tirelessly in the McRig, cooking and packing meals and water bottles for anyone in need.
After a natural disaster, there is so much fear and uncertainty. Because of his kindness, Patel provided far more than just food to his town – he provided hope. This generous business owner isn't only giving back to his community though, he's giving back to his employees.
"Unfortunately we have had many employees whose houses were damaged or destroyed," said Patel. "We have started a relief fund and we are helping to cover any costs and repairs that our employees have experienced because of the hurricane."
For nearly a week, Patel put his own needs on the back-burner as he tended to his community. Now, he's turning his attention to his employees to make sure every single one of them gets back on their feet. Patel is overflowing with both kindness and generosity, which is basically the McDouble of being a good person.