McDonald's P.L.T. is the Latest Plant-Based Fast Food Burger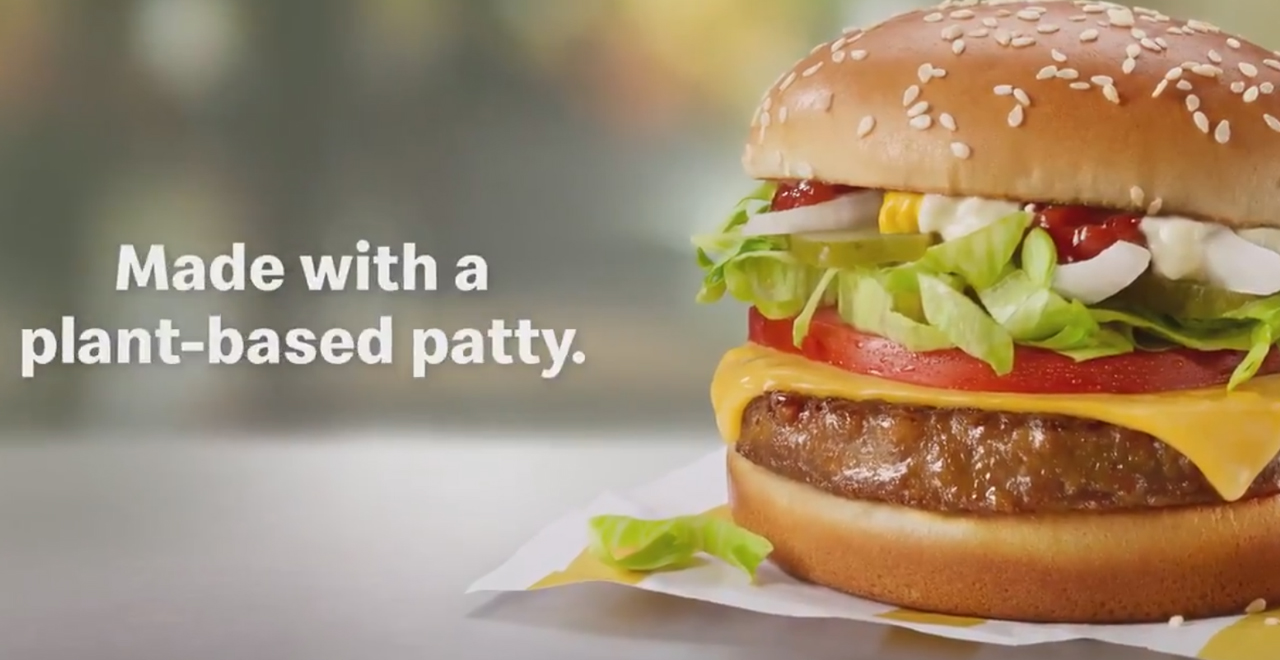 There's a new trend catching on in the fast-food world, and the big dog just got in on the action.
We're talking about the recent experiments with restaurants that haven't previously been known for healthy food putting non-meat burgers on the menu. Burger King did it, KFC did it, Arby's trolled everyone about it, and now McDonald's is joining in.
This fall, the golden arches is testing its new P.L.T. burger – Plant, Lettuce, Tomato – at 28 locations in Southern Ontario, Canada.
Meet the P.L.T., a delicious, juicy plant-based burger, that will be available for a limited time as a test at selected restaurants in Southwestern Ontario. pic.twitter.com/0oozPRXGcT

— McDonald's Canada (@McDonaldsCanada) September 26, 2019
The burger is made with a plant-based patty from Beyond Meat, and vegetarians are thrilled that the world's biggest fast-food chain is entering the non-meat realm. (So is Beyond Meat, whose stock soared 11% with news of their partnership.) There are some details tempering the excitement, such as the fact that the plant-based burger will still be grilled on the same grill as the beef burgers.
Unsurprisingly, McDonald's Beyond Meat test doesn't mean a 100% "vegan" burger – the PLT will be grilled on the same grill as other meat-based products. pic.twitter.com/LXWKMn834G

— Kate Taylor (@Kate_H_Taylor) September 26, 2019
Still, it's a big deal for McDonald's to get on board with the plant-based burger trend, which has been all over the news lately, with the aforementioned chains having immediate success with their versions.
It's yet to be seen whether McDonald's testing will go well, or will cause the item to stay on menus, but they're hoping for positive feedback.
"We've been working on our recipe and now we're ready to hear feedback from our customers," Ann Wahlgren, vice president of global menu strategy, said in a statement.
"This test allows us to learn more about real-world implications of serving the P.L.T., including customer demand and impact on restaurant operations," added Wahlgren.
Vegetarians everywhere are hoping it goes well. Fast-food restaurants haven't typically been friendly to people who don't eat meat, but things seem to be changing for the better.