Meet the Woman Who Transformed a Tesla Into a "Truckla" Pickup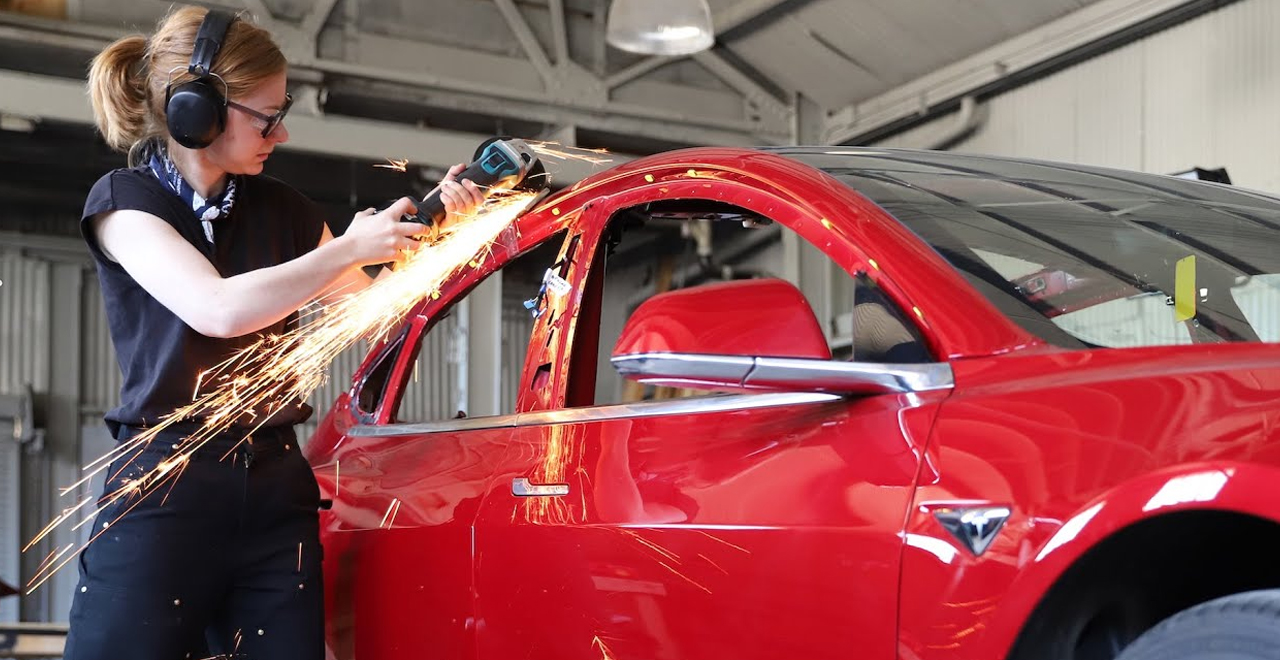 Everyone has their own opinions about Elon Musk, but you can't deny he is an impressive individual. The man has helped send a reusable Space X rocket into space and back and has revolutionized the electric car industry with Tesla, but there is one thing he has yet to do: Embrace the pickup truck. As much as the man loves innovation and going places no one has ever gone, he cares surprisingly little about open-air storage and utility options for his vehicles.
That's where Simone Giertz, the proclaimed "Queen of Crappy Robots," has stepped in. In her most ambitious project to date, the YouTuber bought a brand new Tesla Model 3, hacked away a good quarter of it, and converted it into a functional pickup (though, calling it a "truck" might be a stretch).
Introducing, the Truckla (WARNING: Several car commercial clichés ahead).
Despite her reputation for constructing hilariously shitty robots, Simone went all out to create a sleek electric pickup that still retains the modern look and feel of a Tesla.
"I have an angle grinder and a welder and I'm not afraid to use them," she said, before setting out on her car modification adventure.
Granted, should Tesla ever actually make a pickup truck of their own, it probably won't be their Model 3 with the rear section cut out and replaced with a truck bed, but that doesn't make the Truckla any less impressive. In her documentary video, Simone highlights the many, many friends and favors it has taken to build her dream car into a reality.
Simone still has plenty of ways she'd like to further modify Truckla and has continued to invite folks with expertise and know-how to jump on board the project. Hell, maybe Elon Musk should pop in with his two cents; he's a pretty smart guy, even if he knows nothing about trucks.