After Daughter Leaves Dirty Sock on the Floor, Mom Turns It Into Museum Exhibit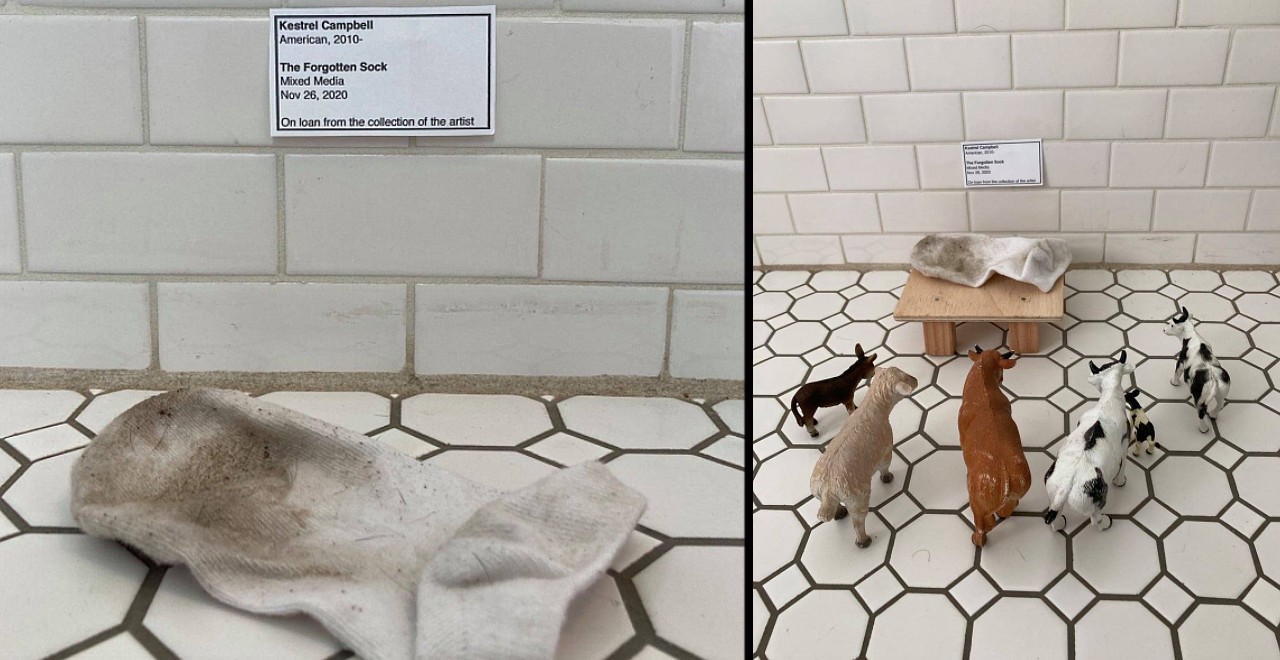 The unpredictable nature of parenting can stress even the most cool-headed parents, but sometimes it's the guarantees that make us more or less lose our minds. Kids will without fail have to go to the bathroom at highly inconvenient times (even after swearing they didn't have to 10 minutes earlier), they'll break important things and then attempt the world's worst cover-up, and they'll leave dirty laundry in their wake as if clothes become invisible the second they take them off. Rather than giving her daughter the 5,000th reminder to pick up her dirty clothes, a mom named Xep Campbell from Port Townsend, Washington decided to try a different tactic.
Out of genuine curiosity, Campbell wanted to see how long it would take her daughter Kestrel to pick up the dirty sock she casually deserted in the family's bathroom. Perhaps Campbell thought it would take her daughter a few days to retrieve her discarded sock, but this Washington mom underestimated her 10-year-old.
Campbell explained in a Facebook post, "I decided not to toss it in the hamper but instead see how long it would stay there, sort of a sociological experiment. Today, a week later, it remained, so I decided it must be intentional and deserved recognition as such."
As if the sock was some sort of modern art installment representing the contrast between light and dark and how we as humans seek to temporarily fill the spiritual hollowness that comes from being unable to accept the grayness in between (isn't that what they all represent?), Campbell created a museum-tier label for her new piece.
The label read, "Kestrel Campbell. American, 2010 – The Forgotten Sock." It continued, "Mixed Media, November 26, 2020." The last line beautifully concluded, "On loan from the collection of the artist."
After typing the label, Campbell assumed her daughter would groan, pick it up, and perhaps spend a week paying slightly more attention to her used socks. Instead, Kestrel thoroughly enjoyed the exhibit – so much so, that she added another beautiful touch.
"When I got home she said 'I made a pedestal for it!' She gamed my shame," Campbell said. "I figured as long as it was on display, it deserved an audience so the barnyard animals arrived. They find it very fascinating."
The saga of The Forgotten Sock (sockga?) received nearly 150,000 shares on Facebook because apparently, we all need the occasional reminder to stop and laugh at the absurdity of life. Some have suggested that Campbell turn the story into a book for kids, or find some way to capitalize on her unexpected internet fame. Instead, she took the opportunity to ensure that even though her daughter's sock was forgotten, kids in need wouldn't be.
"If this moved you or made you giggle in a way that felt really good and that you want to give something back," Campbell said, "a donation to this amazing organization called Jumping Mouse Children's Center would mean a lot to me. They do play-based therapy that changes the lives of children who have experienced trauma."
"You can even make your gift In Honor of The Forgotten Sock."