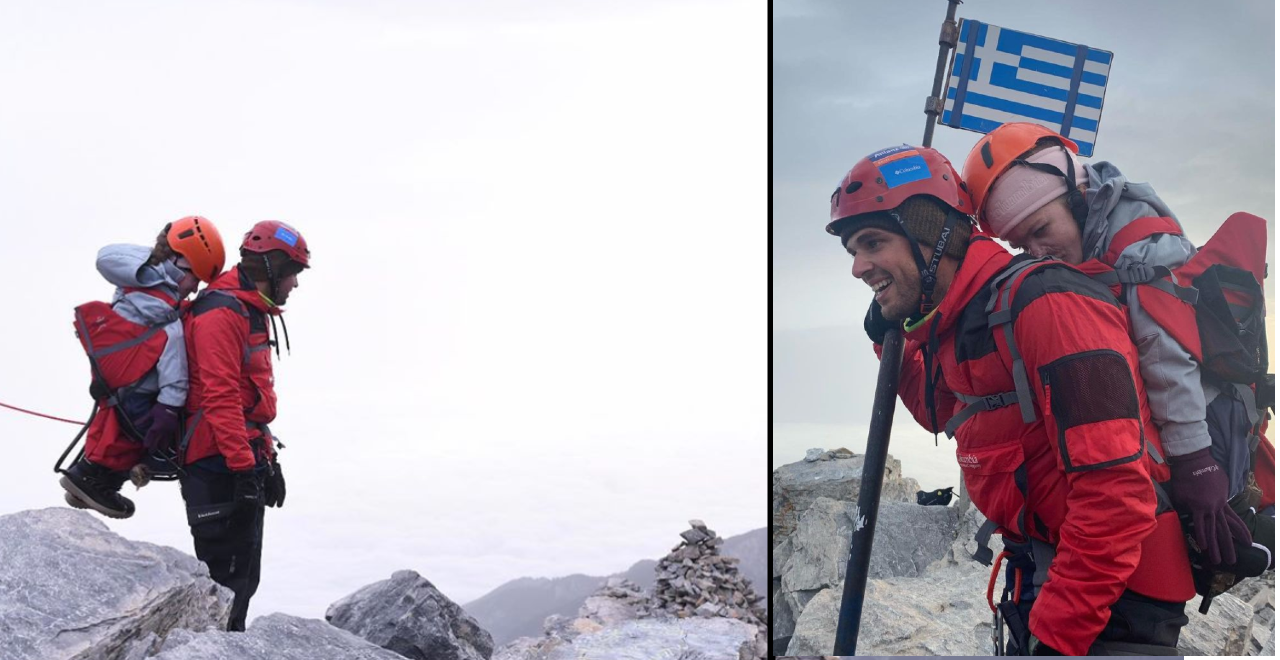 Credit: Instagram/marios_giannakou
Greek mythology is full of legendary heroes, tall tales, and the like. The word hero even comes from a Greek word, as protector or defender. One Greek athlete proved the heroes aren't all relegated to the mythical stories, as he helped carry a disabled woman to the top of Mount Olympus, making her the first person with a disability to see Greece from its highest point.
It's inspiring, on many levels. It's inspiring that someone with a disability isn't afraid to tackle something most would think is inaccessible to her, and that she sets a great example that she isn't limited by it. And it's always inspiring when people go above and beyond to help someone achieve a dream. There's nothing purer when one person directly helps another. Those gestures can seem small to some, but they can make a world of difference.
Distance runner Marios Giannakou had climbed Mount Olympus before, dozens of times. Eleftheria Tosiou, a 22-year-old student, had not, given her disability. But when she met Giannakou earlier this year, she expressed her goal. So he made it happen. He carried her up the famous peak, known as the Mountain of the Gods, in a specially-modified backpack.
The climb took 10 hours, but when they got to the summit, you can see nothing but joy on their faces.

"There is nothing more real than the dream," Giannakou wrote on Instagram. He also thanked Eleftheria for helping remind him to "live life without fear" and for helping to make him a better person.
On their way down, the duo received a special call from the Prime Minister of Greece, and their story quickly went viral. Giannakou said, many times, how happy he was for Eleftheria. But he also said he was most happy because they proved to people that it could be done, and helped pave the way for others in her situation to follow.
He summed up the experience in an Instagram post, borrowing a somewhat famous quote when he said:
"After all, many times even the smallest steps of man can evolve into the biggest steps for humanity."