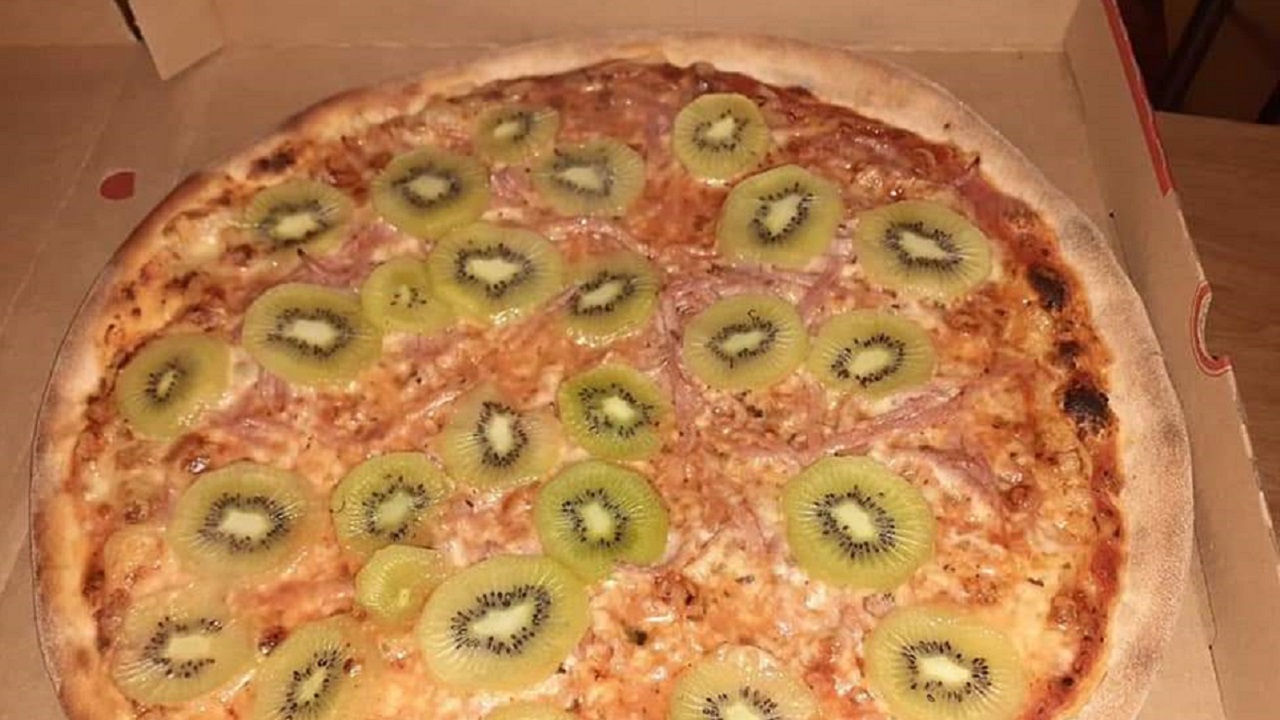 Credit: reddit/nre1313
I'm not here to cast aspersions on anyone or to throw stones or to question your judgment. That said: if you put pineapple on your pizza yes you deserve to go to jail!
I kid, I kid. I've actually done the Hawaiian pizza thing once or twice, not by choice, obviously – I'm not a monster! – and it was surprisingly okay. I would never do it again in a million years but I suppose I can see the appeal. But that's as far as I'm willing to go. Truth be told, I don't like to mix fruit and meat, so take your Hawaiian pizza and your prosciutto-wrapped melon and get out of my face! There are so many other amazing pizza topping combinations, please use them!
Clearly, not everyone agrees, as not only does pineapple on pizza have its supporters, there's a new game in town, one that laughs in the face of your pineapple and ups the ante in ways most normal people couldn't even imagine.
A user took to Reddit to share the pizza he'd ordered from a Danish restaurant, and if you thought pineapple pizza is an abomination, wait til you get a load of this bright green disaster.
Kiwi pizza from a Danish pizzeria, an unholy abomination from r/shittyfoodporn
That's right, it's a Kiwi pizza! And it looks exactly the way your vomit will look after you eat it!
There's something incongruous about a Scandinavian country like Denmark, a region of white snow and blonde hair, concocting a pizza pie so bizarre and bright and, presumably, disgusting! It's like someone googled "pizza" and only got as far as "round," "cheesy," and "toppings" and decided to throw caution to the wind and throw whatever TF they wanted on there.
In fact, according to LadBible, Scandinavia has a reputation for going way off the beaten path with their pizza toppings. Click this link at your own risk.
They were so preoccupied with whether or not they could, they didn't stop to think if they should.
The comments underneath the Reddit post are a mixture of, "eh, I'll try it," and "WHAT IS LIFE!?!" At least one brave user is wide-open to the idea of a Kiwi-topped pizza, having explored many fruity pizzas before.
"A pizzeria in my hometown had some really unique toppings including apples and oranges. It sounds really gross, but apples, oranges, and pepperoni was straight up one of the best pizzas I ever had. I'd give this weird fruit pizza a go."
To which a less insane Redditor replied: "So, you're a monster."
So the debate over fruit-topped pizza rages on, and suddenly pineapple has some competition. Where do you stand?