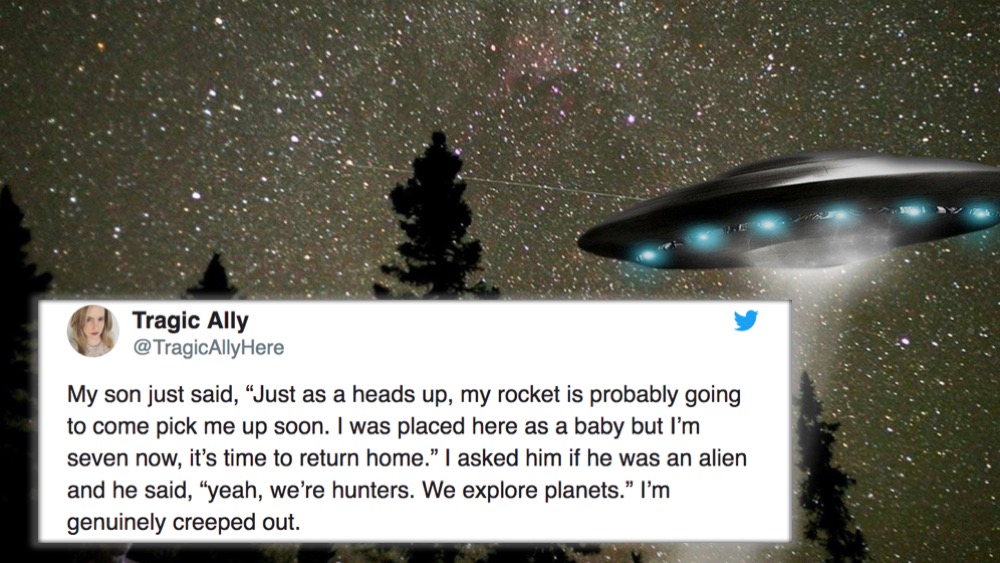 Credit: http://getwallpapers.com/wallpaper/full/f/6/3/204767.jpg
Every parent knows kids say some creepy stuff. But still, I was totally taken off guard by the super bizarro bomb my son, Jack, casually dropped on me from the back seat of the car on the way to his piano lesson.
I took to Twitter to share his comment because I was SHOOK and needed some moral support from the internet.
My son just said, "Just as a heads up, my rocket is probably going to come pick me up soon. I was placed here as a baby but I'm seven now, it's time to return home." I asked him if he was an alien and he said, "yeah, we're hunters. We explore planets." I'm genuinely creeped out.

— ally (@TragicAllyHere) December 7, 2017
To my surprise, the tweet blew up. Who doesn't love a good alien child, I guess? People were totally willing to believe his story, too. I expected people to say, "Haha, what a good imagination," and calm me down, but most were just as creeped out as I was.
I got several responses of, "Gotta throw the whole kid away." One person sent me this gif, which DID NOT HELP.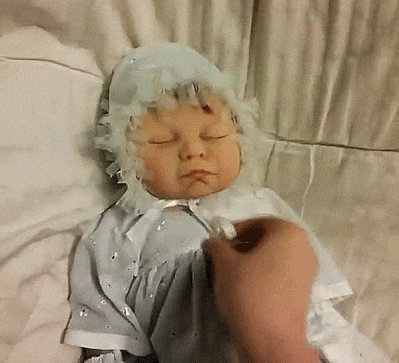 Once they were done creeping me out, people started begging for more info, so I asked Jack for more details.
Your son is going to be one of the best sci-fi authors ever…Or we're all going to die.

— 🎃👻Horror Archaeologist 👽🐺 (@ClassADude) December 8, 2017
I also shared some of his drawings from the past few days that were covering my dining room table, and now just seemed like more evidence that my son was not the human child I thought he was.
Jack's story is pretty airtight, and he is sticking to it. I told him that thousands of people like that he's a Planet Hunter, and while he is pleased by that, he doesn't understand why so many people are fascinated by him. After all, he is just an extraterrestrial being entrusted into the care of humans until they return for him. It's all very matter-of-fact to him.
For the record, he objects to me calling him an "alien" and insists on only being called a "Planet Hunter." He says there are Planet Hunters on almost all planets in the universe, gathering information, but on some very stormy planets or planets with "no surface," they send robots to retrieve information.
The greatest part of all of this, besides how happy my weird alien son is that people like his story, is that so many people related to it. A lot of people commented that their kids said weird stuff like this too, or that they felt they too were aliens not meant for this earth.
I used to think that all the time as a kid. But I'm still waiting for my rocket ship to come back. I think they forgot me 😢

— CaptMart (@Goochoid) December 9, 2017
I just hope when the other Planet Hunters pick him up and ask for his gathered information, that he's had a nice enough time here on Earth to give them a good report. I certainly do not want to piss of the Planet Hunters.