The NBA is Back and Is Going to Disney World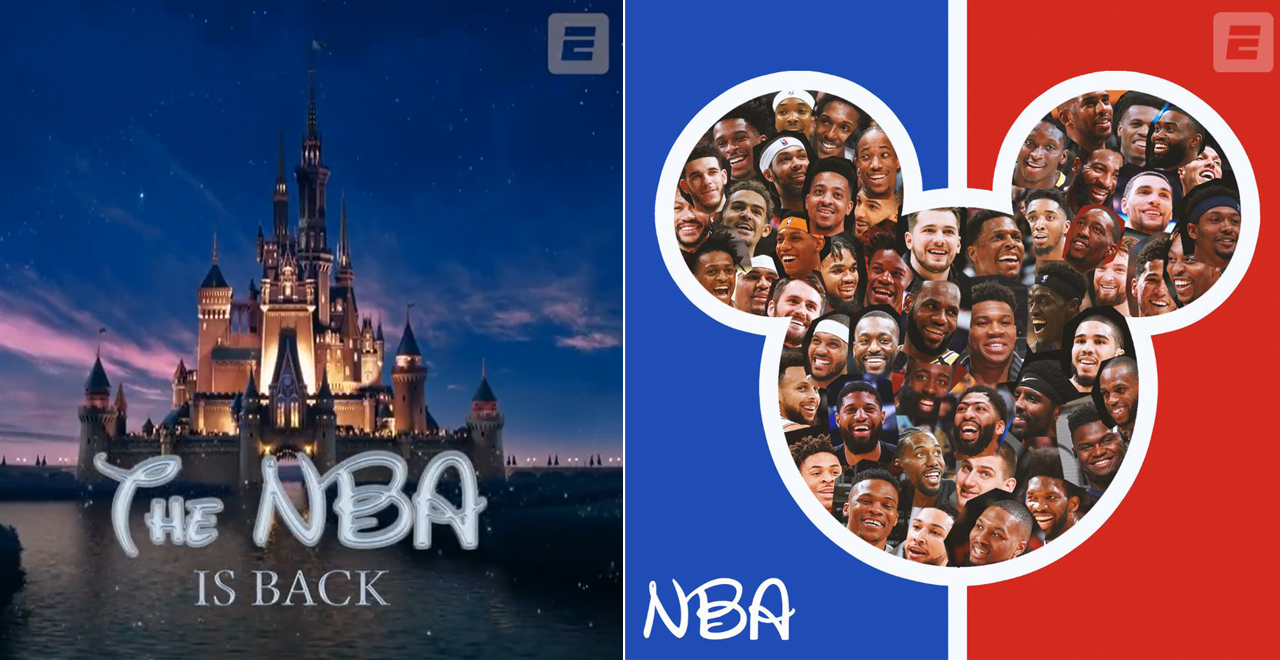 The NBA is going to Disney World. A sentence usually reserved for Super Bowl champions, but it feels like a win for all sports fan as the NBA becomes the first of the big four professional leagues to announce a return to live-action.
The NBA has approved a plan to play a truncated finish to the regular season with 22 teams playing 8 games, and then the league will have an accelerated playoff. The entire finish to the season until the possible end of the NBA finals will be a little over 70 days. The league settled on 22 teams by selecting the 16 currently in playoff position and then any team within six games of the final qualifying spot.
Are there logistics to work out, and players that need to get back to their cities and get back in shape? Absolutely. But it's still a great day for sports fans, as they finally have something major to look forward to.
The NBA seemingly has cleared the major hurdles that commissioner Adam Silver wanted to see before resuming action. All 22 teams will be finishing out the regular season in Florida at the Wide World of Sports at Disney World.
The NBA meets Walt Disney World ✨ pic.twitter.com/Roy4jsJ3nm

— ESPN (@espn) June 4, 2020
When you wish upon a star …

Welcome back, @NBA ✨ pic.twitter.com/Nc91ycGUuL

— SportsCenter (@SportsCenter) June 4, 2020
The league will use three facilities to play a ton of games in a short amount of time, which will be great for sports fan viewing. Because there is still this whole global pandemic thing going on, there obviously won't be any fans at the games. Players, coaches, and other personnel, basically anyone in "the bubble", will be tested every single day. Everyone is staying at the same hotel, and there will be limited ability to leave "the bubble."
The league is trying to create a single, isolated site to keep everyone as safe as possible. Basically, it's going to be an NBA playoffs camp, which still sounds pretty awesome to a sports-starved nation.
LET'S GOOOOOO! The NBA is returning 🕺 pic.twitter.com/k3RSBukQw1

— NBA on ESPN (@ESPNNBA) June 4, 2020
THE NBA IS BACK‼️

The Board of Governors voted 29-1 for the 2019-20 season to resume in Orlando https://t.co/aROVSRUjUp pic.twitter.com/BANZ4ciLo6

— SLAM (@SLAMonline) June 4, 2020
Teams will start to come together for a minicamp before going to Florida in early July. On-site, the teams will have a few weeks of practices and scrimmages before games ramp up on July 31st. The NHL is also planning a late-summer return, with an expanded 24-team Stanley Cup Playoffs.
Props to the commissioner and the players union for getting this deal done, with far less drama than Major League Baseball.
Sports are back.